2012 Dad Vail Training Camp Journal
Athlete: Kersten O'Brien '14
Major: Nursing
Hometown: Saginaw, MI
With the sky still dark, our alarms woke us up at 5 A.M. to prepare for our 7:54 A.M. heat in the Women's DII/IIIV4 event. We ate breakfast and got ready to race, then took off for the course with the men's V4 and the coaches. After checking our boat and warming up, we went to launch (but not without a little nervous excitement!).
Somehow, with a long inspection and boats stopping ahead of us, we realized we needed to get to the starting blocks quickly. We managed to get into the blocks as 2 minutes to start was announced. At least it left us little time to be nervous and we all stayed calm! Our start was not our best, but the course conditions were fast and the weather was great. We stayed pretty consistently in 3rd during the race, a spot we needed to maintain to qualify for semis tomorrow. The last 500 came quickly and we brought the rate up slightly, finishing 3rd and moving into semis.
we were happy with our race and execution, especially to be moving on to the finals. As soon as we got back on land, we were whisked back to the hotel for the rest of the day. We suffered through ice baths before heading to the Penrose Restaurant across the street. The hotel's breakfast didn't quite match our postrace appetite, but we enjoyed Penrose.
Then we went back to the hotel to rest for the afternoon, which got annoying fast. We checked race results, took naps, and were interrupted by the blaring fire alarms at the hotel. Thankfully, there was no fire and we were able to continue resting in our room. Now we are getting ready for our race tomorrow, excited to have seen our heat. Hopefully our race will be solid and we represent GV well by leaving all that we have on the course!
---
Athlete: EJ O'Mara
Major: International Business
Hometown: Burton, MI
The excitement of the coming races at Dad Vail and all the pent up energy from tapering is really starting to build up into a flurry of energy coming from the team. We said goodbye to our generous host families this morning to drive to the race venue for our pre-regatta laps of the race course.
For the novice guys we are seeing the Schuylkill river for the first time, seeing the bend in the river and the bridge, learning where our moves will go, and when the end of the race is near, all very exciting things to learn for our biggest event of the year. Tonight we are getting as much rest as possible to come out strong for 74th Annual Aberdeen Dad Vail Regatta tomorrow. We all feel ready and rejuvenated to perform our best and now it is time to execute.
Athlete: Spencer West
Major: Allied Health Sciences
Hometown: Grand Rapids, MI
Today, we woke up to a delicious New Jersey breakfast with our host family. After packing up and saying our goodbyes, we headed to Lake Lenape where we loaded our luggage into the U-Haul and jumped into the vans to head to Philly. Once in Philadelphia, we waited a while at the hotel, prepared for practice, and then left for the race course shortly after.
After unloading and rigging the boats, we launched and took our two practice laps of the race course. Although conditions and practice were a bit rough, we came of the water feeling prepared for the weekend's impending races.
We then returned to our hotel where we were able to settle into our rooms before showering and going to dinner. After filling our stomachs with scrumptious pasta and bread, we returned to the hotel again for a short team meeting and a few games of Euchre. With plenty of time to relax and enjoy the city, we're all excited and anxious for the upcoming races.
---
Athlete: Elissa Besson '15
Major: Pre-Med
Hometown: Davison, MI
Today was a rainy day here in New Jersey, but we did not let the rain stop us from training hard. We headed over to the boathouse at 1 P.M. for practice and quickly got on the water. Today was a coxwain led practice and each boat got to focus on individual technical flaws that needed to be worked on. In our novice four we worked a lot on the set of the boat, which seems to be our biggest problem. We also did a 500 meter piece and a 250 meter piece on the water today. The 500 meter piece was tough, but I thought our novice four was moving through the water well. The 250 meter piece was exciting because it is comparable to the last 250 meters of the race, where it is all on the line and you have to give everything you have in order to be the first one across the finish.
I thought practice was successful today, even through the pouring rain. After practice, we came back to our host family's house, and showered and ate and relaxed. The Peterson's are an amazing host family. They definitely make sure we have more than we need and it is so nice of them to take us in like we're part of their family.
Dad Vails is approaching fast and when I think about our novice four race, I can not help but be excited and full of nerves all at the same time. I know that this is the biggest race of the year and this is what we have been working for the last 9 months. This race is what makes all of the blood, sweat and tears that we put in to this sport worth it. Rowing can be a lot to handle at times and everyone has those moments where they simply want to say, "I quit!" but when your bow ball crosses the finish line and you hear that horn, you would not trade the pain, the blisters or the medal around your neck for anything.
Athlete: Chris Picklo '13
Major: International Relations
Hometown: Macomb, MI
Wednesday, the last day of rowing here in Atlantic City. We were greeted with a nice surprise as practice got pushed back a few hours, which gave us time to relax a little more in the morning. After a wonderful breakfast of pancakes, eggs and danishes from our host family, we headed out to the lake for our last row before Philly. Our row was nice and wet. Coach B gave us a great talk before hand about being as prepared as
possible going into this weekend and then we launched. Marty, our other single sculler, and myself have been beating up on each other over the last few weeks trying to become as prepared as possible for this race.
Today was just like every other day between us. We raced a nice 500m piece, which had us both pulling competitive times that we were happy with. On the row back down the course, Marty and I raced each other again for the last time. A 250m all out sprint: My Favorite. Both of us pulled some scorching fast times that had us very excited going into the biggest weekend of the year.
Tonight we are planning on doing all the relaxing we can. Time to sit around and get fast. A special thanks to our host for the week Alice Sterling, it has been wonderful.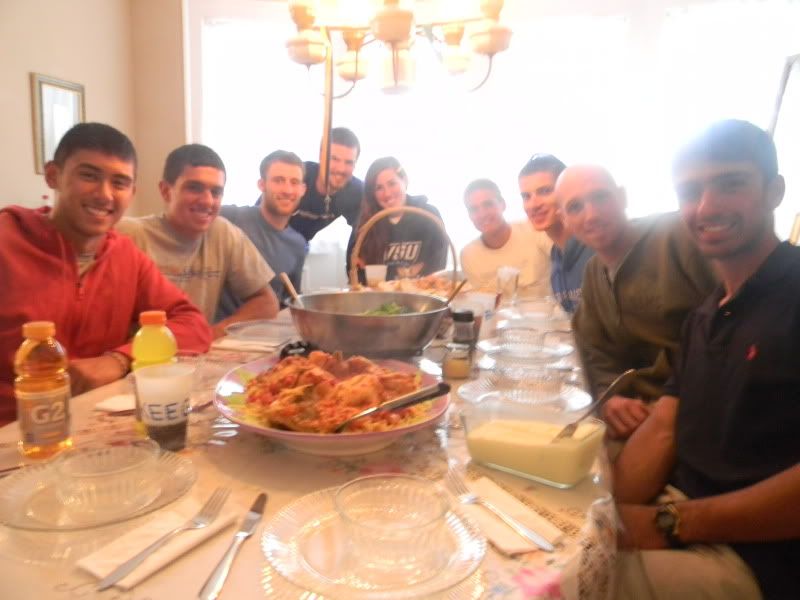 Athlete: Sam Fearnow '12
Major: Criminal Justice
Hometown: Grand Rapids, Mi
Today was our last day of training in New Jersey and it rained all day. This morning I was awoken by the pitter patter of rain drops on the window above my head at the home of Patty Dollin, where the bow four of the mens 2V are staying. As usual our gracious host made breakfast for us. Thankfully coach decided to postpone our practice an hour in order to let the storm clouds pass through.
When we got to the race course the rain subsided and the weather seemed to be improving, that is until we got on the water. Just as we were taking our positions to start our pieces, the water started to come down in buckets. We got soaking wet and it was not because of our own backsplash for once. Overall the practice was not to bad. We got a little wet, but demonstrated good control and precision.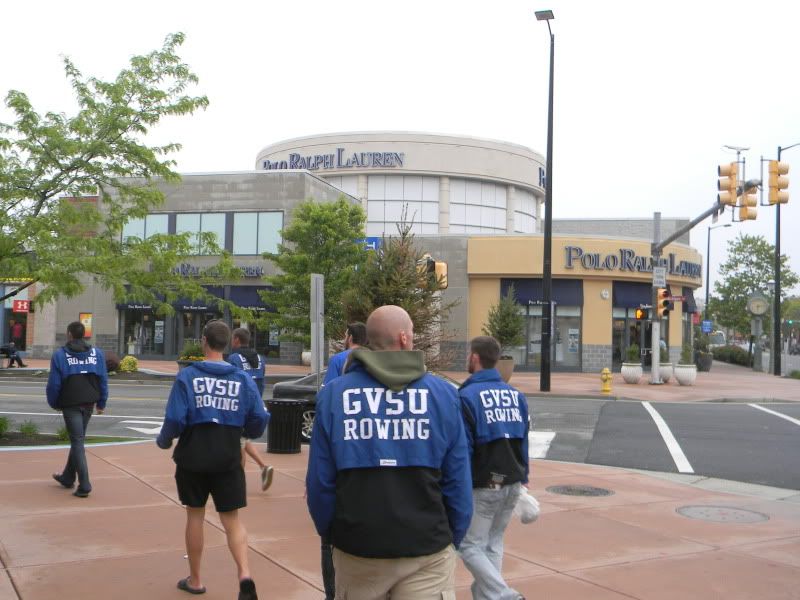 After practice we explored downtown Atlantic City and did some shopping. Then we were treated to yet another lovely meal by the Dollin family. Tomorrow we leave for Philedelphia and the Dad Vail Regatta. Excitement and nervousness are beginning to build up in the team. Combine that with all of the extra energy we have from tapering down on our workouts, and the environment is electric.
Nichole Hagoort '12
Major: Criminal Justice
Hometown: Gladwin, MI
Our boat woke up to the smell of sticky buns and Puerto Rican coffee. Our host family and the surrounding neighbors have been takin extremely good care of us, bringing us in like we were part of their neighborhood. It has by far been the best traveling experience I have had. After stuffing ourselves, we got to relax in the living room, watch tv, read, or paint our nails. After a few hours of doing absolutely nothing and loving it, we went to the course ready to row.
The row felt great. Our boat has really come together the last few weeks and today's water was as flat as glass. Nothing could break the concentration and flow of the boat, not even the pouring rain. I would have to say it was one of my favorite rain rows. It was the perfect temperature and the rain actually cooled us down a little. Our short pieces were fast and felt really good. As we all de-rigged and packed the trailer up, we talked about how it was great that we could end our pre- Dad Vails training with such a good practice.
Then we went back to our amazing host family, got dry, and waited for dinner at the neighbor's (G.R. Is what they call him) house. Jumbalia, Ceasar salad, and brownie supreme. All of the food was amazing and the people here have taken great care of us. I am thankful for their generosity in opening up their homes to us. I would have to say it makes for a really different, but homey experience.
Thomas Sawicki '14
Major: Engineering
Hometown: Dearborn Hts, MI
Today practice was supposed to be at 11 A.M. but got moved back to 1 P.M. due the rain. Practice consisted of 3 laps with a 500 meter piece and a 250 at Lake Lenape. Peter and I have been really training hard to find our groove. Well today we found it. we are looking to break 7 minutes for a 2k in our pair. comparing to last years times this would be fast.
Our host family or families I should say have been fantastic. we have been staying at the Marshall's farm living in the Marshall's RV and in the Cress's Brand new Camper Trailer. Every morning we have had fresh free range eggs and home cooked meals made available to us. Then in the evenings the Cress's have been cooking us delicious dinners.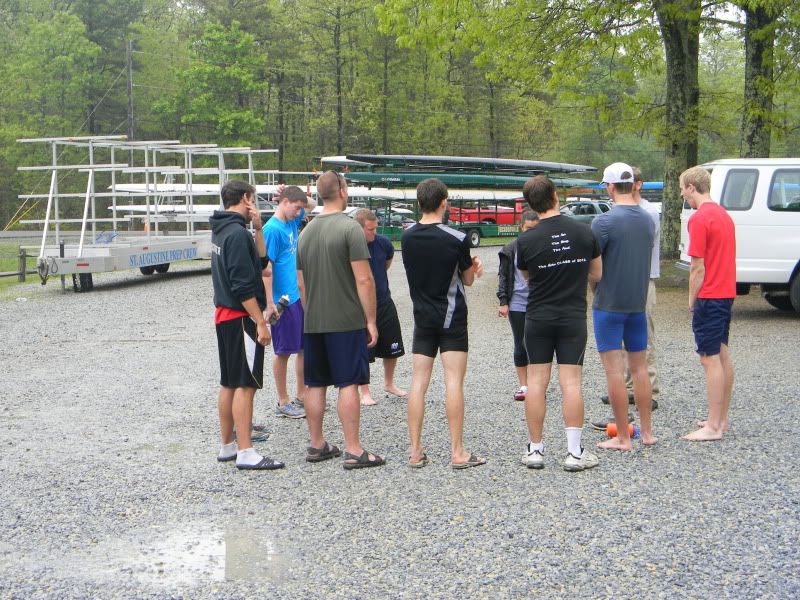 Athlete: Chris Gaigalas '15
Major: Engineering
Hometown: Rockford, MI
Today was a bit of a surprise for most of us. Woke up at 8am for a great breakfast at the Kreszs' house, and waited till it was time to get ready to head down to the lake. Just before we were ready, we received a message from Tyler saying that practice was going to postponed till 1 P.M.
As we waited till 1 P.M., we made sure to stick to the taper and not do to much. Mrs. Kresz made some cookies for us which were delicious. As we left for the lake the day started to clear up. We got the boats out and started to stretch with our boat, as coach B called everyone over to tell us that we were going to do 3 laps on the coarse; doing a 500 meter piece and a 250 meter piece.
As we started our first lap the weather changed again, it began to rain. The rain was not the bad part, it was just having all of our cloths with us getting wet, but it was still fairly warm.
After practice we loaded the trailer with all of the boats, and then loaded into the vans. On arrival to the Kresz house we caught them getting ready to go to their son Tommy's graduation. At that moment we realized that we needed to get a picture with the family. This made for a nice picture as the family was all freshened up and we were just getting back from practice. After the picture we said goodbye to the Kresz and went inside to watch movies. Dinner was nice; we had pasta, potatoes, and pork chops.
Tribute to Our Host Families – Thank You
---
---
Athlete: Brittany Hyde '15
Major: Special Education
Hometown: New Salem, MI
Athlete:Alese Garstick '14
Major: Exercise Science
Hometown: Rochester Hills, MI
When we arrived, the Bird family graciously welcomed us into their home for our visit to New Jersey. Soon after our arrival we found out that Mr. Bird had rowed with Coach B. in high school. We could not thank the Bird family enough for letting us stay in their beautiful home, but we gave them a Grand Valley t-shirt as gift. For the first time in a long time, we got to sleep in and relax all morning before practice.
After singing and dancing in the van on the way to practice, we arrived in high spirits to rig our boats and get out on Lake Lenape. After we finally finished rigging, we did some practice starts, a 1k timed race, and some steady state. The wind made the water a little rough, making us feel like we were back at home on the good ol' Grand. A few local high school teams shared the water with us today, one of which Mr. Bird coaches himself.
After a good practice, an even better dinner was provided by a local rowing association, ACRA . We all chowed down on a full roasted pig which made our mouths water as we waited in line to have our own portion of it. When our stomachs were so full to the point of pain, we thanked everyone for the great meal, and broke it down. With everyone in a food coma, we drove back to our host families to rest up for the next day's practice and Dad Vail.

Ahtlete: Nate Biolchini '13
Major: Natural Resource Management
Hometown: Oxford, MI
Vails week is finally here. Since day one I do not think more than two days have gone by without someone mentioning this epic week. And I have to say I have yet to be disappointed, our brief stop at the Schuylkill course really got us stoked for the upcoming weekend. Woke up today around 9:30 A.M., which is the first time in a week I have slept past 7 A.M. Had a great breakfast and lunch, provided by our host family, Chuck and Jodi Gowdy who have made our stay nothing less than presidential.
Around 1:00 P.M. we headed over to Lake Lenape for practice, and went out for a quick row focusing on blade work and timing. We are really getting in tune with the new boat and it is starting to move pretty well, which we were a little nervous about a week ago. After practice we were treated to a huge barbeque dinner donated and prepared by the Atlantic City Rowing Association and a bunch of the other host families. Turns out a 109 pound pig does not stand a chance against nearly 70 rowers.

After dinner we made our way back to the shore for dinner number two, this time a giant pot roast and needless to say we were stuffed. This week will be the death of our average boat weight, the feasting will continue tomorrow with a beach party put on by the Gowdys. Hopefully we can make the most of this week and peak this weekend and go fast. Really really fast.
---
Athlete: Victoria Lloyd '15
Major: Engineering
Hometown: Ann Arbor, MI
May rowing has finally arrived and with that comes sun, sweat, laughing and of course – fresh blisters. This past week has definitely been a toughie. We started it off with early morning two a days, focusing on steady state and fixing up technique. This week the novice women have focused on our set and body angles. The longer pieces have given us a chance to focus on our individual obstacles. A long row to the quarry Friday afternoon gave us a chance to focus on our own bad habits. This morning we focused on each part of the race, the start, the body and the sprint. This week has given the novice womens four a lot of time to prepare and focus for the Dad Vail training camp. We know that this trip will be an important final piece to making our way to the Vails starting line. We know that all of this work we have put in will be rewarding at the finish line. The blood, sweat and pain in practice is the most important part of the actual final race. We know that everything we put into our pieces now will help during those final strokes.
Athlete: Athena Kalyvas '15
Major: Biomedical Science
Home: Grand Rapids, MI
This was possibly the hardest week that has ever happened for the Novice men. Even though there is a good 6-7 hours between practices, it is still not enough for their bodies to recover. Heck, I do not even think I've recovered and I do not even row. I honestly do not remember anything from Monday or Tuesday…or Thursday besides doing piece after piece and catch placement drills. Every day we have gone up past Spirit Island, which is a good ways away from the dock and a little bit past the power lines.
Doing our pieces we kept passing island, after island, after island until we hit the ferry. Then we went past that too. Longest row of a lifetime. Coach Geoff was not kidding when he said it would be hard. For a good few minutes he lectured me about leaning forward in the seat during high rate pieces. I don't know if it is a habit for me to sit up tall or not but for some reason I struggle with it. Only when I have an adrenaline rush is when i can lean that far forward. Guess it's another thing I have to work on along with steering straight.Sometimes I think my stern trail looks like serpents path. Whoops. Wednesday seemed to be killer for the guys. We had an easy morning practice, just a swing row up to Spirit Island then catch placement while we were up there. After several long weeks of attempting to get the boat set while stationary, they did it. If they put their minds to it and focus on EVERYTHING then they can keep the boat set for however long they want to. It's only when they get tired that technique goes and then the set gets off and suddenly I see oar blades flailing everywhere.
Wednesday evening proved that our novice guys definitely have what it takes to medal at Vails. They hung with the 2V men for almost all of practice and stayed ahead of the 1V until the last 2-3 sets of pieces that we did. Granted that the 1V did start behind the rest of us, but the novice men held their own quite well. We were supposed to do only 12 of the sets on Wednesday and Coach B surprised us with a 13th. At least that is what I heard. I was too focused on steering in a straight line and the rates.Friday morning practice got canceled because of the morning storm and the guys seemed happy about it until Geoff said we would have an extra hard practice that evening. We did 5 minute rate pieces down to the quarry. Then 2 1000 meter pieces once we rowed into the quarry. Down to the quarry the boat was set for almost 20 strokes in a row. I was almost scared to say anything because I thought I would break their focus. They had a good streak going for a while. Timing was together and the blades barely touched the water at times. Then we started our pieces and they guys became fatigued and the set started to decline. Half the time they could barely reach the rates. As much as I tried to get them to get the knees down faster yet attempt to keep the length, it still felt a little short, sloppy, and the paddle was not together after a while. But could you blame them? A week long of killer pieces with not enough rest or recovery time. After a while it takes a toll.
Today, we had 2 really good pieces at the beginning. We beat the 2V and stayed close to even with the 1V during the 500m piece and then kept it bow to stern with the 1V and again beat the 2V on the 1000 meter piece. Our second 1000 is when things started turning to shit. A wake hit us and the 2V, but the 2V seemed to handle it better. We got the worst of it and my point got off course. I tried steering back on but could not keep a straight line for the life of me for the rest of the day. And whoever placed the buoys on the course, THE LAST 250 IS NOT 250! MY GOD THAT'S AT LEAST 300 METERS!!!! Besides our occasional bad moments on the water, this week was relatively successful. I could not be more proud of how far some of them have come from the beginning of this week.
Definitely looking forward to sleeping for 90% of the trip. Right now, 6 hours a night doesn't seem to be cutting it and the daily naps make me more sleepy. Hopefully, a 12 hour recharge and maybe a little time to regain focus will help us coming into Dad Vails. Excited for this next week to come. Whatever is waiting for us, bring it! We're ready for it.
---
---
---
The Grand Valley State University Rowing Club challenges its student-athletes to reach the highest level to which they aspire both academically and athletically, while continuing to build and sustain a nationally competitive intercollegiate rowing program.

Copyright 2015-2016 Grand Valley State University Rowing Club. All Rights Reserved.