2013-2014 Officers
---
Costas Ciungan, (2014) – President
Costas began rowing his freshman year in high school for Grosse Ile Rowing Club. Wishing to continue with the sport, he joined Grand Valley's Rowing Team his freshman year, where he sat three seat in the Men's Junior Varsity 8+. The Junior Varsity 8+ that year took Silver at the 2011 Knecht Cup. In addition, Costas switched into the Men's Freshmen Novice 8+ and sat at two seat for the Dad Vail National Championship Regatta, where his crew took 3rd Place in the Semi-Final – falling short of advancing. Later his Freshmen crew would take First place in their petite final at ACRA. In his sophomore year, Costas sat three seat in the Men's Junior Varsity Heavyweight 8+ for the entire year; taking silver at the SIRA Championship Regatta, the MACRA Championship Regatta, and the 74th annual Dad Vail Championship Regatta. In addition during his sophomore year, the Junior Varsity 8+ took third place at the ACRA National Championship Regatta. In His Junior year, Costas spent the entire year at three seat in the Men's Varsity Heavyweight 8+; finishing 3rd at the Head of the Charles, Gold at the Lubbers Cup Regatta, fourth at the 75th annual Dad Vail Regatta, and third at the ACRA National Championship Regatta. In his Junior year, Costas also traveled to Henley-on-Thames, U.K. to compete at the prestigious Henley Royal Regatta. Costas has been the web manger since his sophomore year and is studying Legal Studies and Criminal Justice along with a minor in Information Technology.
---
Justin Ebert, (2015) – Vice President
Justin is heading into his third year of rowing for Grand Valley. Justin is one of the few imports into the Grand Valley program, coming from Egg Harbor Township in New Jersey where he began rowing before college. Outside of rowing, Justin is majoring in classics and economics and plans on graduating in 2015. Justin recently went to England for Henley this past summer and again looks to be very competitive this year in the V8.





---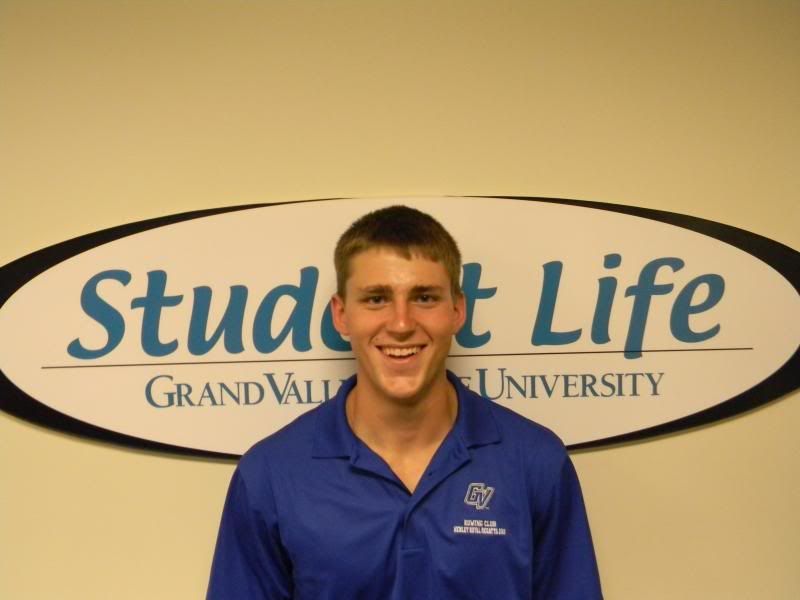 Austin Burris, (2015) – Treasurer
Austin began rowing his freshman year of high school at Rockford High School. He decided that he wanted to row in college midway through his senior year at Rockford. He has sat 6 seat in the V8 both his freshman and sophomore year. His freshman year the boat placed first at San Diego, first at Lubbers Cup, second at MACRA, third at SIRA, seventh at Vails and fourth at ACRA. His sophomore year the boat placed first at Lubbers Cup, fourth at Vails and third at ACRA. Austin is majoring in Accounting and Finance.




---
Jordan Crandell, (2014) – Secretary
Jordan graduated from Fremont High in 2010 where she had been a swimmer and decided to try rowing because she didn't want to give up the water. She came down to the boathouse the first day of practice in the fall and has found herself wandering there every day since. Jordan sat 2-seat in the Novice 4+ that placed 4th at ACRA, her sophomore year sat 3-seat in the Varsity 4+ for Dad Vails and rowed 3-seat in the 2V8 at ACRA which won bronze. For the 2013 spring season, Jordan stroked the Varsity Women's pair to a silver medal at ACRA and is looking forward to another rewarding year on the Grand. She will graduate in 2014 with a BA in International Relations with a minor in Middle East Studies.







---
Victoria Lloyd, (2015) – Trustee
Victoria graduated in 2011 from Ann Arbor Pioneer High School where she rowed for three years. She had planned on staying focused on her studies while at Grand Valley but luckily she was swooped right back into rowing. Her novice year, her 8+ went undefeated with gold at every regatta that spring, including ACRA. She sat 2 seat of her novice 4+ while winning gold at Lubber's, SIRA and a bronze at Dad Vail in her novice 4+. During her second year with the team she stayed at 6 seat of the 2V, bringing home many medals, including gold again at ACRA. Victoria is currently studying Hospitality Tourism Management with an emphasis on Event Planning and plans to graduate in 2015.






---
Maria Edelhauser, (2014) – Risk Management Officer
Maria graduated in 2010 from Troy High School. Playing water polo in high school, she planned on continuing a sport in college. Having never rowed before, she joined the rowing team at Grand Valley and will be entering her 4th year on the team. Her sophomore year, her boat placed third at Head of the Charles, then the following year they placed fourth. Maria's junior year spring season was very successful, claiming first place at MACRA, Dad Vail, and ARCA. She also competed overseas in the Henley Women's Regatta, where her boat made it to the finals racing Oxford University from England.







---