Saturday, December 31st, 2011
Athlete: Carey Mankins
Home town: Bloomfield Hills, MI
Major: Health Professions
Graduation Year: 2013
As I sit writing this blog, I feel as though I have spent the whole day rowing nonstop. All of the muscles in my body hurt and I am starving! We all began the day knowing that this morning's practice would be a long one. After we had a nourishing breakfast provided by Diann Flanders, we got on the water. We rowed through the first bridge near our launch site and I took note of the channel marker 35. We did drills for the first half of the practice, making it past channel marker 1…a long way. All though the drills were very repetitive, they were effective because today I felt like I started rowing completely different than I had ever before. The biggest sign I felt was my muscles feeling more engaged at the catch. Probably why I am so sore right now. We took a 10 minute break, spun our boats and headed home. We dropped the drills and did steady state all the way back, making our way back each channel marker, one by one.
After practice, Coach B stopped at the store to pick up ingredients for homemade meatballs, picking up at least 10 pounds of meat. We took over the varsity men's suite and started adding ground beef, sausage, breadcrumbs, seasonings and too much cheese to measure. As Coach B perfected his tomato sauce, we rolled at least 50 meatballs. each big enough to feed a rower. As the small hotel room filled with the smells of Italia, leaving for our second practice at 3:30 was even harder.
Holding true to our schedule back in Michigan, we still had our Wednesday test pieces. But luckily for us, the weather was nice and coach was in a good mood having seen Minnie the Moocher, so he allowed us to do the pieces on the water instead of the erg. In the eights, we did the pieces by 4's, switching every 12 minutes, doing a total of 8 pieces. The pieces were hard, but I was happy to be on the water to try and perfect my new form of rowing. After three years, I would hope I would have it down by now. We started practice with the sun above our heads, and ended it well after the sun set.
We returned to the hotel warm up and chow down on the meatballs that had been cooking all day, a hearty meal for a rower after a successful day of learning. Our trip winds down with one more day of practice but we have all done our best to make it worth it. The learning that had taken place is so valuable and I can not wait to get back on the water in Michigan and start racing.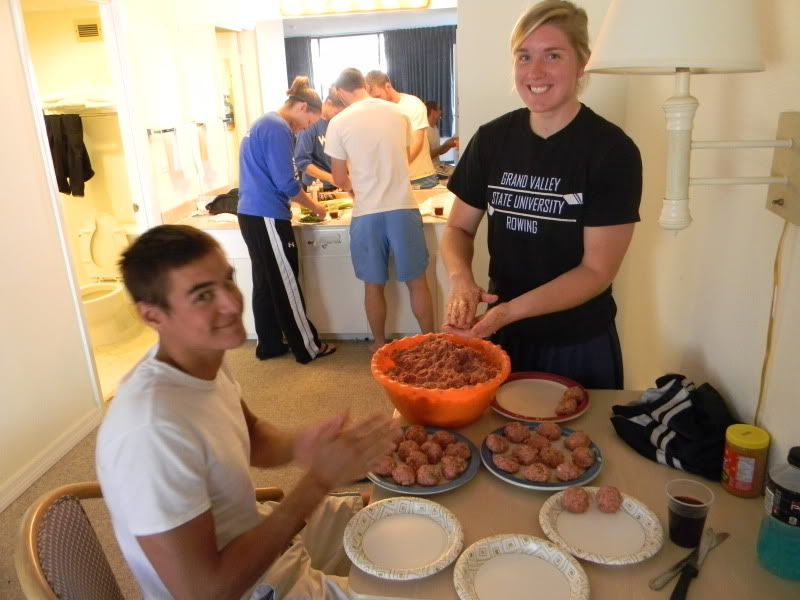 Athlete: Dominic Kootsillas-Conybeare (DKC)
Major: Statistics
Graduation: '13

Hometown: Chelsea, MI
GPA: 3.0
Today we woke up to freezing temperatures. Not something I expected to experience while in Florida. Along with the cold temperatures, were very nice water conditions. In the morning we spiced it up a bit with a longer row than normal, instead of doing stationary drills. It was definitely nice to work on technique while moving. We went farther than I've ever been, rowing past the channel that leads to open water. We also saw one of the live team mascots, Minnie the Moocher, which breached a few times for the boats.
In between practices coach taught a few rowers how to make real Italian meatballs. Cutting carrots and celery with butter knives was interesting, but with all of the volunteers we got them cooking in less than an hour. Given the fact that we made somewhere around one hundred meatballs, I'd say that's pretty good.
For our afternoon practice, coach treated us to having our Wednesday workout on the water instead of on the erg. Even though we went pretty far this morning, we went even farther during our pieces. We did 4x12' in the 8s by 4s. Coach B's kids, Pat and Salvatore, got in the men's boat for a few of the pieces each. Coming back to the smell of an Italian restaurant in my room was well worth the workout. I'd say everyone on the team had a great workout and are excited to go back tomorrow.
Athlete: Jordan Crandell
Hometown- Fremont Michigan
Major- International Relations
Graduation year- 2014
Today we started off the day again at 7:30 A.M. , meeting at the Sarasota Crew boathouse. We almost felt at home because it was 35 degrees! Hello long spandex and multiple layers! I have the privilege of staying with Chuck, Diann Flanders and their daughter Kate and they graciously provided breakfast for the team this morning. Even though it was a little chilly, we were happy to munch on bagels, apples and other "rower-approved" food!
 
The water was beautiful this morning and we were able to have a long steady state row. I worked with Coach Lisa and we spent half the practice working on exercises to help improve our recovery- some progressive pause drills and 'cutting the cake' drill. The second half of practice was spent on the drive- working with the top 6 inches, legs and back only. After practice, we were excited to hear that our erg pieces were now going to be done on the water! There were sighs of relief and cheers all around. Later on in the day when we returned to the boathouse, we launched and started our 12 minute pieces. After 2 pieces, we had to turn around as it was getting dark. This started what was approximately a 1 hour and 15 minute row back to the boathouse. Even though we were all exhausted and our muscles ached, the girls in my boat took turns cheering each other on and supporting them each stroke. It makes me feel so much closer to my teammates when everyone is in pain, but we still muster out the words to push each other until the last stroke. It makes me very proud to be a part of this team and I'm honored to pull with these girls in the Laker Navy.
 
It has been a great week here, even though we had our ups and downs, Grand Valley Rowing has pulled together once again to create a great trip full of memories, laughs and bonding.
Athlete: Kylen Pattermann
GPA: 3.7
Graduating year: 2013
Hometown: Elburn, Illinois
Second year on the team
Today began at 7:30 when we headed to our first practice. When we got to the course, breakfast was waiting for us in the form of bagels with cream cheese, fruit, and various drinks. After eating, we headed out onto the water. At first it was cold, and we set off layered up. By the end of the first hour or so, the sun was up and it quickly grew warmer. My boat rowed down past the entrance to the Gulf of Mexico before spinning and heading back. We did lots of drills, such as swing pick and straight arm rowing on the way out and mainly steady state on the way back. Overall, we were on the water for about three hours. After practice, coach gave us the good news that due to the lovely weather, rather than doing our pieces on the erg that afternoon, we would instead do them on the water. Yes, we cheered.
After a brief afternoon rest, we headed back to the course for our second workout. We did eight pieces that were each twelve minutes long, only rowing four at a time. My boat ended up rowing by sixes for most of the pieces in order to keep up with the men's boat. We were out well past dark, and rowed back under the stars in the moonlight. By this point, it was significantly colder, and at the end of our second three hour workout of the day, the only things we wanted were a hot shower, Coach B's homemade meatballs, and a warm bed.