Friday, September 27th, 2013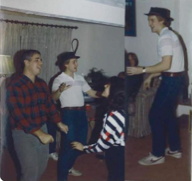 Schintzel has the Green Hat on
This fund is being established at Grand Valley State University due to the long time moral and monetary support John Schintzel has offered over the years. In 1983, John and his college roommate Steve Callaghan started a 50 mile row-a-thon to support the sport of rowing at the University of Charleston, in WV.
This was an example of John Schintzel's love and dedication to the sport of rowing. During that time John Bancheri acted as the motorized boat support person and could not help his urge to coach during this all day endeavor. At the end of the day, "Schintz" was insistent to John Bancheri that he should consider coaching crew in the future; he had a natural ability and solid knowledge of the sport that could truly help young rowers.
As we all know the rest is history, John Bancheri is a very successful Head Coach here at the Grand Valley State University's rowing program and club. What most don't know is that John Schintzel backed up his words of encouragement and belief's for many year. Over the past 20 years he has been an active financial, moral and sounding board to Coach Bancheri and the University's rowing program.
His love for rowing, and his quiet mostly unknown support will live on….'
The link to donate to the John Schintzel Memorial Fund is below and is established at Grand Valley State University to support rowing and continue the legacy of John Schintzel.