Henley Homepage 2013 | Men's Journal 2013 | Women's Journal 2013 | Men's Journal 2010 | Women's Journal 2010 | Coaches' Journal 2010
---

Athlete: Justin Ebert, bow, Men's Varsity 8+
Year & Major: Sophomore, Classics/Economics
Hometown: Egg Harbor Township, NJ
High School: Egg Harbor Township High
If I could tell my incoming teammates one thing, it would be: Puzzles are largely underestimated and generally forgotten. If you happen to have some free time, you should invest.
This morning was our last in Henley-on-Thames. I realize it has been a number of days since our last blog update, so I'll try to recap our experience lately.
Wednesday morning we woke up and started our normal daily routine. After more than a week of practicing at the racecourse, we were looking forward to competition. Of course we were all dealing with some degree of nervousness, but the mood was positive through encouraging pre-race words from Coach B. and to our departure from the dock. In my opinion, the feel of the boat during the warm up was close to the best it had been in the last couple weeks. This gave us confidence as we made our way up the river, and then back down toward the starting platforms.
We pulled in next to Oxford-Brooks B and acquired our point down the course. A couple minutes later, an official called us to sit ready and signaled the start. The first 10-20 strokes found us with a slight advantage over Oxford-Brooks. We extended our lead and led them through the first half of the race. However, we weren't able to maintain this. A variety of factors contributed to what ended up being one of our less-commendable second-half performances, and with what they described as their "best rowing yet this year", Oxford-Brooks was able to push through. The verdict was 2/3 of a length.
We were all disappointed. That was blatantly obvious. We would not have the opportunity to continue competing – the reason why we had come to the regatta. It took us a little while to deal with that reality.
However, we did learn that our race posted the two fastest times of the day for the Temple Cup. This simply means that while our performance against our particular opponent that day did not merit advancement in the competition, we were a competitive crew. Our race with Oxford-Brooks was without question the most competitive of our event for the day. In fact, our times remained the fastest for the Temple Cup for the next two days.
The remainder of the week has been filled with lots of time watching races at the course and cheering for our crew of choice (U.S. boats when possible). Yesterday a few of us were able to see a number of events for which new course records were set – and that's pretty sweet if you ask me. When not at the course, different groups of the team spent time at local pubs, in Lego Land, at Windsor Castle, on a homemade, row-able lawn/picnic table, and at a rope swing on the Thames, among other things. Personally, my favorite time was just sitting together on the patio behind the Row Barge (pub), chatting and enjoying our last evening in Henley-on-Thames.
Our trip to Henley was dosed with a bit of disappointment this year. None of us expected the result, and all had hoped to continue further. But even in spite of this, I can say that the members of the Laker Navy made the most of their time in England. I don't think I speak only for myself when I say that the memories I have been able to make here with my teammates are invaluable to me. The trip, beginning to end, was defined by good moods, a lot of laughter, and some adventures in some really cool places – especially as the area relates to our sport.
I can't express thoroughly enough the gratitude that we feel toward any who have contributed to our Henley Trip 2013. Thank you.
---

Athlete: Jordan Hart, coxswains, Men's Varsity 8+
Year & Major: Senior, Exercise Science
Hometown: Algonac, MI
High School: Algonac High
If I could tell my incoming teammates one thing, it would be: just do what you think is right.
Today we woke up, got ready, ate breakfast and heading to the course to watch Keegan and Peter in the Jesus College spare pairs race. Unfortunately, they were drawn against Northeastern and did not make it out of the first round. After watching them race we got together and launched for our last practice in Henley before racing begins. Today we did four 250m pieces, two with the start and two body pieces. We had a fantastic practice and can't wait for our race tomorrow against Oxford Brooks (B).
After practice we headed back to the house for lunch. Today was a day for relaxing since we have a race tomorrow. The boys helped set up a 6m by 6m marquee in Jo's garden. While they did that I helped Coach B make his homemade minestrone soup, and by help I mean I cut some veggies and stirred the pot. Then I had some afternoon tea and face timed with my sister, all the while the boys were setting up the tent.
After we all enjoyed some soup we congregated at the table. Some of us wrote postcards to friends and family and some (Ebert and Ken) looked over the load of books they bought at the antique bookshop down the road. Actually, Justin Ebert had not even come home after practice. He went directly to the bookstore and remained there for 5 hours. I literally have no idea how they are going to get all the books they have bought in the last week home. He came home just after the marquee had been put up and the soup had been eaten.
Before heading to dinner at Magoos, I played a quick game of football (soccer) with Oliver. I beat him 5-4 and then I had to quickly get ready to leave for dinner. Magoo's prepared a great meal for us, half a roasted chicken with a side of chips (French fries) finished off with a brownie and chocolate ice cream.
We are all looking forward to racing tomorrow. We will head to the course around noon and race at 2:05pm, London time – 9:05 am Eastern Standard time.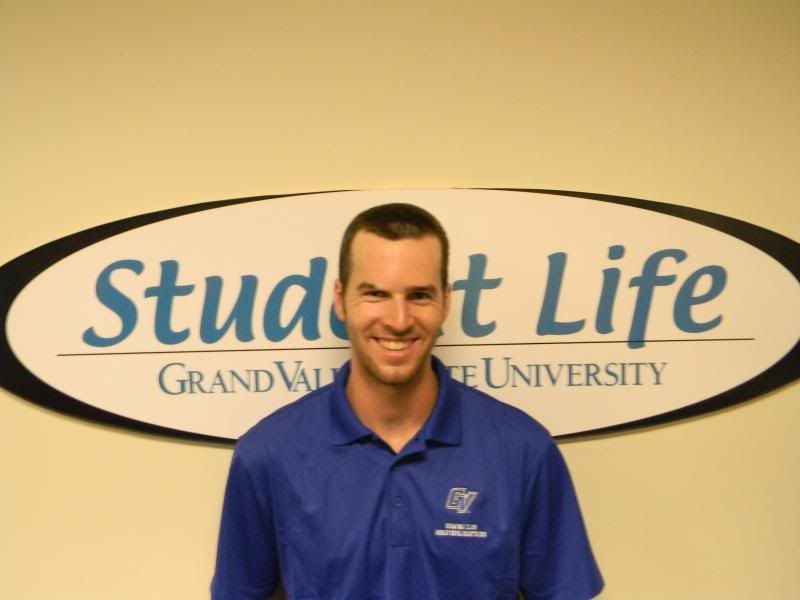 Athlete: Keegan Jahnke, stroke, Men's Varsity 2-
Year & Major: Senior, Exercise Science
Hometown: Saline, MI
High School: Saline High School
If I could tell my incoming teammates one thing, it would be: "When in doubt, Pull hard."
So I had to get up around 7 am today for breakfast and it was not bad at all considering I went to bed at 9 pm. Sarah had some fruit, cereal and something called iced finger buns that I ate about 10 of. Then I hungout with Peter and Andrew until 9 am when we left for the course. Because it was raceday for the pair, we decided to wear our matching Henley jumpsuits. Needless to say if it was a contest if who dressed the best, we would have won.
After we got to the course we went and saw coach and the first thing he said to us was, "You guys are racing giants." After that we went to the officials tent to see all of the entries and there were only two boats, Grand Valley and Northeastern University. A little fun fact about Northeastern, they are a varsity program with scholarship athletes. This didn't scare us at all, it just let us know that how ever we did, we can say it was against a varsity crew.
So the pair launched at about 10 am and rowed down the course for our warm up and ended up waiting at the start line for the competition to catch up. They showed up five minutes later rowing on the square. As we both pulled onto the course the officials told us to row up to the barrier and that is where they will line us up. It's no surprise that Northeastern got to that starting point first. They lined us up and then we were off. The crazy part was that we were right there with them. About 200 meters, we were still hanging tough down only half a length to these two scholarship earning rowers. Another 200 meters pass and they are only on our bow ball. This is when it starts to go down hill or should I say where it starts going straight to port. Things kind of fell apart as we eventually crossed the line a few boat lengths behind the victors.
After the race we met Coach B on the dock and he shook our hands and said a few words to sum up the end of two, four year journeys. We then went and met up with the Northeastern pair and congratulated them on a good race. After a couple pictures were taken, I met up with some family and went in to town for some shopping and an ice cold pint.
For dinner tonight we decided to change it up and went to a pub that I haven't been to yet. It was called Magoo's and it was delicious. We were served half of a chicken with some "chips" (fries) and some coleslaw. My stomach will be full until tomorrow night.
Today was a huge day for me, it was the last day I will be a member of the GVSU Rowing Club. There were a lot of memories made up to this point and I'm excited to make some more these last few days in England.
---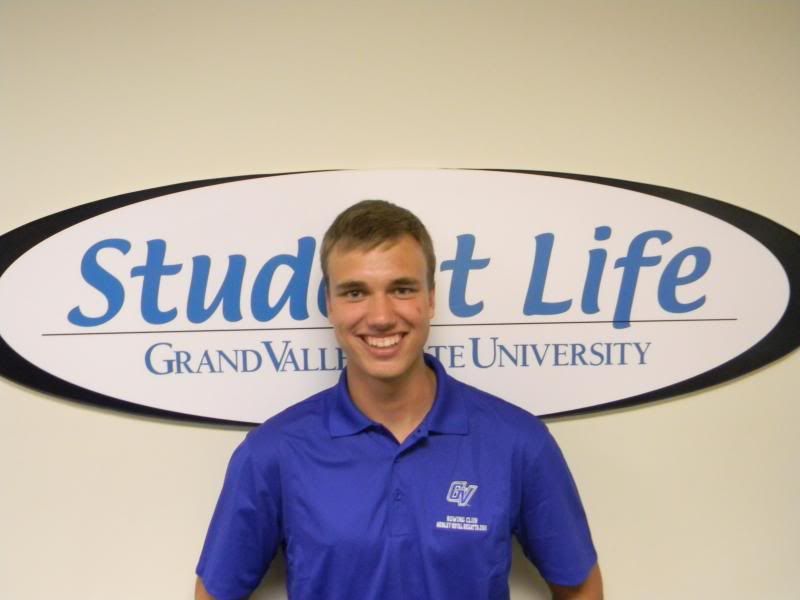 Athlete: Peter Zwierzynski, bow seat, Men's Varsity Pair
Year & Major: Senior, Accounting/Finance
Hometown: New Carlisle, IN
High School: New Prairie High
Fun Fact about Yourself: I am currently homeless and unemployed
The trip has been a lot of fun so far. My favorite part of the trip has been the row from Henley to Reading and then back after the regatta. The locks made it very interesting. At first, Keegan and I had no idea how to get into the lock but luckily Hugh was there to help us out. While we were sitting in the lock this little duck swam up to my oar and started to bite it. Then the duck went up and sat on Keegan's blade. The duck sat there long enough for him to lift it about 3 feet off the water and then it plopped back into the water. After that we had a few more incidents with ducks/a goose. In short, I hit two ducks and a goose with my blade. I don't believe the animals were harmed though. We made it Reading in about 90 minutes, with no help from Hugh. He was suppose to follow us the whole way but he got lost and left Keegan and I to ask fishermen and random people if we were headed the right way. It was a fun row, but nowhere as fun as the row back.
At the regatta Keegan and I were dreading the row back to Henley all day. However, we were laughing pretty much the whole row back. The thing that kept it fun was the fact the locks didn't have any operators. So, we had two choice at each of the three locks. Either operate the lock ourselves or portage our boat to the other side. Well, Keegan and I decided it was to difficult for one of to get out of the boat and operate the locks. Portaging was just as hard though. The walls of the locks were considerably higher than our normal docks by at least two feet. This made it harder to get out of the boat but almost impossible to get back into the boat. Plus, we were quite a spectacle and all the bystanders at the locks were laughing at us/ amazed by our skills. We got back really quickly and the row was very enjoyable.
I am very excited to race tomorrow morning in the spare pair race. We actually just got a new boat today that works great for us. We have no idea what type of boat it is but it is red and it's pretty nice. We just call it a Lola. We have seen so much this trip and experienced so many different things.
One of my favorite things to do here is to learn different words the English use to describe things. My favorite is what the call wrenches at regattas, rigger jiggers. They normally call them spinners by the way. Brilliant! is often use as a substitute for Nice! Most people don't say thanks but cheers instead. Another interesting thing is they don't use port and starboard to describe the different sides of the boat in rowing. Instead, they say bow side and stroke side. I have learned so much and experienced so much and the regatta hasn't even started yet. I can't wait to experience the regatta.

Athlete: Ken Pierson, 5 seat, Men's Varsity 8+
Year & Major: Junior, Psychology
Hometown: Davison, MI
High School: Davison High School
Personal quote: "Every man I meet is in some way my superior. In that, I learn of him" – Ralph Waldo Emerson
Ten and a half months is a long time. We've been training almost uninterrupted for nearly a year now. When talking about hard work, phrases like "blood, sweat, and tears" are sometimes thrown around. In this case, there hasn't been a lot of blood and, due to the rugged masculinity and amount of testosterone, there have been absolutely no tears. But there has been sweat, and not the kind that occurs in a sauna or during a hot and humid summer day. It has been intentional – the result of putting the body through repeated discomfort and pain. We have walked (and rowed) the line between fatigue and failure so habitually that our potential has continuously risen. Now, as the Henley Royal Regatta knocks on the front door, there is an unshakeable electric anticipation. Every fiber is trembling with the urge to explode into action. We are race-ready. Ten and a half months is a long time, but in a time like this, everything else seems insignificant.
And we are restless. With the taper and less work on the water each day, there seems to be a collective bodily frustration. Usually, and now more than ever, this results in behavior becoming increasingly inappropriate, to the point where ten young adults begin acting like young children giddy with pent-up energy. There has been no shortage of playgroundish fun (I'm sure the reader can imagine).
Luckily, there are outlets to stay occupied and burn off some excess energy. The town of Henley is full of opportunities to stay busy. Within a fifteen minute walk, you can get nearly anywhere, passing six hundred year old inns and countless antique shops, art dealers, and cafes along the way. This kind of quaint small-town feel creates an awesome atmosphere of community, all without the tourist trap-ishness that you might find in a similarly sized costal area.
What is really great is that this relatively small town (population 10,000) gathers together around the Henley Royal Regatta. It becomes a kind of unifying agent, bringing a commonality to locals and visitors alike. Rowing becomes something to rally around, to talk about, spectate and compete in together. This can be felt when walking through the streets; shopkeepers apply fresh paint to their exteriors, people gather on street corners, and markets set up in the center of town.
As far as today, as I mentioned above, we are tapering and have not been as active as usual. We woke up at the usual 8 to 9am, went into town for a little bit, and rowed at 1:30pm. After practice we got a quick lunch and prepared for the rowing museum reception. And by prepare, I mean all of us running around at various levels of nakedness, all trying to shower and dress ourselves for the rapidly approaching formal event. What proved to be most difficult (at least for myself) was the bow tie tying. Even after the initial tying, it takes many minutes of shaping to perfect. This resulted in a severe bottleneck occurring in the bathroom as the small printer-paper sized mirror quickly became in high demand. Somehow, three to four heads successfully crammed together competing for a section of valuable mirror real estate. But we made it work and made it to the reception with time to spare. After viewing the history of rowing exhibits and listening to a short speech by a former Olympian, we casually made our way to a nearby inn for dinner.
Now, the day is coming to a close and everyone is winding down.
BONUS:
A brief translation dictionary
bathroom – loo or toilet
thank you – cheers
male – bloke, chap
to snitch –grass
silly – cheeky
backyard – garden
TV – telly
give a call – give a bell
line of people – queue of people
(to be continued)
---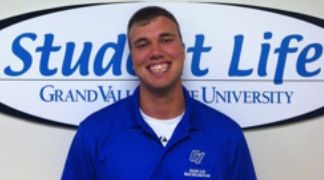 Athlete: Andrew Zwierzynski, Team President, Grand Valley Rowing club
Year & Major: Senior, Accounting
Hometown: New Carlisle, IN
High School: New Prairie High
If I could Tell my teammates one thing, it would be: Enjoy your time with the team.
This morning I was eating breakfast when I was pleasantly surprised by Peter coming in with Coach B, Sal, and Patrick. We discussed leaving for London. Then, I introduced them to a few of the members of our host family, Sarah, Hannah, and Chloe. Sarah is our sweet house mom who always has breakfast for us no matter what time we get up. Hannah is one of her daughters; she rows for Henley, and her boat just won at the Reading Town Regatta and at the Women's Henley Regatta. Finally, Chloe is their cocker spaniel. She never barks and always wants to be petted.
After departing from the house and riding the train to London, we split up into groups. Chad and I decided that we wanted to do some of the same things and started off into the subway system. Our first stop was to check out Madam Tussand's, a wax museum. However when we got their the place was packed, and we decided we didn't want to wait. We then ran into a couple of girls from Michigan State and talked to them for a bit before getting back onto the subway for the London Dungeon. We both decided that we were going to check out the dungeon no matter what; it was the one thing we wanted to see all day. We waited in line for about an hour and got in to the haunted house amusement ride. We both really enjoyed having our scares and laughing at each other.
We then walked across the street and saw Parliment. It is so much bigger than in pictures, and every little piece of brick work has so much detail. It is a very impressive building. From there we walked to Buckingham Palace. It is also very impressive, with a lot of architectural detail and security. We decided after that to call it a day and to take the train back to Henley to relax.

Athlete: Spencer West, Stroke Seat, Men's Varsity 8+
Year & Major: Sophomore, Allied Health Science
Hometown: Grand Rapids, MI
High School: Home School
If I could Tell my teammates one thing, it would be: Make every day an improvement.
Today, given the day off from practice to have time for sightseeing, everybody took full advantage of the morning off by sleeping in for a lazy Sunday morning. After finally rousing and eating breakfast, a few of us prepared to leave for the train station for a day in London while others chose to relax at the house for a day of rest. Our group of thirteen boarded the 10 o'clock train to Twyford, off to London for a day of fun. One transfer and an hour and a half later, we arrived at the London Pattington train station where we split into smaller groups for the day. Costas, Justin, Austin, Jordan, and I, with plans already in mind, followed signs for the northbound Bakerloo Line which we would take to the underground stop at Maida Vale. Our first objective of the touring day was to take a picture resembling that of the Beatles' famous album, Abbey Road. So we walked the short walk to just in front of the Abbey Road studios, where we saw several groups of people attempting to do exactly the same thing. With Justin imitating the barefoot Paul McCartney, we walked across the crosswalk much to the enjoyment of all the other pedestrians standing at the intersection.
Satisfied with our reproduction, we then took off towards the famous Baker St., where the Sherlock Holmes museum was located. On the way we enjoyed looking at incredibly old churches, homes, and stores in the area. Much to our dismay, we were greeted at the museum by an extremely long line of ticket-holding tourists waiting for their turn to enter the museum. After spending some time looking around at various souvenirs and miscellaneous keepsakes, we decided that we did not want to spend a large chunk of time standing in line, we decided to move along to our next destination. To get to the next site, we knew it would be best to take the underground railway. So once again we hopped on the Bakerloo Line at Baker St., this time heading southbound. At the Charing Cross stop, we split up with Justin and Costas off to the National Gallery with plans to meet back up later in Trafalgar Square. After they got off, Austin, Jordan, and I continued one more stop and transferred to the District Line which we took to Westminster, so Jordan could experience everything that she didn't have the chance to see during the first trip in London.
We came out of the underground and immediately saw Big Ben, which we took pictures of and continued onward towards the Houses of Parliament. After admiring all sides of Big Ben and the Houses of Parliament, we crossed the street to get a closer view of Westminster Abbey. Dismayed that the abbey was closed for sightseeing due to Sunday services, we continued onward in showing Jordan everything in London that she missed the first time around. We were surprised to see a statue of Abraham Lincoln in Parliament Square, which was given to the British as a gift in the early 1900s. Next, we took pictures at a classic picturesque red phone booth with Big Ben in the background. From there the three of us continued through St. James Park, past the pelicans and gardens, all the way the Queen Victoria Memorial and Buckingham Palace. After watching the guards and admiring the sculptures, we walked down the road known as "The Strand," away from Buckingham Palace and towards the Admiralty Arch. We arrived in Trafalgar Square surprised by numerous tents and fences surrounding iconic fountains and lion sculptures that we took pictures with just a couple days previously. It appeared to be that the commotion was all in preparation for an event in celebration of Canada Day. Since we couldn't meet up with Justin and Costas by the lions, we decided to make our way to the entrance to the National Gallery. Before meeting with them at the entrance, Jordan and I purchased delicious ice cream and sorbet from a small stand just around the corner.
After the five of us reunited at the entrance and descended the steps down to Trafalgar Square, we were approached by a man from Ghana who made bracelets for each of us while engaging us in a most interesting conversation. At this point I realized that sometime after getting off at Westminster my train ticket had slipped out of my pocket one of the time I had grabbed my wallet. After checking near the ice cream stand and determining it would be a lost cause to look much further, I knew I would have to buy a new ticket. Before getting back on the Underground once again, the five of us stopped at Pret to purchase sandwiches and beverages to hold us over until our next meal. We then took the Bakerloo Line from Charing Cross to Waterloo, travelling under the river and exiting very near the London Eye from which we walked to the eastern end of the Westminster Bridge. With a gorgeous vantage point, we were able to see Big Ben and the Houses of Parliament from across the Thames. We followed a pedestrian path along the river known as "The South Bend." This route took us under the London Eye and past several entertaining street performers en route to the Tower Bridge. On our way we also passed a skate park, a garden, Millennium Bridge, and Shakespeare's Globe; Justin, Costas, Austin, and I even purchased bird whistles much to our enjoyment of annoying everyone around us.
Finally, we arrived at London Bridge, which we began to walk across to get a fantastic vantage point to take pictures of Tower Bridge and the Tower of London. By now it was getting pretty late on in the day so with one last thing on our to do list, we hopped on the Underground at Monument, headed northbound for King's Cross. Once at King's Cross, we followed the signs towards the trains and platforms 9 and 10. Near the platforms, we found what we were looking for, a line of people waiting in line to take a picture with half of a luggage cart protruding from a brick wall under a sign reading, "Platform 9 3/4." We then began to make our way back to the Paddington Station, taking the Victoria Line and the Bakerloo Line to get there. Arriving at Paddington with plenty of time to spare, we went into a shop within the train station to purchase a few snacks before boarding the 7:15 train to Twyford. After switching trains at Twyford we finally arrived back in Henley-on-Thames around 9 o'clock rather hungry. To satisfy our cravings, the five of us went straight to Catherine Wheel to grab dinner before returning to the house. After a satisfying meal and desert, we went back to the house ready to rest our legs and relax.
Twice in the past week we've gone to London and both times I left feeling that it was a very successful trip. Acknowledging how impossible it would be to see everything in London worth seeing in just two days, I left London today knowing that I've experienced a large chunk of London with some great people. Both times were able to navigate the bustling city smoothly and successfully, planning out our stops and doing everything set on our agenda. But with touring days now over, the time to focus on racing is here. With the first round of racing now just a couple days away, anxiety and anticipation are really beginning to set in. After coming off an encouragingly strong row yesterday and a much needed day of rest today, we go into these last two days of practicing with a high level of focus, knowing that this next week will take everything we've got.
---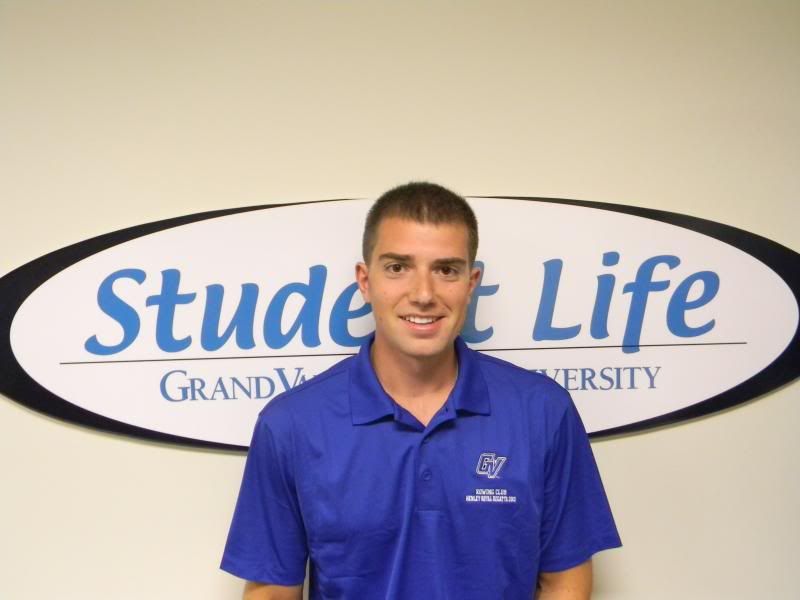 Athlete: Chad Condon, 4 seat, Men's Varsity 8+
Year & Major: Senior, Management
Hometown: East Grand Rapids, MI
High School: East Grand Rapids High
If I could Tell my teammates one thing, it would be: always go hard and don't worry about stuff in the past, and focus on what you can control.
Today we got to sleep in and relax a bit before we set out for our long row up to Reading for the race. On the way up the Thames River we had to go up three locks. The whole trip was about eight miles long. Once we got to the regatta we had a while until our race, so a couple of us took a nap in the grass. Then we went for a walk to Tesco for a little lunch. By the time we got back to the course it was almost time to race. The name of the regatta that we raced in today is the Reading Town Regatta; it's only an 800 meter race. It's almost an all-out sprint.
We raced in the senior 8+, the only other entry was Trinity College from the U.S. We knew it would be a tough race going into it. The first few strokes we were dead even, as we got into our second ten of our high twenty we started to pull away, as we shifted we moved away even further. As we came into the last 300 meters we shifted up again and had open water by the finish. Instead of getting a medal at Reading we got tankards. They are really cool with the race and year engraved on the side. The race was a really great way to put our work over the past four weeks to the test before the race.
After we finished our race we pulled up to the dock and ran to get our clothes on shore hopped back in the boat and started on our way back down the river to Henley. The lock operators where not on duty because it was after 6:00pm; Hugh ran the trail beside us as Taco biked and they operated the locks themselves for the. At the first lock Hugh and Taco were not there yet so we dropped Jordan off to get the lock filling up for us. We ended up going through the last lock with Trinity. When we got back to our house at the end of the day, we had amazing fish and chips waiting for us. They were so good and every one ate so much.

Athlete: Costas Ciungan, 3 seat, Men's Varsity 8+
Year & Major: Junior, Legal Studies
Hometown: Grosse Ile, MI
High School: Grosse IleHigh
Fun Fact About Yourself: I love gardening and I went to Elementary School in Florida.
The Henley Men's team has been having a whirlwind trip thus far having practiced on the Thames river, traveled to London, explored the quaint shops of the Henley-on-Thames, and winning beer steins at the Reading Town regatta. Today was great day for our team as we got to participate in the Reading Town Regatta and raced against Trinity University, U.S.A.
On June 28th, 2013 – it was the Sal and Patrick Bancheri's Birthday. As such they got thrown into the Thames river from the docks. Later they explored the Warner Brother's Studio London – where Harry Potter was filmed. I traveled with them to see the studio and I was thankful that Coach John Banerchi – their dad – let me go with them. At the studios the twin boys and I had loads of fun.
The boys and I got to step inside and discover the actual Great Hall. We explored Dumbledore's office and discovered never-before-seen treasures. We stepped onto the famous cobbles of Diagon Alley, featuring the shop fronts of Ollivanders wand shop, Flourish and Blotts, the Weasleys' Wizard Wheezes, Gringotts Wizarding Bank and Eeylops Owl Emporium. We saw iconic props from the films, including Harry's Nimbus 2000 and Hagrid's motorcycle. We Learned how creatures were brought to life with green screen effects, animatronics and life-sized models. We rediscovered other memorable sets from the film series, including the Gryffindor common room, the boys' dormitory, Hagrid's hut, Potion's classroom and Professor Umbridge's office at the Ministry of Magic.
Yesterday was an outstanding day but today was even better. The mens team woke up around 10:00 pm in order to launch around 11:00 pm to row to Reading for the regatta. It was about an hour and fifteen minute row in which we traveled through three locks. The locks were an adventure because the width of our boat with oars barely fit into the locks. Everyone had to pull in their oars to fit. It was a new experience to travel through not just one lock but three locks.
The Men's team got to the regatta round 1:30 pm and watched as our spare pair rowed in the Double. After which the team walked to the local market to pick up some lunch which consisted of sandwiches, chips, and fruit. We ate at the nearest park bench along the Thames river. It was great to get something to eat but it was also beautiful with lots of birds swimming in the river or flying in the air chirping.
The Men's team relaxed, stretched, and warmed up until they launched for their race which was at 6:30 pm. The race was against Trinity College and the Laker Navy would win in grand fashion earning themselves silver beer steins. We had a great race – executing on all cylinders with great blade work and timing. This was a great confidence row as the Henley Royal Regatta draws near. Many of the guys have been getting acclimated to time difference here as England is 5 hours ahead. Our crew as also been having better and better rows each day as we get use to the feeling of slightly different oars and bigger Hudson boat – that fits our crew perfectly.
Overall, I have been having a wonderful time with my team as we enjoy and explore Henley-on-Thames, London, the Thames River, and the Reading town regatta. Moreover, I was floored to have the chance to visit the Warner Brother's Studio London and explore where Harry Potter was filmed including original sets, costumes, cinematography, and designs. I am looking forward to the next couple days leading up to he start of the Henley Royal Regatta and can't wait to start racing.
---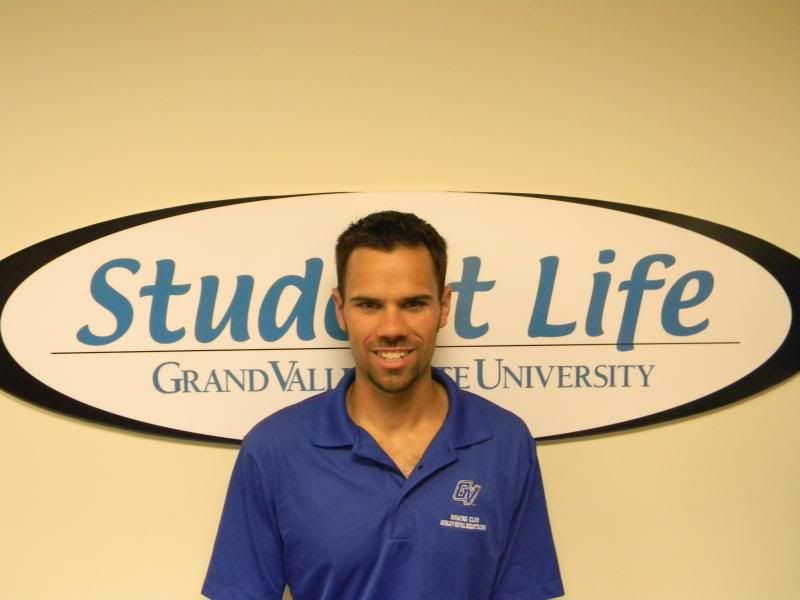 Athlete: Justin Wegner, 2 seat, Men's Varsity 8+
Year & Major: Senior, Natural Resource Management
Hometown: East Grand Rapids, MI
High School: East Grand Rapids High
If I could Tell my teammates one thing, it would be: Put in the time in the offseason and it will pay off in the spring.
In an effort to break from the pattern of these trip updates being written at the end of the day I have decided to attempt to write this one as the day progresses.
It is now about 11 am here in England (6am US time) and we have just returned from the racecourse after our first and only practice of the day. I am happy to report that today's practice was, in my opinion the best one we have had since arriving in England. It was a simple practice, two laps of the course, with a total of four 250m pieces (two per lap). For the first time I felt like I had my legs back so to speak and we are finally adjusting to the new boat and oars. The boat was set and the pieces were quick. This was a much needed confidence booster as we approach our first racing experience of the trip, the Reading Regatta. The successful practice has done a lot for moral and everyone seems relieved to have gotten a good row in as we continue to build on a trend of improvement. We are now getting cleaned up and gathering for lunch at the house. We plan to attend qualifiers later this afternoon but have no real plans until then.
12:30
We have just finished lunch at the house. We continued the celebration of Sal and Pat's Birthday (Coaches twin boys) with cake and ice cream. We sang them happy birthday and presented to them a birthday card. Much to their chagrin the celebration began earlier this morning after practice when we tossed them into the Thames, upholding a long-standing tradition of getting thrown in on your birthday.
4:00
I just arrived back at the house after a bout of exploring Henley with Costas. We walked down to the racecourse to have a look at the Regatta Store that opened yesterday. The course is quickly filling up with more teams and the boat tent with more boats. Traffic is getting heavier and rowers are everywhere. It is very clear that this regatta is a big deal and my excitement is building, as we get closer to the start of the event.
After spending some time at the regatta site, we walked through Henley some more checking out the local shops. The most interesting shop we stopped at today was a used book store. There is a whole section of books new and old on rowing there. The proprietor is very knowledgeable in rowing literature and it was interesting to learn about some of the history of rowing in England especially in Henley.
I have some down time now before dinner, which Coach B is currently cooking. Some sort of Pasta, It smells delicious. Not sure what I am more excited for dinner, or watching qualifiers this evening.
9:50
Back at the house again after a final excursion for the day. Dinner was incredible, we had pasta, meatballs, garlic bread and a spinach dish prepared by Coach with a lot of help from Taco, Ebert and Burris. We ate heartily and all helped out with the dishes. After dinner we headed down to the racecourse to watch qualifiers. Qualifiers are held as time trials and are for the crews that aren't given automatic entry into the event. There were a lot of crews coming down the course one after another and it was fun to see some of the boats we could potentially be rowing against. There was a wide range of crews some looked quick, some were not so pretty. After watching the crews qualifying for the Temple cup (the race we are entered in) we made our way back to the house. On our way through the regatta site I saw Matthew Pinsent four time Olympic Gold Medalist for Great Britain, and one of the idols of the rowing community.
Overall it has been a very enjoyable day. It was nice to have the afternoon to relax and walk around Henley and I am excited to row to, and race at the Reading regatta tomorrow. It will be a good test of our speed and it will be fun to rev it up and lay it down in a dress rehearsal for our race on Wednesday.

Athlete: Robert DeWeerd, 7 seat, Men's Varsity 8+
Year & Major: Senior, Criminal Justice
Hometown: Holland, MI
High School: Holland High
Fun Fact About Yourself: Restored a 1971 Monte Carlo.
Today was a remarkably bland day, at least in terms of the weather and Coach's Italian dinner. I'll get to the dinner at a later point. As for our practice this morning, I feel that the crew is finally coming together, after moving into a bigger boat and using different oars than what we are used to. The boat is starting to feel more comfortable, and our movements together are becoming fluid again. Today's practice was short and sweet, with two laps of the course and a total of four 250 meter pieces. We tried to do a start/short piece with Newcastle University, but, as expected, they broke out into a cold sweat of nervousness and, unwilling to be humiliated, declined our invitation. We came off the water and after a short chalk talk with coach a few of us grabbed the unsuspecting Patrick and Salvatore and threw them into the Thames river as a birthday 'celebration' (Video available for viewing via Coaches facebook)
Our 9:00 am practice was over before we knew it, and now we had a solid chunk of time to find something to do. A few volunteers went with Coach to the local grocery to get the ingredient(s) (the S being questionable) for dinner. Others such as Chad, Jordan, Ken, Spencer and myself went into town to check out some of the shops again. The first shop was actually a home built in approximately 1560 and is now an antique shop filled with thousands of items from old tin cans to swords. Chad is still upset about his decision to opt out of getting a sword, which he reluctantly made after I questioned his being able to get it past U.S Customs. Four hours later of walking around town we found ourselves at the race course again.
Qualifying races occurred today, so we decided to sit and watch some of the first events, such as the men's and women's singles, quads, and fours. 5pm rolled around, and we realized that dinner was being prepared, and so our stomachs lead us back to the house.
All though my initial comments about Coaches dinner may have lead a reader to think that my feeling about the meal is that of disappointment, that was not the case. Coach did as he had told us and blew the "Italian" dinner provided by one of the local restaurants out of the water. As I walked into the house, the amount of food and the intoxicating smell was infatuating. Homemade meatballs and perhaps the best sauce I have had conjoined with great pasta, bread, spinach, and of course company, made for an exceptional dinner. After dinner concluded, those of us that had not helped prepare dinner felt that it was our duty to do the cleaning.
Scurrying through the streets of Henley-on-Thames to see bits of the qualifying races that consisted of those that would be in our event (Temple Challenge Cup), we peered over the bridge to see crowds of people gawking at the course. Knowing that this is only a portion of the amount of people that will be sprawling onto the streets and course next week leaves me anxious to race. Tomorrow should relieve some of this anticipation, at least until Wednesday, as we are racing in the Reading Town Regatta tomorrow.
---

Athlete: Justin Ebert, bow seat, Men's Varsity 8+
Year & Major: Sophomore, Classics/Economics
Hometown: Egg Harbor Township, NJ
High School: Egg Harbor Township High
Fun Fact: My bike goes by the title of "Blue Glory", and she shimmers in the sunlight.
Today began with an 8:00 am practice, during which we did a number of shorter pieces of greater intensity for the purposes of continuing to adjust to the new equipment, testing our boat-speed, and conforming to our particular physiologic training plan as we approach competition. The practice could have gone better, but the trend so far has been daily improvement, and we're committed to furthering that trend.
By mid-morning we had embarked on the train for London. The Henley-on-Thames station is located only about a quarter of a mile from our house, and couldn't have been more convenient. £9.40, a couple connections, and about an hour later, our band of cohorts arrived in one of the most renowned cities in the world. As a group, we stopped for lunch (at which point a number of us indulged in our first U.K. experience of "fish and chips") and proceeded to the British Museum.
This museum is akin to the U.S.'s Museum of Natural History in Washington D.C., which the team had the privilege to explore earlier this season. It was a magnificent display of a variety of styles of architecture, from its imposing classical Greek exterior to its Great Court with a glass canopy ceiling. Moreover, this building houses some of the world's most highly esteemed pieces of history and culture including Egyptian sarcophagi, cuneiform tablets, sculptures from the Parthenon, the Rosetta Stone, incredible ceramics of East Asian cultures, and an abundance more. Shortly after entering the museum, the 17 of us fell into smaller groups, which spontaneously separated, viewed the exhibits of interest to us, and (at some point made) it out of the expansive structure.
Costas, Spencer, and I, with the direction of maps and some assistance from a friendly young vendor, began navigating the streets of London toward our chosen destination of Buckingham Palace. At this time, I didn't expect that we'd manage to see a solid majority of the rest of the city before we arrived. En route (however meandering it might have been) to the royal residence, we thoroughly appreciated copious amounts of stunning architecture, including that of: the National Gallery, Big Ben (Elizabeth Tower), Westminster Hall, Westminster Abbey, the Houses of Parliament, and the Foreign and Commonwealth Office. We enjoyed time in: Trafalgar Square posing with colossal statues in the likeness of lions, Saint James' Park admiring flower gardens and pelicans, the National Mall regaled in British flags lining posts on either side of the street, a London cab ride with a cheerful driver, Bill, Chinatown nourishing ourselves at a buffet, and Leicester Square partaking of cups of ice cream that I felt provided a satisfying closure to our escapades for the day.
After joining the other segments of our original group at the pre-determined train platform, we boarded and rode a direct line back to Henley-on-Thames. The day's journeys showed in the team's demeanor, as a fair number of people fell asleep almost immediately upon the train's departure. Those that didn't remained in a state I imagine could be described as tourist fatigue mingled with contentment.
It must be noted that my companions and I experienced a day of logistical magnificence that was due almost entirely to three things. For one, Spencer proved himself a master in directional determination and map reading. Secondly, there was such an amount and variety of attractions in London that bouncing between them was nearly effortless. And most essentially, Costas made the outstanding decision to purchase a guidebook before leaving the museum, which aided us greatly in the way of maps with helpful labels, and a directory of street names. What a great way to spend £3.50. Recommendations: Visit London. Buy a Guidebook. If possible, travel with Spencer West and Costas Ciungan.
Thank you to all Grand Valley Rowing supporters who have contributed to our time here in England.

Henley Men's Team infront of the British Museum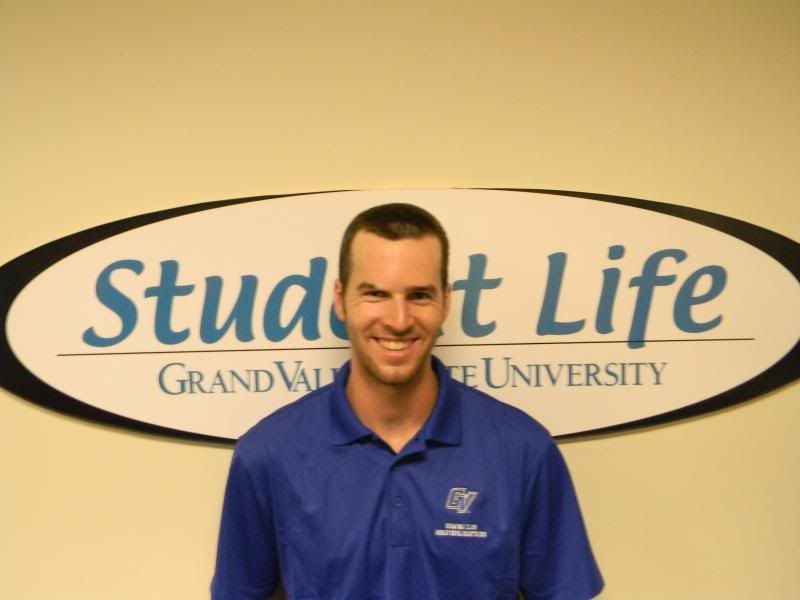 Athlete: Keegan Jahnke, stroke seat, Men's Varsity 2-
Year & Major: Senior, Exercise Science
Hometown: Saline, MI
High School: Saline High School
Fun Fact: I have released rap/hip-hop songs under the name "Grande Fuego".
Today I woke up around 7:00 am London time and had a nice light breakfast before practice. The workout today was 3 by 2 minute pieces. Any type of speed work is going to benefit us in preparation for the Reading Town Regatta. After practice we changed and hopped on the train that took us to Paddington Station in London and there we hopped on the Tube aka the Underground. We took the Tube to the heart of London, got a quick bite to eat and headed straight for the British Museum. This museum was huge and had so much in it. It had a ton of Ancient Greek, Roman and Egyptian artifacts. Along with that they had an early English artifacts section and counterfeit English currency section. My favorite part of our time at the museum was the ancient Egyptian section. There was a display of actual mummies, mummification tools, and a diagram that took you through the step by step process of how mummies were made.
Once we left the museum, we wandered the busy streets of London and took to some sightseeing. We walked to the Thames River and took some pictures in front of the London Eye and Big Ben. Seeing these iconic structures in person after only seeing them on the big screen was a real eye opening experience. The London Eye is way bigger than I thought and moves a lot slower than I thought. I thought it was basically like a Ferris wheel that spun you around a couple of times and then let you off. You actually have to get on and off while it is moving, the whole trip lasts about a half an hour. After we saw Big Ben and took a couple of snapshots with it, we got on the train and headed back to Paddington for some dinner. After dinner the team rallied back up in the train station and we headed back to Henley. Chad has an UP Band that was able to track how far we walked in London. All in all we walked about 16,000 steps (about 8 miles). Needless to say, I should rest up for the row to Reading that Peter and I have tomorrow.
---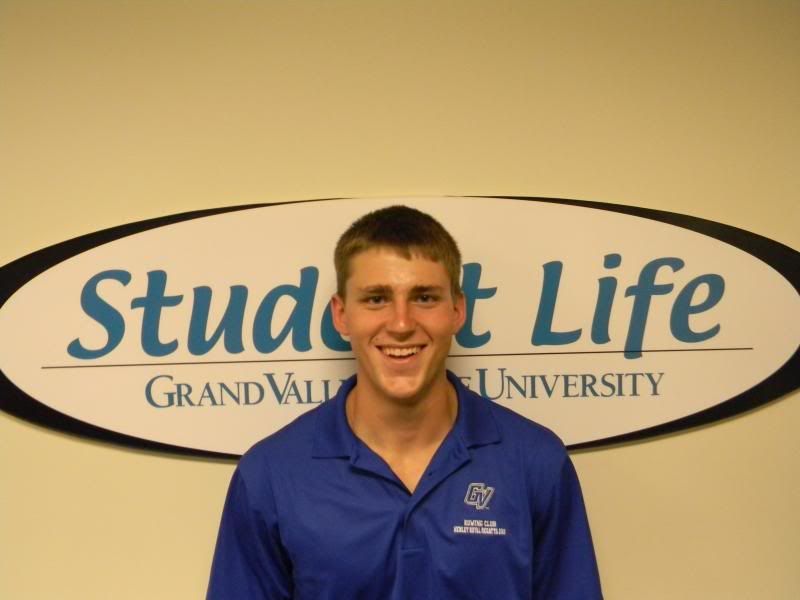 Athlete: Austin Burris, 6 seat, Men's Varsity 8+
Year & Major: Sophomore, Accounting
Hometown: Rockford, MI
High School: Rockford High School
If I could tell my incoming teammates one thing, it would be: every practice is an opportunity to get faster so take advantage of it
This morning one of our advisors- Chris Scott and her husband Jim (former coach) left to go back to the U.S. with the women. Chris organizes the food tent throughout the year. She also is the parent coordinator and does an amazing job of keeping them up to date with any information. It was great having them here these first few days, as they have helped us out a lot. They have prepared lunches and have gone shopping for us to set us up well for the next few days. We are sad to see them leave but are thankful for all they have done.
We started off the day with practice down at river again. It was a productive practice as we were able to row a few laps of the course while focusing on the catch and release timing with a few different drills. Towards the end of practice we were able to row to the first set of locks up stream. It was really cool to be able to see the locks because the ones I am used to are really big, whereas the ones on the Thames only raise/lower you about 4-6 feet. We continually improved as the practice progressed. Our catches seemed to become much more clean as we worked on getting the pressure on the blade immediately.
After lunch we decided to walk around and visit all of the small shops in town. It was neat being able to see the all the different types of clothing and merchandise sold here. The shopping experience was successful as I was able to find a new pair of shoes. We were also able to visit a few different book stores that had entire sections dedicated to rowing.
This evening we went out for another row as we continued to work on technique with some drills on the way up to the starting line. On the way down the course we did ladders with 20 strokes on/ 10 strokes off. Everyone can feel the excitement in the air as the regatta nears with more and more teams showing up. I can tell that this race is going to be huge with the number of tents and seating lining the entire course. The excitement is building everyday for Henley 2013.

Athlete: Jordan Hart, Coxswain seat, Men's Varsity 8+
Year & Major: Senior, Exercise Science
Hometown: Algonac, MI
High School: Algonac High School
Fun Fact About Yourself: I have growth-hormone deficiency so that is why I'm coxswain size. Also, I benched 105 lbs this past semester in my Exercise Testing and Prescription Lab, waddup.
England has been a great thus far. We've been welcomed with great hospitality from our host families. Things are quite different here in the UK. Everything seems to be smaller, especially the Henley course. Coxing in between the booms has been quite a challenge. Booms are wooden bars that float in the water between wooden pilings -very different from the usual buoys that I'm used to. Hitting the boom is something you definitely would not like to do (I have gotten a little too close for comfort a couple times).
The guys have been busy entertaining Oliver, their host families little boy. Oliver has been waiting for the boys to come for a long time and he likes to show them his 'Mushy Monsters' and also likes to play football in the garden. And when I say football in the garden I mean soccer in the backyard. He laughs at our accents and we laugh at his. Today he told the boys that he would like to come back to America and then proceeded to hop in Chad's suitcase.
Last night we had a traditional dinner, bangers and mash and then strawberries and cream for dessert. Bangers are sausages and mash is mashed potatoes. It was very delicious and we were so full, but saved some room for dessert. We had assumed that the cream for the strawberries was going to be something like cool-whip back in the US. So naturally we all loaded up on cream with a few strawberries. But as soon as we took a first bite we realized how wrong we were. The cream was just plain cream and you only needed a little to go with your strawberries. We could not stop laughing about how silly it was that we took so much cream.
We have also been getting used to the language difference. I found out yesterday that in a 3-story house the first floor is the ground floor, the second floor is the first floor, and the third floor is the second floor. This proved a bit of confusion between my host family and me when I was attempting to straighten my hair on the third floor and blew the circuit causing a brief power outage to the "second floor."
Today after morning practice we decided to go shopping in Henley. Ken, Austin, Keegan, and I visited an antique shop. None of the guys could stand up straight in the building because it was so small and I've never seen so many trinkets. I found a hat to wear to the regatta next week that matches my dress, so cute! After shopping we went to our second practice and then to the Anchor for dinner. Some of the boys were sad because our Polish waitresses from the other night were not there. Other than that today concluded another fun, interesting day in Henley.
---

Athlete: Ken Pierson, 5 seat, Men's Varsity 8+
Year & Major: Junior, Psychology
Hometown: Davison, MI
High School: Davison High School
If I could tell my incoming teammates one thing, it would be: to enjoy every practice. There is no sense in dreading the workouts because you forget the pain but remember everything good.
I don't think I've ever slept so hard. The day before was a blur. The combination of jet leg and lack of sleep lowered functioning to a point where we roller coastered between periods of intense slap-happiness and nodding off wherever possible.
It's strange, the culture is so similar, yet still feels very foreign. For one, everything seems more refined – more civilized. Everyone is incredibly cordial and orderly. There is very little waste here. In fact, there are food compost and recycling containers where our American home trash can would typically be. There are also very few public trash receptacles. I realize that these are pretty insignificant observations but they are small foreign reminders. Everything else is obvious and out in the open; the aged architecture, cobblestone roads, bright red phone booths, all of these things force you to take notice and make you feel like a tourist. The small, unassuming things make you think.
However, I'm not sure the international-ness has really set in until we awoke from our ten hour comas this morning. The sun was shining and the air brisk as we walked to practice. A short fifteen minute walk through town and we arrived at the tent, awake and in good spirits, anxious to row our new boat. It is a rental of course, but it is a brand new Hudson fit perfect for our weight. We launched and took a "scenic tour" of the race course. And it is certainly scenic. Along the embankment is a variety of construction as the town prepares for the Henley Regatta. Men paint picket fences and erect tents and seating for spectators – it is going to be huge. Shortly downstream, the town fades into the English countryside with green and yellow-checkered hills dotted with enormous white ornate houses. The timelessness of the town along with the tradition of the Henley Regatta creates a very special, overwhelming emotion that, combined with the anticipation to race that we're experiencing, is simply unexplainable. For now, I think I can speak for everyone in saying that we're just trying to take everything in and enjoying it.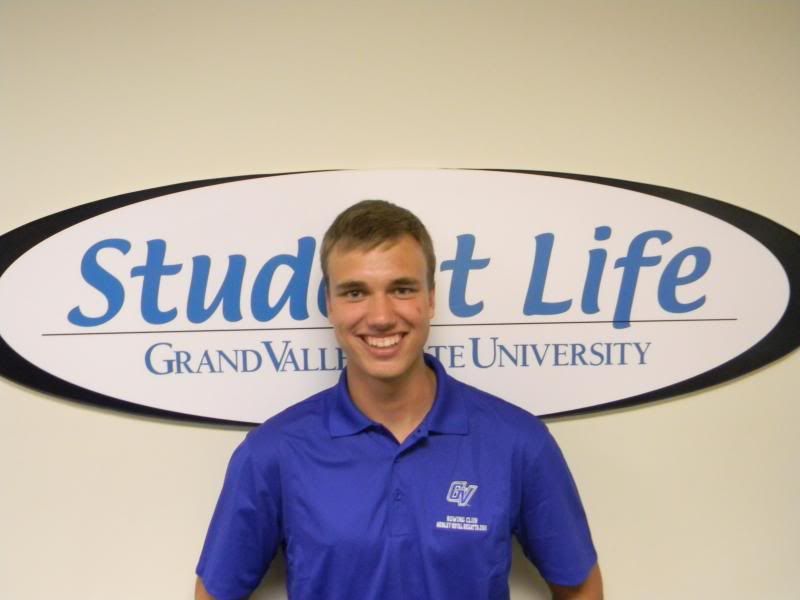 Athlete: Peter Zwierzynski, Bow seat, Men's Varsity pair
Year & Major: Senior, Accounting/Finance
Hometown: New Carlisle, IN
High School: New Prairie High
If I could tell my incoming teammates one thing, it would be: Work hard but remember to have fun.
This morning, I woke up excited to go fully see and figure out how to navigate the course. I am nervous for our pair's race because according to Coach, "It's all about your steering at Henley". If you can go straight you have a good shot at winning." We got to the course around 9:00 am. There were huge tents everywhere and much more being setup. Judging by the amount of stuff, this regatta is going to make the Dad Vail look small. The whole town seems to be preparing for it.
We met up with Coach at the course, and he sent Keegan and I to look for our boat. He told us that it was on London University's trailer and it should say "Reed" or something on it. After asking around and locating where the trailers were parked, we realized this was going to be a difficult task. There were only like 15 trailers but none of them had names on them. We looked through all the pairs/doubles for one that said "Reed" on it, but could not find one. So we walked back to enlist Hugh's help. That is when we found out from Coach that it was supposed to say "Rum" on the trailer not "Reed" on the boat. So, the second time we had no problem finding the boat.
The next task before going out on the water was to figure out the traffic pattern for the course, which was not too hard. After that, Hugh wanted to check over our boat. So, we flipped it over and put it in slings. That is when we realized we had a huge problem. There were no seats in our boat. So, Hugh sent us back to the trailer, which was not close, a third time to look for the seat. Of course, the seats were not there.
Without seats, there was not much we could do. Coach told us to walk the course and get use to our surroundings. Hugh e-mailed London for the seats, hopefully we have them for tonight's practice.
---

Athlete: Costas Ciungan, 3 seat, Men's Varsity 8+
Year & Major: Junior, Legal Studies
Hometown: Grosse Ile, MI
High School: Grosse Ile High
If I could tell my incoming teammates one thing, it would be: stay in the game, be patient, and remember to use the legs.
The men's team, coaches, and advisors have arrived in England for the Henley Royal Regatta. The rowers put in miles of rowing, pair racing, numerous rent-a-rowers, and raced at the Meijer State Games, all in preparation for the upcoming regatta. With many great strokes under their belts, the Lakers are ready to test their training against the best university-level competition the Henley Royal Regatta has to offer.
In addition to training twice a day – at times to rowing upwards of twenty miles in a single session on the Grand River – the Laker Navy had the chance to teach rowing to a group of youth with the inaugural GV Youth Rowing Camp. It was great to have the chance to help kids learn the sport and to pass on our love of rowing to others.
Ten months have gone into training with each rower doing the things necessary to make a team. Head coach John Bancheri always says that everyday is like depositing money in the bank. When race day comes, we shall be rich. Each rower has put in the time and committed to the same mindset, trying to make everyday an improvement. The coaching staff have sacrificed so much, dedicating time in organizing, directing, and coaching.
The team is even more excited to finally be in the United Kingdom and to have the chance to represent not only Grand Valley State University, but also the United States of America. After a smooth transatlantic flight, most of the guys are pretty tired from the trip over the pond. We even had a first time flyer in our group, sophomore Spencer West, who was given a set of toy pilot wings by the flight crew. During our trip over the pond, most of the rowers just relaxed, played games, or slept. Upon arrival, the flight attendants wished the Grand Valley State Henley Men's team good luck, and the whole plane erupted in applause. It was a great way to start our stay in the UK.
The first thing I noticed in England was the London Taxis at the airport and Costa's coffee. It was the first sign that we were in the U.K., and I love any coffee shop that shares my name. We met our host families when we arrived in Henley-on-Thames, and they are all really nice. The Men's Varsity 8+ is staying with the Saunders family in their wonderful home – originally built in approximately 1874. We ate lunch and settled in to the rooms where we would be living for the next two weeks. Around 6:00 pm local time, we went to the Anchor for dinner, which is a beautiful pub right on the river Thames. We were served two types of pasta (penne with meat balls, linguine with tuna and peas), salad, bread, and dessert. After dinner, we had the chance to explore Henley-on-Thames, and we found out that the town and its people are very cool – with a unique architecture, culture, and spirit. The city is filled will quaint shops, wonderful restaurants, and outstanding pubs around every turn and corner.
The Lakers look to cap off a great season and end on a high note. The Laker Navy has traveled this season with commendable focus: from losing one of their top erg scorers, to being flooded out of their own boathouse, every member on the team had dedication, determination, and persistance, never letting anything stop them or become an issue. With that said, the Henley teams are a product of an entire program, and even though we can't bring every single rower with us, everyone on the team this year has contributed in some way or another to this trip by pushing from the bottom and pulling from the top. The Henley team's success is the program's success.
I would like to give a shout out to Tyler Sellmer '13 – our outgoing facilities coordinator – who couldn't make the trip with us, but who was just as much a part of the team's success this year as anyone else. In addition, Coach John Bancheri has done tremendous work to direct, promote, organize, and inspire this team. As long as he is at the helm there will be fast crews coming out of the Grand Valley Rowing club.
On a personal note, I would like to thank all those who supported this team and donated to our program. I am looking forward to enjoying the duration of my stay in the U.K.; I am eagerly awaiting the opportunity to race with my team, to get in some sight seeing, and to observe the history of rowing and rowing culture. As the web manager, I invite you all to follow the Henley men's blog throughout the trip. Feel free to submit questions to the coaching staff, which will be answered in the Coach's Journal. Keep pulling for the Laker Navy!

Athlete: Spencer West, stroke seat, Men's Varsity 8+
Year & Major: Sophomore, Allied Health Science
Hometown: Grand Rapids, MI
High School: Home School
Fun Fact About Yourself: I am a huge Detroit Tigers fan and I used to cox in high school.
As the men's team entered Gerald R. Ford Airport in Grand Rapids to begin our journey to England, we were all filled with excitement and anxiety. For my part, I was about to fly for the first time. All throughout the airport, the other guys kept asking me if I was nervous, but my response was always the same, "No, I just don't know what I'm doing." Finally, a little behind schedule, we began boarding for the first flight to Detroit. Once everybody found their seats, some of the guys next to me were talking about it being my first flight when coach overheard, and he couldn't help but call over a flight attendant. The flight attendant then gave me a set of wings, and the pilot also announced my name on the loudspeaker before taking off.
Finally, we were off. As the plane picked up speed and lifted into the air, I grew more excited to be flying for the first time, but even more so to be en route to the Henley Royal Regatta. The first flight turned out to be a very short one, spending less than half an hour in the sky before landing in Detroit. After landing, we wasted a couple of hours by getting dinner, walking around, or just relaxing before our final flight. As 10:00pm approached, we boarded a plane for the second time, with ever increasing excitement and anticipation of our upcoming arrival in England and a taste of international rowing competition. From there it was a night on the plane, knowing that we would be in England in just a few short hours.
---

Athlete: Spencer West, stroke seat, Men's Varsity 8+
Year & Major: Sophomore, Allied Health Science
Hometown: Grand Rapids, MI
High School: Home School
Fun Fact About Yourself: I am a huge Detroit Tigers fan and I used to cox in high school.
The time to leave for England is finally here. Today we leave for London to represent Grand Valley State University in the one of the oldest and most prestigious rowing events in the world, the Henley Royal Regatta. After a full season to build up our bodies and to perfect our technique, we began training for the overseas race with eagerness and energy, knowing we had done well to prepare thus far.
When the team returned home from the ACRA Championship regatta in late May, many of our fellow rowers went home to relax and enjoy their summer vacation. We on the other hand stayed in Allendale, beginning training for Henley almost immediately. During the week following ACRA, the men interested in racing in England underwent a grueling 2000m test on the ergometer. This test of strength and mental capacity illustrated the extreme amounts of hard work and focus each of us has put into every stroke we've taken since the beginning of the season last August. After pushing our bodies to their limits for that pain-filled six and a half minutes, the stage was now set to begin racing in pairs.
At 5:15am on the first Monday of June, the ten of us and the twelve women were awake, on the water, and prepared to begin the first of many time trials from the dock to Cross Island, not knowing how quickly we would learn to dread these pieces. Being in pairs, the men's team soon fell into a routine of a time trial followed by steady state in the early mornings, followed by drill work and more steady state in the evening. Our pain tolerance was tested even further Wednesday evening when we were told to do three of those same time trials, all back-to-back. From these time trials we learned to push our limits every stroke, never knowing where we were in relation to the other boats, which drove us to give it everything lest we get beat out by one of the other pairs. With the usual Wednesday fun out of the way, we took morning practice off the following two days, switching to the fours we would be using for Saturday's round of fun. Friday evening we rowed those fours downstream to the quarry where we began the workout at 7:30am the following day. The three buoys were set up as a 1000m course, which we would have to cross over six times for the day's pieces. The two fours were neck and neck for nearly every piece, bringing out the best in each other with neither boat wanting to be even a second behind the other. With the first full week of Henley training complete, exhaustion and a need for a day off was obviously apparent amongst the group before we would begin all over again Monday morning.
The evening of Sunday, June 8th, the team met together to go over logistics and planning for the upcoming stay in England, giving off the first feeling of how quickly the trip was approaching, making the reality of it start to soak in. The following Monday morning, once again at 5:15, we were back in pairs and waiting at the dock again to resume the time trials which had become routine by now. Following up the morning time trial with more drill work and steady state in the evening, Tuesday was strikingly similar to Monday until coach decided that we were ready to move out of the pairs and into fours because of our progress technically and physically. Accordingly, Wednesdays time trials were then done in the fours head-to-head, again with the boats pushing each other to raise their level of rowing. With the next couple mornings off, Thursday and Friday evenings were primarily longer steady state practices with technique work mixed in. That Saturday we stayed at the boathouse for three 1500m pieces in fours. After doing two upstream, we met up with the women's eight on their way back downstream and coach suckered them into doing the third piece with us. Even being tired from the first two pieces, we successfully challenged the eight, making them pull harder than they probably thought they would have to. After practice, the women finished packing and left for England in the afternoon, making the boathouse noticeably quieter for the next and last week of Henley preparations in the U.S.
By the time the final week of Henley training arrived, we were all pretty excited to get back in the eight and see what kind of speed we had picked up from rowing in the small boats the previous weeks. However, that enthusiasm quickly diminished with an unexpected piece and a long row to Grandville all in one practice Monday evening. With the hot sun beating down on us from the start, we quickly realized that one water bottle was not going to be sufficient for practices this week. As if practice wasn't already enough, the large riverboat, the Grand Lady was making laps on the river, churning up the water while its patrons became spectators to our pain. Tuesday followed up with an even longer row, going well past the Wilson Street bridge in Grandville before finally turning back to the dock. When we launched from the dock Wednesday evening, each of us were prepared for the worst. After a long warm up and two grueling eight minute pieces upstream, we continued to row further than any Grand Valley crew before us, spinning just a short 1000m from the first downtown bridges. We proceeded to head back towards the dock, thinking we were in the clear and done with pieces for the day. But when we were just 15 minutes away from the dock, we were told to bring it up for one last piece, leaving everything on the water and bringing the same intensity as we did for the first two. After what ended up being two hours and 40 minutes on the water, we welcomed a long night's rest and another morning off with open arms. Thursday evening we went out for a much shorter row, focusing now (as coach put it) on "quality instead of quantity," and making every stroke better than the last. We then loaded up the trailer for a weekend of rowing in downtown Grand Rapids for the Grand Regatta.
When we arrived at Riverside Park on Friday evening, we were greeted with strong gusts of wind and extremely choppy water. Yet, as we learned from this season, nothing can stop the Laker Navy and to us, these water conditions were nothing. We rigged all of the boats and took the fours out for a couple laps of the "race course," getting a feel for where we would be rowing tomorrow's pieces. Saturday morning came before long, and we all knew that this would be our last time rowing in the U.S. before leaving for England. All throughout the day, Grand Valley boats seemed to be stealing the show. Whether it was the kids from the youth camp in their small boats, the guys in the singles and doubles, or the open eights at the end of the day, the majority of medals clearly went to the Grand Valley crews. We then brought all of the equipment back to the boathouse before going home to prepare for departure for England the following day.
This month of training has been extremely exhausting, but with enormous and obvious payoffs by way of improvement. Rowing in the pairs made us think more about our technique, even at higher levels of effort and elevated stroke rates. When we transitioned into the fours, we were forced to raise our level of rowing every day by pushing each other every stroke, never allowing the other to ease up. Once back in the eight, it was all just a matter of putting everything together. From what our blade is doing out of the water, to the size of the puddles, to how far we moved the boat past them, we've seen improvements in every aspect. With everything we've done the entire season and especially the last four weeks, it is with optimism and high expectations that we leave for England. Not a single day getting to where we are now was easy, but if even one had been, we wouldn't be anywhere close to the level we're at. What makes this group of guys that are off to England so great is that every one of us always puts in above average work and effort, even when we know no one else is working.
---
---
---
The Grand Valley State University Rowing Club challenges its student-athletes to reach the highest level to which they aspire both academically and athletically, while continuing to build and sustain a nationally competitive intercollegiate rowing program.

Copyright 2016-2017 Grand Valley State University Rowing Club. All Rights Reserved.