Henley Homepage 2013 | Men's Journal 2013 | Women's Journal 2013 | Men's Journal 2010 | Women's Journal 2010 | Coaches' Journal 2010
---

Grand Valley (left) battles Oxford University (right) for the title in the G.P. Jeffries Cup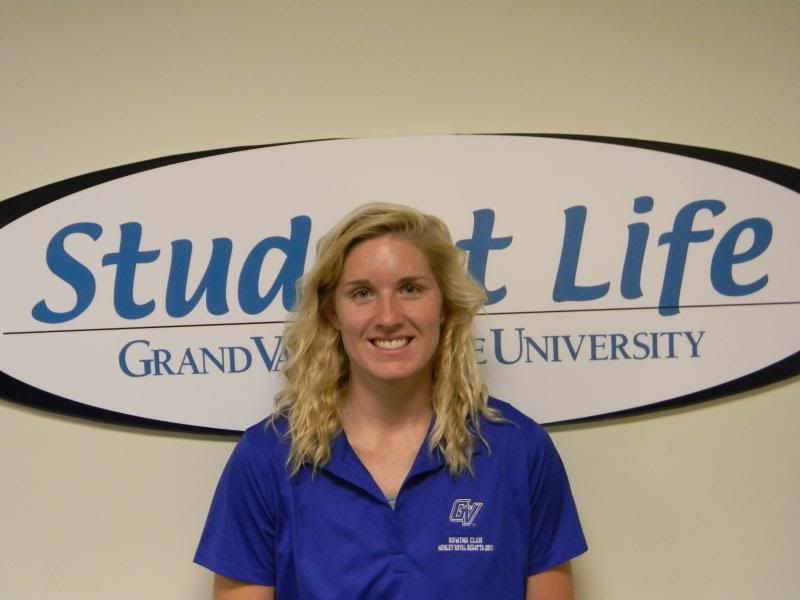 Athlete: Carey Mankins, stroke seat, Women's Varsity 8+
Year & Major: Senior, Allied Health Science
Hometown: Bloomfield Hills, MI
High School: Marian High School
Fun Fact About Yourself: I could live off chicken and strawberries.
Well, the last two days have been crazy. Yesterday, once we got to the course, we prepared for what could have been our last race. We warmed up just as we have for every other race. Because the wind was pretty strong, we reminded ourselves that it was going to be especially important to swing into the wind. We launched and started our warm up on the way to the starting line. During the warm-up, Kyle called for a power 10 at race pace, and it felt the best that it had every felt this week. I was feeling confident. We practiced a couple more starts on the way to the line and while we waited for the official to call us up. We locked onto the stake boat and waited for the start. There was a singles race right before ours, so we had to wait for what seemed like forever. I could hear the officials farther down the course over the speaker and I knew it was time for us to go. The official raised the flag and I looked at Kyle and knew that we had blown too far over and we were pointed into the boom. Thinking we wouldn't have time to correct the point, he said "Starboards, you're just going to have to hit it." THIS WAS NOT COOL. We are usually not the first off the line to begin with, so knowing that we didn't have time to get our point was unnerving. Thankfully, the official noticed and allowed both of the crews to realign. Soon after, we were off and under way. Our start felt awesome. We shifted and all I could hear was Kyle telling us that we were taking seats. We walked through the other crew pretty quickly, and I had an extra rush of adrenaline when I saw they got caught on the boom. We gained some seats and did our best to swing through the wind. We took the rate down a bit so we could stay long in the water and just pulled away from there. We finished the race with a comfortable lead, and then thanked the opposing crew for a great race.
After the race, we came back and had probably the best dinner this week – homemade mac and cheese and BBQ chicken. After stuffing ourselves with that, we found some extra space in our bellies for dessert. We had strawberries and crème, which was fantastic. We helped clean up and talked for a while after while others Skyped and talked to friends and family. I went to sleep with butterflies in my stomach. Since we only go to this regatta every three years, I really have no idea what to expect from the competition, or what is considered good for our team here. I just had to do my best and know that that was all I could do.
After waking up, we got ready to head out of the house for the semi-final. We got to the race course and followed the same pre-race routine that we had the day before. We launched and warmed up the same that we have all season. It was a bit windier this morning, so we all focused a little more into our warm-up and power strokes. We waited for a while and avoided being blown into the barrier near shore before we headed into the stake boat. I took a deep breath again and told myself to make it the best yet, because again, this could be our last race. The official lowered his flag and we were off once again. We were down within the first 300 meters, as we expected. I looked over out of the corner of my eye and saw that they had a few seats lead on us. Kyle called the shift 10, and we got into our race pace. It was feeling alright, despite a few 'half crabs' due to the strong winds. Kyle called us up for a 10 and we started to move back on UC Dublin. We came through the enclosure and I could hear people screaming. From the corner of my eye, I could not see who was ahead or behind. If anything, it looked like we were a seat or two behind them. Kyle kept calling "UP! UP!" on the rate, and I tried to bring it up, but it was very difficult to do effectively in the wind. We came past Upper Thames Rowing Club and I knew the end was near. I brought the rate up as much as I could before we finished. Kyle called the shift and told us that he had no idea who finished first. We headed back up to the dock and heard the announcer say that we won by 2 feet. Too close for comfort!
We landed and rested before we needed to start warming up for the final. We had made it! As we sat around, I was able to talk to Coach B for a little bit. As usual, he asked about the race and gave me his input on how it looked. He reminded us that for the final, we were going to have to get them in the body, because that is where we are our strongest. He said a few final words to this 4-year rower whose season is coming to a close. Do not ask me if those few words brought a tear or two to my eyes because I will lie to you and say, "No," and quickly walk away. We launched and headed up to the start one last time. Knowing that this was the final race at the Women's Henley Regatta and that we had made it there was an accomplishment in and of itself. We locked into the stake boat and I politely reminded Kyle to turn on the GoPro one last time. I wanted to be able to watch this race for years to come. I took one last deep, controlled breath before we were off. Our start felt better than it had earlier today, and we had a strong shift. I could see that they had gained a lead of a few seats pretty quickly. Despite the wind, we shifted to a 38, and then again to a 36. I knew we would need the rate high in this race. We settled in and it was feeling strong. We came through the enclosure and it was crazy hearing the amount of people yelling for us. Kyle called for a power 10 to keep contact on Oxford and we all gave everything we had. We passed the Upper Thames Rowing Club and we all just finished as strong and as fast as we could, knowing the Oxford had at least 5 seats on us. I could hear them cheering before we finished which gave me a feeling of defeat that I will not miss. We congratulated each other and headed toward the dock passing by people that were clapping for us that we didn't even know. It was amazing.
Once we got back on land, we all gave each other hugs packed up our stuff. Knowing that we represented Grand Valley and the USA in the final was such an amazing feeling. Although it would have been even more amazing if we had won, I still felt like we raced as well as we could have, and that is enough for me. It was an amazing experience, which I know is now cliché because everyone says it about England and Henley, but it is so true. Being able to row here with the rest of the varsity women is pretty cool and I'm glad that I was able to be a part of it. The first day of the season, 10 months ago, we met the new coaches and we all wrote on a piece of paper what our goals were for this year. My goal was for a DVG and to stroke the Women's 8 at Henley. Mission accomplished, and I couldn't be happier.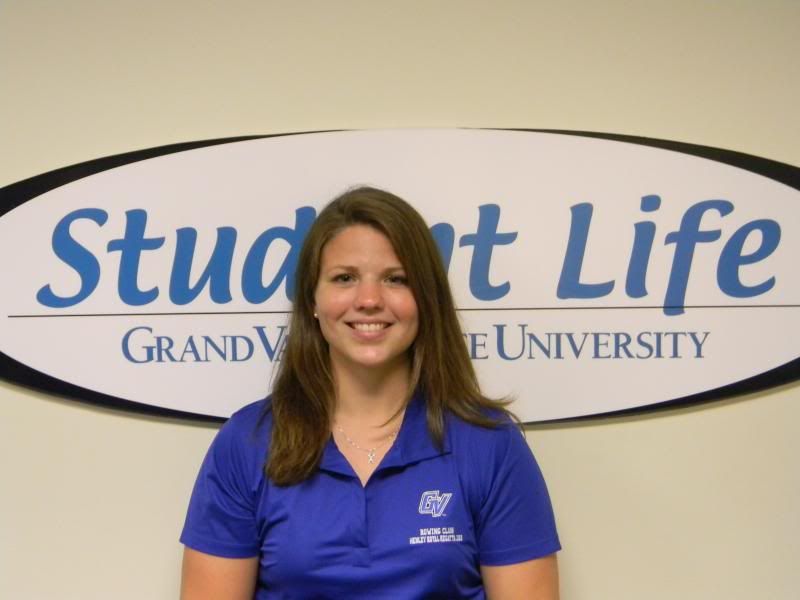 Athlete: Kylen Pattermann, 7 seat, Women's Varsity 8+
Year & Major: Senior, Anthropology
Hometown: Elburn, Illinois
High School: Kaneland High School
Fun Fact About Yourself: I wrote a book, published in 2009.
This entire day has just been an absolutely crazy journey.
We had our first race early in the afternoon; against Dublin. The conditions were as bad or worse than they were yesterday; it was pretty cold and there was a strong cross/headwind coming from starboard side. Off the start, we were down by about half a boat length, with Kyle calling for us to bring it up and swing. I just remember thinking that I didn't want this to be my last race; I wanted that final more than I had realized. We managed to pull even, then we lost a seat, pulled even, pulled ahead, back to even – the entire race was spent in a desperate cat and mouse game where we played with the lead. When we crossed the finish line, the entire race was already a blur. When we asked Kyle if we won – he didn't even know, the finish was that close.
It was almost as terrifying as the race to sit and wait for the results. I remember hearing the four cheering for us on the shore, and that was the first clue I had that we won. Later we found out that we only won by two feet, by far our closest race all year. Once we docked, we only had a couple hours before the final to try to recover. It was then we found out that we would be racing Oxford.
For our final, we were definitely better prepared. We knew what the conditions were going to be; we knew how to handle the wind and our rowing was so much better than what we did this morning. Despite that, we suffered a tough loss to Oxford. We managed to keep contact with them for most of the race. It was an absolutely incredible experience; with crews from every place and team cheering for us as we rowed past and on the way back to the dock. I am more than happy and so proud of our second place finish out of twelve other crews.
This entire trip has been an amazing experience, and we had so much support from the teams here and the crews back home. I definitely cried at the end of the race, but not because of our finish. I am so proud of how we did – but I cried because I am officially done rowing for Grand Valley State. This is the last day I'll be racing as a member of the team, not as alumni, with my crew. I am so proud of our incredible season; of Kyle, Carey, Brittany, Kaitlyn, Lexie, Alese, Mia, and Shelby, and of the four who made the trip with us and rowed an incredible race. I am grateful to Chris Scott for everything she has done for us, and to our coaches Alyssa and Kelsey for all that they do and for keeping our feet on the ground when we might otherwise have been overwhelmed.
Most of all, I am so thankful to have had this experience, among all the others I have had while a member of the Grand Valley State Rowing Club. I never would have dreamt that I would one day be as comfortable in a boat as I am in a chair, or as at home on the water as on land, or that the rowing stroke would feel as natural as walking. It hasn't all been easy, with plenty of hard losses, blisters, slide bite, sweat and tears, but with equal amounts of victory and success, smiles and laughter. It has been a crazy ride, but worth every minute of it.
---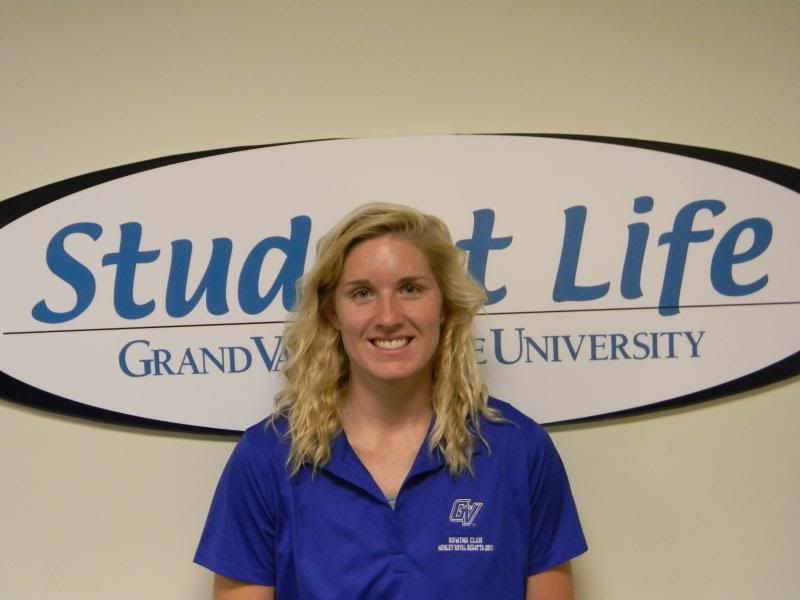 Athlete: Carey Mankins, stroke seat, Women's Varsity 8+
Year & Major: Senior, Allied Health Science
Hometown: Bloomfield Hills, MI
High School: Marian High School
Fun Fact About Yourself: I could live off chicken and strawberries.
Occasions where the rowers get to dress up and get fancy are few and far between, so, when we had the opportunity yesterday, we took advantage of it! We were invited to the River and Rowing Museum last night for a light reception. There, we were able to walk through and look at how rowing has developed over the years. We saw the different kinds of oar locks, oars, and even materials used for boats. It was really interesting to see the changes and new developments made in the rowing world. Some athletes from the UK rowing team spoke, and they brought the Olympic torch from last year with them, which we were able to get a picture with. We also were able to watch a video on the fastest human propelled boat, called the Trireme. This boat had three levels of 170 oarsmen. These oarsmen were usually slaves. Although we do not have three levels or 170 rowers is one boat, I see some other similar correlations…. After the reception, we headed to The Anchor one last time. It was a warm evening so we were able to sit outside and took in the gorgeous sunset. We enjoyed the three different pasta's they gave us, and, as always, the dessert was fantastic.
This morning, we were able to sleep in and rest before we have to leave for our race. We will leave at 2:30 for the race course. We all got together behind a computer screen and watched the Senior 4 race. Although they came up short, it looked like they had a great race through the wind and the rain.
As we await their arrival, I reflect back on what has brought me here. My novice year was filled with experiencing everything for the first time. I remember the varsity fundraising for Henley that year, and, to be honest, I didn't really think twice about it. I didn't know anything about it or how cool of an experience traveling to and racing in England could be. My sophomore year was all hard work, breaking some of the bad habits I developed as a novice. By my junior year, I finally felt that I was really getting the hang of things. I also felt like I was really learning how to race mentally. And my senior year, I've worked on perfecting the little things. Although there is always something to work on and improve, we are here and ready to race. Race day is finally upon us.
Between practices this week on the gorgeous Thames and a couple boat meetings, we are right where we need to be. Watching the live feed this morning showed some rain and wind, but nothing we haven't raced or won in before. It will be a fun and exciting race, but also tiring as always. We have much more close competition here and the race will definitely be more mental than any of the other races we have had, as the one other crew is just feet from our blades. We are as ready as we will ever be. Time to go fast!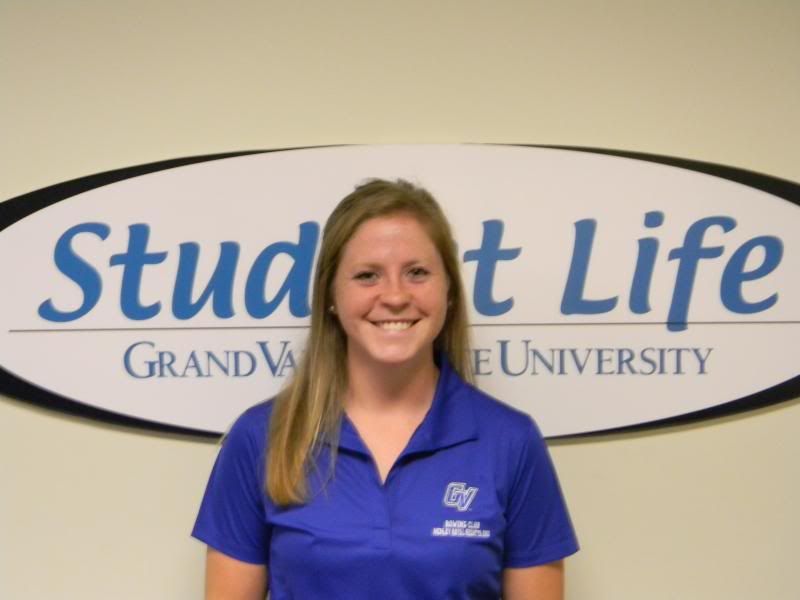 Athlete: Becca Studer, 2 seat, Women's Varsity 4+
Year & Major: Senior, Liberal Studies
Hometown: Ypsilanti, MI
High School: Lincoln Senior High School
Fun Fact About Yourself: Rowing still has not turned me into a morning person
One of my favorite parts of the trip thus far happened last night when Kyle said that he had an exercise that he wanted to do with the whole team. Not really knowing what to expect, we all sat in a circle in the back garden of the house on Norman, and he gave us each a piece of paper. He said there would be 6 questions that he would ask, and we should write down whatever we needed to in order to remember our answers, and then that we would all talk about them afterwards. The questions ranged from silly to serious, but all were great ways to reflect on this season, this year, and our careers on the team in general. It ended up taking over an hour to talk about things like what we think we've done best this season, what we still have to work on, the funniest moment of the season, and the best moment you've been a part of on the team. There were parts of the year re-lived that I had forgotten about, and it was a good way to remember exactly what is so great about rowing- the people. Racing well is what makes for happy rowers, but racing with the people on this team is what makes the bad rows worth it.
After dinner and getting to bed pretty early, the Women's 4+ got up around 8 and got ready for our race. Personally, adjusting from the 8+ to the 4+ had been a process that required a lot of hard work and tweaking certain aspects of my stroke, and everything had come together a couple days ago at practice. We were feeling confident in our race plan and ourselves when we made the walk down to the course. On the way there, it was colder, rainier and windier than any of us had expected, but we knew that these conditions were ones we have rowed in plenty of times before. We had a nice warm-up to the start, and I even put my sunglasses on because the sun came out just long enough for our race. We lined up next to Imperial College (from London), and the race was off. Our start wasn't as clean as we would have liked, and we ended up taking a high 30 instead of a high 20 because we wanted to try to get ahead early. They were about a half a length up on us when we shifted to our base pace, and I can't say I remember too much after that. I remember trying to see out of the corner of my eye if they were close, and feeling the strong headwind. Once we got to the 1000m mark, I knew that we were behind by quite a bit, but that Molly had a sprint in her. I knew we had to bring it up to try and make up some ground on their lead. We brought it up a few beats (which I now hear caused them to do the same after seeing our push), and tried to close the gap. Today on the Thames it happened that they were the better crew, but I'm proud of the fight we gave them. Our "little dot in the middle of a cornfield" scared a crew from London, England…even just for a couple hundred meters.
Overall, this experience has been incredible. Insanely fun, full of rowing (just how we like it), and we're all surrounded by 13 of our favorite people. While I had hoped for more than one race on the Thames, the rest of the 4+ and I will be proudly yelling "GV-SU" from the shore this afternoon and tomorrow. Rowing is the reason we came here, but the people we get to do it with is the icing on the cake, of sorts. And I've always thought the icing was the best part.
---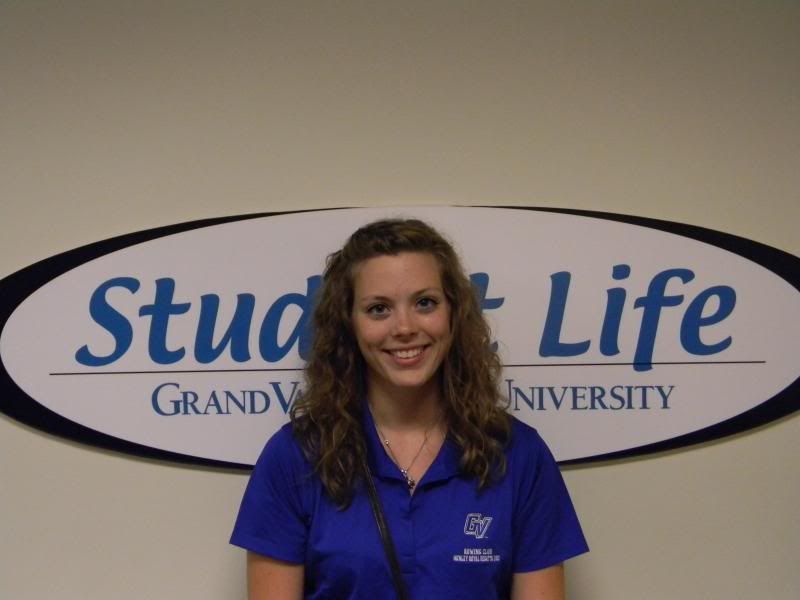 Athlete: Brittany Hyde, 6 seat, Women's Varsity 8+
Year & Major: Sophomore, Undecided
Hometown: New Salem, MI
High School: Hopkins High
Last night we wound down our night with a little bit of a fiesta at our neighbors house. Everyone helped in putting together and enjoying a spicy taco dinner. Then Will, one of our neighbors tried to teach us a little about cricket and gave us his opinion of One Direction. Mia surprisingly agreed with him when he said that they all had "chipmunk cheeks". After the tables were cleared and dishes put away, Chris broke out the cake. Shortly after going home from dinner we all went to bed early for our morning practice.
This morning we did our very last practice ever. It was a little bittersweet knowing that there wouldn't be another practice with our friends and teammates until school starts again, and for some of us for forever. Everyone is a little relieved that all the hard work is done and excited that we get to showcase all of the time and effort we have put into it. As Coach B. would say, "he hay's in the barn".
There were a lot more crews and boats at the course today getting ready for their races. Getting the boats in and out of the racks was a little bit of a puzzle, but we managed to make it work. I personally am really enjoying getting to meet and see all the people from new places. It is probably one of my favorite parts of this experience so far. Another thing that I noticed since being here, was that all the dogs walk around without a leash. They are just so well trained that they follow their owners everywhere they go.
Later this afternoon after lunch, all of us got together and did an exercise to get everyone in a good mood and to reminisce on all the things that have happened since we started our rowing experiences. We told our Coach B. stories while using our best impressions of him and his voice, as well as talking about how we have changed and grown throughout this experience. The last question on the list of things we talked about was to talk about who was the person that you most admire on the team. It was pretty cool to see and hear everyone talking about the people they admire.

Athlete: Shelby Welbaum, 1 seat, Women's Varsity 8+
Year & Major: Sophomore, Exercise Science
Hometown: Galien, MI
High School: Buchanan High School
Thursday evening's practice consisted of two laps of the race course, practicing start sequences and rate shifts. On the second lap, we met up with Trinity College for two short 45 second pieces, one start and one open body piece. It was great for the crew to practice with a similar speed crew side by side to get a feel for what racing at Henley is like. Through the entirety of both pieces we traded the lead with Trinity, finishing even or ahead both times.
Friday morning the river was flooded with crews getting a final practice in before racing began. The boat maintained a solid focus despite all the activity and we had an excellent body piece, with fantastic ratio and control, and one of our best start sequences of the week. It was also another opportunity to touch up the blade work after watching video from previous practices.
Outside of practice, the trip has been incredible. The town of Henley is beautiful, filled with hundred year old (or more) homes, shops and restaurants. The streets are narrow and filled with walkers and bikers. It feels like quintessential England with coffee shops and pubs around every corner. The scenery along the river is fantastic – switching from the quaint town to beautiful homes and boat clubs to the lush English countryside.
With such great hospitality and an excellent week of training, it is shaping up to be a memorable weekend of racing for the Laker Navy on top of an unforgettable trip.
---

Athlete: Shelby Welbaum, 1 seat, Women's Varsity 8+
Year & Major: Sophomore, Exercise Science
Hometown: Galien, MI
High School: Buchanan High School
For our second practice today, we did some 250m pieces and a start. It was quite busy on the Thames in the evening, so we had to wait at the starting gates awhile. During that time, we watched all the other boats do their starts and tried to see if we could identify any of the other crews out there. The weather has been perfect for practicing in lately. Sunny at times, but mostly overcast. By the end of practice, we were all pretty hungry (of course – we're rowers) and ready for dinner at the Anchor. They provided us with two different pastas, vegetarian and tuna. They also served us salad, bread, and this delicious dessert. We don't know what kind of dessert it was but it was absolutely amazing. After dinner, we went back home and showered and then just relaxed for the evening. We talked about practice and also went over our video from our new GoPro (Thank you Dayna and Jimmy!). After that, we just hung out until bedtime. We usually use night time to catch up on social media or talk with family.
Today's agenda consisted of shopping at Reading. There was a nice mall and some Shoppe's along the road to go to. It was fun to ride the train again to go somewhere new. Although, on the way back we didn't know what platform to get on to go home, so once we found out, we only had a minute and a half to get to our train. Yes, we ran through the station, and I had to hold the doors open on the train so Brittany and I could get on. Of course, we have to make every trip an adventure.
So far this trip has been amazing. I never thought I would be over in a different country with some of my closest friends! We have seen so many exciting landmarks! The people here are always looking at our huge group of girls…probably thinking to themselves what crazy Americans! We found out we talk a little more than they do out in public but it's ok, we're on vacation! One of my favorite things over here is the buildings. I just love the old architecture and the intricate designs. We saw a building in Henley that is older than America. I thought that was awesome. I am really hoping we go see the Windsor Castle. Chris Scott and her husband went over there the other day and saw the Queen leaving for the horse races. She said that the Queen waved at their group.
I still don't know what to expect as far as our race goes. There are a few other American teams here, but I don't know how we stack up against the English crews. I have a good feeling that we will do pretty well. Our practices have been going well so far. We've been improving every day with the new line up. I can't wait to see what we do on Saturday. It will be very interesting and exciting. All in all, no matter how we do, this trip is definitely one to remember.

Henley Women's Varsity 8+ – Practice on Henley-on-Thames

Athlete: Kelsey VanAmberg, 1 seat, Women's Varsity 4+
Year & Major: Sophomore, Psychology
Hometown: Manistique, MI
High School: Manistique High School
Fun Fact: My front two teeth are fake. They have been chipped off four times and so now I have two permanent crowns.
"Rowing is a sport for dreamers. As long as you put in the work, you can own the dream. When the work stops, the dream disappears." This quote has been one of my favorites for awhile. But I've never known it to be more true than on my own personal journey to Henley. In the fall of my novice year, as soon as I knew what the Henley Regatta was, I set in my mind the goal to make it there. I didn't care what it took, I would do whatever I needed to do. I knew it wouldn't be easy, and it wasn't. I chased the erg scores of the top 8 all winter, I worked hard on the water, and fought to earn my spot, all with this goal in mind. But as the season wore on, I found myself thinking, there's no way my 5'5″, nearly lightweight, sophomore self could ever make it into the eight. I really don't have a chance. But regardless, I pressed on. I knew I couldn't give up, and I'm not the kind of person that ever will. I didn't rank in the top 10 on the selection erg piece for Henley, so I thought it was the end of the road for me. It was about the point that I had given up any hope of making it to Henley that I got a call from coach telling me that since everyone had done so well on the erg, and he knew how hard everyone had worked, that he decided to take a four in addition to the eight. I've never felt such happiness. Because for me, it was so much more than being able to travel with the team to somewhere new and exciting and fun. It was the realization of a goal that I've held for myself for the last 2 years, a goal I've held onto despite always being the underdog, and feeling like there was no chance at all that I'd be able to make it. But with relentless hard work and a little luck, anything is possible.
Today's practice was the best we've ever had as a four. It was one of those practices where everything just clicked. We had been having problems with the set, with releasing together, with ratio, with hand levels… But today, we just got it. We worked on our start sequence, and found a rhythm that just worked. We worked on our timing and swing, and we could feel the resulting run of the boat after every release. Our high 20s after each start felt so strong, and we could really feel the boat move as we all locked onto the catch together and swung through the drive. Our release was quick and sharp, and the recovery smooth. We just did 2 laps of the course, and coming into the dock, I didn't want practice to end. We were all smiles and confidence coming off the water. Coach Kelsey said how good we looked as a boat, and how much send we were getting. She was biking along shore beside us, and said a couple people stopped her to ask what team we were, and where we were from. I hope that the racing goes well this weekend, and we can make a name for GVSU across the pond.
After practice, we had lunch, then walked around Henley with our host family's daughter as our guide. We visited the shops and stores downtown, and sat along the Thames and watched rowers practice on the course.
This past month training in the four, we've worked so hard together, and we've improved so much. Overall, we are feeling very excited to race this weekend, and much more confident in ourselves after today's practice. I feel very lucky and blessed to be here, representing GVSU and the USA at the Henley Regatta.
---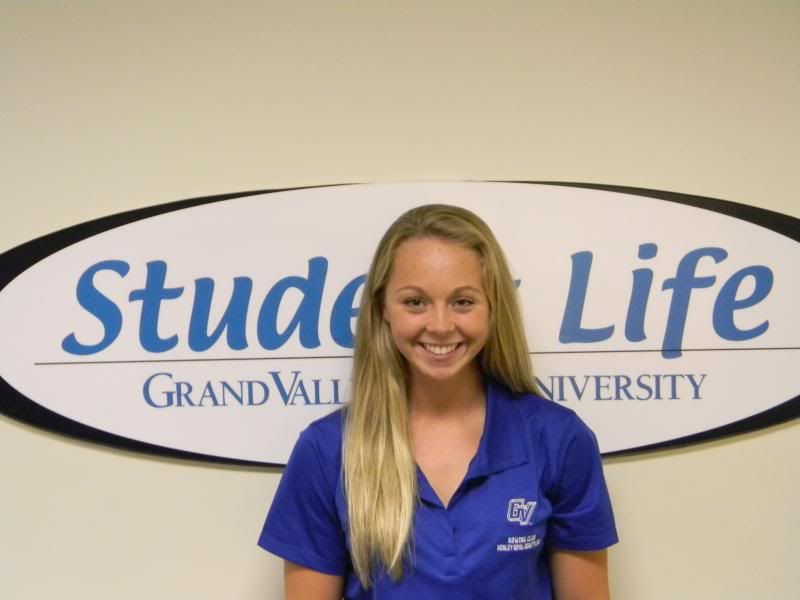 Athlete: Molly Visel, 4 seat, Women's Varsity 4+
Year & Major: Junior, Special Education
Hometown: Saline, MI
High School: Saline High School
Fun Fact: I love wakeboarding and snow skiing.
Last night, after getting done with our practice, we walked back to the house where the women's eight is staying. Since they got out of practice before us, they were just finishing up preparing dinner. Once we got done eating, we all enjoyed some time sitting outside gossiping about the adventures of the trip and telling stories. There were a few good ones, but Coach Alyssa's topped them all. She has quite a knack for story telling. This was soon interrupted by the words, "Pie is ready!" and we immediately lost all concentration and bolted for the kitchen. Chris Scott and her husband, Jim, had bought apple pie at the market earlier that day and it was just done baking. Let's just say there was not one crumb left – it was delicious.
When Amy, Kelsey, Becca, and I got back to our host family's house, we were greeted like always by their adorable springer spaniel Chloe. She's going to have a hard time once we leave; she has been soaking up every ounce of attention.
Today, we woke up well rested and met the women's eight at the corner to walk to practice. We are still surprised at how close everything is; practice is only a twenty-five minute walk away.
When we got to the course, we have noticed that more tents and crews had arrived. Everything is still being set up for the regatta, but right now they have 17 boat bays ready for the Henley Royal Regatta and numerous other tents for merchandise. We are anxious to see how everything looks on Friday. After fixing a few things on our boat we launched and headed downstream. The river was much less crowded today, which made it easier to complete our practice plan. We recognized a few of the other crews we met at the Oxford luncheon yesterday. We did a few laps of the course while practicing our starts and throwing in a few bursts. This afternoon we have practice at four, and, after we get off the water, we are having another amazing dinner at The Anchor.

Henley Women's Team – Oxford Boat House

Athlete: Alese Garstick, 3 seat, Women's Varsity 8+
Year & Major: Junior, Exercise Science
Hometown: Rochester Hills, MI
High School: Adams High School
Fun Fact: I love nothing more than a good row, bike , or run. Just get me outside.
After a great practice on the river last night, we kept the bills down and ate in. It was really nice to have a home cooked meal after eating out for so many meals. Our host mother, Jo, and Mr. and Mrs. Scott made for us corn on the cob, grilled chicken, grilled eggplant, salad, and roasted peppers and vegetables. The menu couldn't have gotten any better until we had apple pie for dessert. After joking about the day's events, storytelling, and lots of laughs, we all said goodnight, as the coaches and women's four went back to their houses for the night.
We all are getting used to walking to and from the race course each morning. This morning, our coaches made a few adjustments to the boats before we got there. While we stretched, we had a perfect view of the river Thames. There were so many international crews cruising up and down stream trying to make those finishing touches before racing starts in a few days. I recognized some of the crews from our little lunch at the Oxford boat house on Tuesday.
This morning, the row in the women's eight was focused and positive. We made a few loops of the race course, and we practiced some starts. It was hard not to look around at the historic buildings and rolling English country side as we practiced. When we spun the boat we spent some time taking in the beautiful scenery. Everyone in the boat knew what they had to work on at practice. Our starts became more confident and set as practice wore on.
---
Henley Women's Team at Oxford University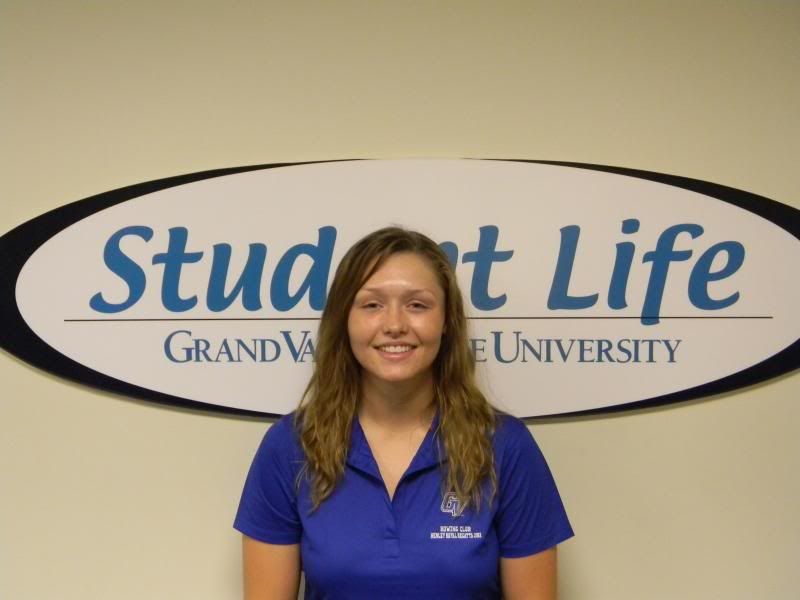 Athlete: Lexie Benton, 4 seat, Women's Varsity 8+
Year & Major: Sophomore, Business Management
Hometown: Kingsley, MI
High School: Kingsley High School
Something to tell my teammates: nothings as hard as you think it is.
After the luncheon with the crews at Oxford we came back to the house to hangout before practice. In this time our host family's kids came home from school and the wrestling matches with Oliver began. Mia won the first match but it was too close to tell during their second bout.
After our short rest, we were off to practice at 4:00. While the four went to rig their boat which was in storage at the Leander Boat Club on the men's side of the course (a lot closer to our house) we sat and enjoyed the view of the cool shops and restaurants that line the Thames and the weird lettuce that grows at the bottom of the river that Kylen said people can pick and eat.
Afterwards, we walked aimlessly around the course for awhile trying to find the Hudson guys to help us rig our boat. We finally found them across a road and a field that we were totally oblivious to, and they had already begun the work. An hour and a half, two bathroom breaks, and a few new tips from the Hudson guys later, we were finally able to get on the water.
A couple days without practice made us a tad out of sync, but all in all our row was very good. Even though we tried as hard as we could to stay focused, all of the beautiful and historic houses along shore made it tough to keep our heads in the boat. We finally finished our practice on the tight course and we made our half hour walk home, since our part of the course was way farther down river than we expected. We ended the night with an awesome meal: grilled chicken and vegetables, corn, salad, and potatoes.

Henley Women's Team at Oxford University Boat house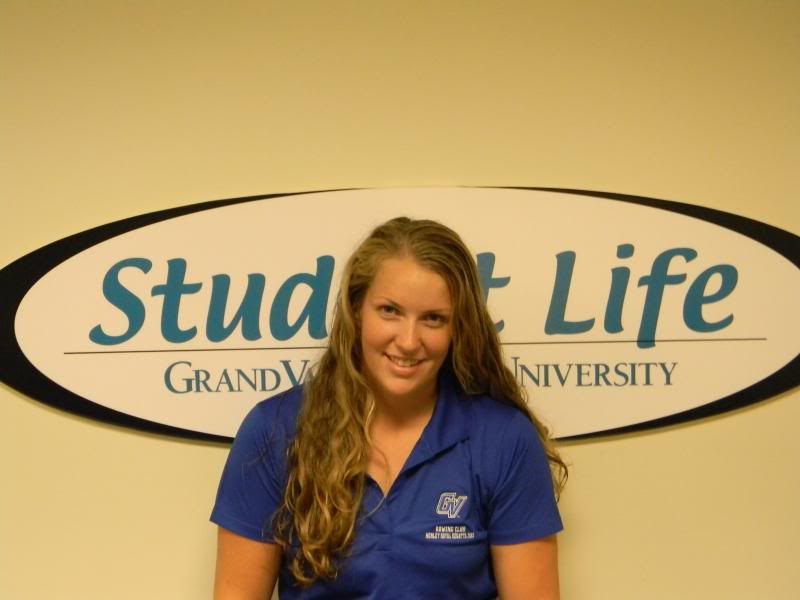 Athlete: Kaitlyn Van Boven, 5 seat, Women's Varsity 8+
Year & Major: Sophomore, Elementary Education
Hometown: Fremont, MI
High School: Fremont High School
Fun Fact: My hometown is the baby food capital of the world! Yes, I'm a Gerber baby!
The first part of our morning was very relaxing, as we got to sleep in. We were all tired from our exquisite day in London. After a wonderful breakfast by our host family, we started to make ourselves glamorous for our luncheon at Oxford University's boathouse. Once we were ready to go, our coach bus arrived to take us to the splendid boathouse.
We were the first team to arrive, so we went on a private tour. Some of us were wearing our spandex trousers under our dresses for those "just in case moments" (Shelby Welbaum). When my group arrived in the erg room, we decided to take a few strokes, dresses and all, on the "brilliant" (cool) dynamic ergs. The Oxford girls thought it was "ace" (awesome) of us to erg in dresses. After many photo shoots and plenty of delicious finger sandwiches, we started our journey back to our home on Norman St.
After an hour of relaxation, it was time for our first practice in England. We picked up the oars we are borrowing and then found the Hudson guys who were rigging our boat. Everything was adjusted brilliantly and fit us perfectly. Our first row on the Thames was absolutely magnificent. Rowing through the beautiful English countryside will be a memory that will last a lifetime. I'm looking forward to this great weekend which I hope will be successful!
P.S. We are starting to pick up a little bit of a British accent!
---

Carey Mankins '13 and Maria Edelhauser '14 in front of Buckingham Palace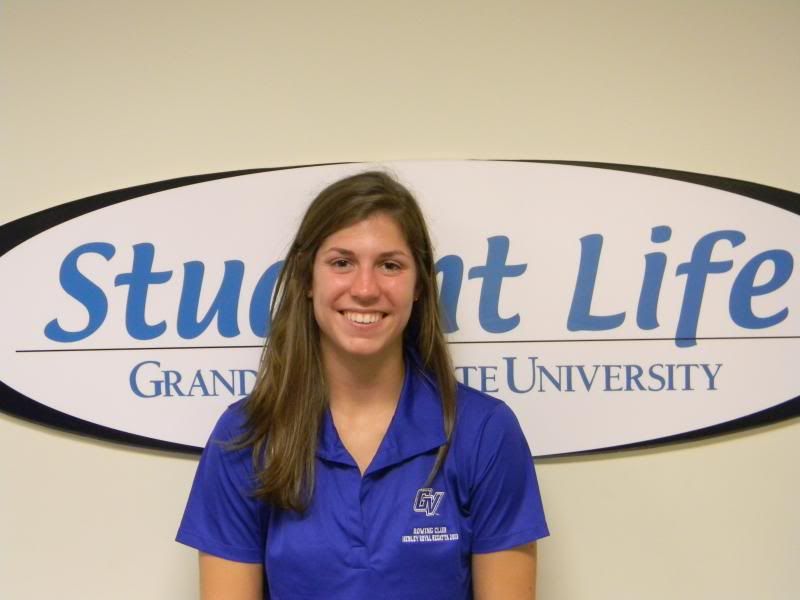 Athlete: Maria Edelhauser, 2 seat, Women's Varsity 8+
Year & Major: Junior, Biomedical Science
Hometown: Troy, MI
High School: Troy High School
Fun Fact: In 2010, I got in a bad skiing accident, breaking my femur, lower back, and tore ligaments in my knee. I have had 4 surgeries since then to correct everything. I can also hold a handstand for 5.6 seconds.
The day started off early, as we were woken up by our host family's children. They woke up early just to see us off and chat with us while we ate a filling breakfast. As soon as all of us girls were primped and dressed, we headed out to meet the other girls and Kyle to go to the train station. It was Kyle's first train ride, and he was very excited. After an hour on the train, we switched to the underground, and it being our first time, we made the mistake of getting on the wrong one!
Our first stop was Buckingham Palace, to watch the changing of the guards. None of us had a clue what was going on, but we waited around for the show anyway, as we were told it was a half an hour ordeal. After watching the ceremony, we then left and quickly met a man who informed us that if we were to stand along a fence, the soldiers would come within feet of us. Naturally, we all wanted to stay and watch the soldiers march in. We then got to see them perform drill. We were all surprised by the amount of stopping the guards must do while completing their drill routine. Next, my boat all tried fitting into one of the classic red telephone booths. Although we failed, it was still a lot of fun!
Up next, we went to Westminster Abby and marveled at it's beauty. And being girls, we all talked about Prince William and Kate's wedding. Katitlyn really hopes Kate will have her baby while we are here. After walking over to Big Ben, we were ready for lunch and hit up Pickidilly Circus. At this point we split up in groups and ventured off. After a filling lunch, we walked around, finding an M&M World. Some of us got the crunch variety – M&M's that are now only made in the UK.
After that, we went to Covent Gardens, a place that had its own market and hip atmosphere. Once we shopped, we were ready for some coffee. So we took it on the go and sat on a curb to watch a Charlie Chaplin-like street performer. Although we were skeptical at first, the performer turned out to be a real laugh and we thoroughly enjoyed ourselves.
Up next on our list was to go on the London Eye. As we stood in a long line, the security guard asked us where we were from. As we told him Michigan, he immediately smiled and decided to let us go in the fast line, making it a walk on ride! The view from the eye was simply breathtaking. And after a long day of touring around, it was very cool to see how much of London we had seen that day.
To end the day, we all made plans to gather at Buckingham Palace to get a group photo. It was great hearing everyone's stories as we headed to the tube and later to the train station. By the end of the day, we finally mastered the modes of transportation, and, before we knew it, we were back in Henley. Everyone had such a good day filled with laughs, smiles, and moments we will never forget.

Henley Women's Team in a London phone booth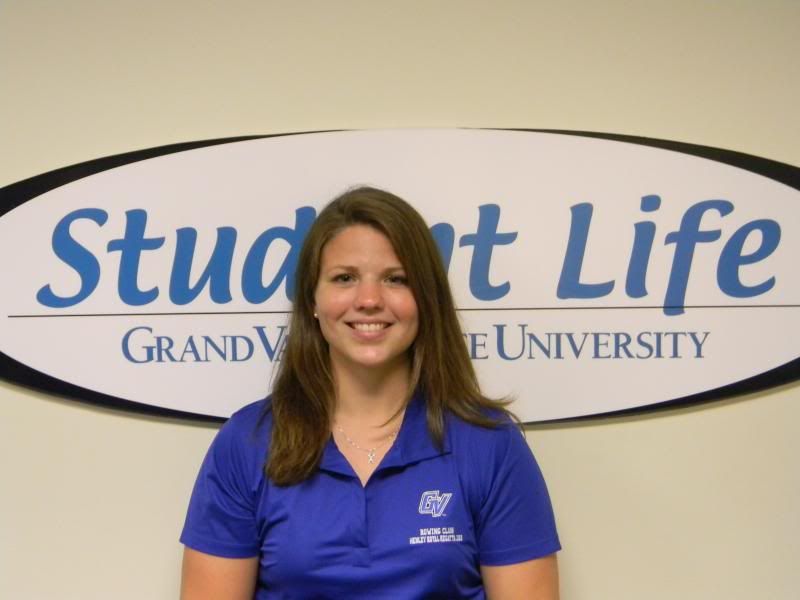 Athlete: Kylen Pattermann, 7 seat, Women's Varsity 8+
Year & Major: Senior, Anthropology
Hometown: Elburn, Illinois
High School: Kaneland High School
Fun Fact: I wrote a book, published in 2009.
We're in England! We're in England! With so many new experiences, sights and modes of transportation over the past three days, it's getting hard to remember that we are here to race. Our day started at 7:30 with breakfast with our hosts, and then we took two trains to London and used to Underground (which we got pretty good at) to get around for the rest of the day.
The fourteen of us started off at Buckingham Palace for the changing of the guard. While what we did get to see was pretty cool, we got there a tad late and so were pretty far back in a sizeable crowd. Later, we were able to get right up front to see them march back into the barracks. Then we walked down to Westminster Abby, Big Ben and Parliament. While we didn't go inside for tours in the interest of time and money, we got some great pictures nonetheless.
By this time, we were all hungry and ready for lunch so we went to Piccadilly, (sort of like London's Times Square) and there we split off for lunch and shopping. Carey, Amy, Brittany and I spent the afternoon together having lunch at a restaurant called Grill on the Square. There I had my first experience with English fish and chips, and it was delicious. We did some shopping and visited the M&M Store here in London, where we learned they still had Crispy M&M's.
Though very tired and footsore, I am so happy to be here with my teammates and friends, and am so happy that we have had this incredible opportunity. I am really looking forward to racing, more sightseeing, and meeting new people.
---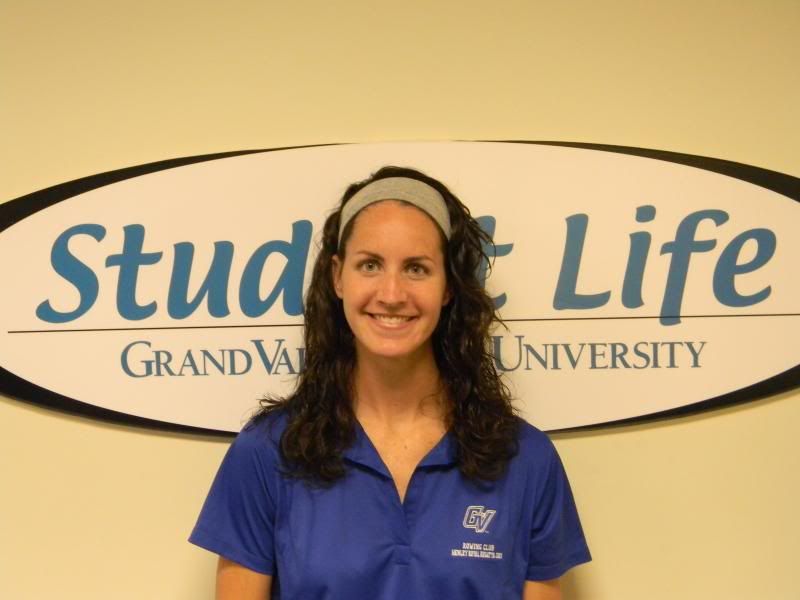 Athlete: Amy Brunner, 3 seat, Women's Varsity 4+
Year & Major: Senior, Liberal Studies
Hometown: Traverse City, MI
High School: St. Francis High School
Fun Fact: I love desserts. Also, I can do a front handspring.
It's hard to believe that a little over twenty-four hours ago we were boarding our flight out of Grand Rapids. (Side note: Brittany Hyde's first flight!) Following the two hours it took to reach Atlanta, we enjoyed a four-hour layover at the world's busiest airport that was filled with walking around, reading, riding the subway, Rummy, a food court dinner, and enjoying each other's company. Around 10:45pm, our second plane took off for London Heathrow Airport. The flight was eight hours long and included dinner, breakfast, and access to a wide selection of movies, TV shows, and music. After declaring, "This is awesome; I'm going to stay up all night!" I fell asleep promptly after dinner. Our landing and luggage claim went smoothly, and our driver, Tony, picked us up in the "party van" to take us to the beautiful town of Henley-on-Thames.
The women and Kyle have been met with an outstanding welcome in Henley. Our host families are hospitable, friendly, and have great accents. The Women's 4+ is staying with Sarah and Mike and their two daughters in a beautiful brick townhome very close to the Thames River and downtown area. The Women's 8+, coaches, and coxswains are staying in a house around the corner. Today, one of our hosts, Miles, guided us on a tour around Henley. We were charmed by the historic buildings and quaint shops that line the brick streets. Some of us got dessert (before dinner) at The Chocolate Factory, which was outstanding. Maggie, another host, had arranged for us to have dinner at a local restaurant called The Anchor, where we sat at a big square table and passed around delicious pasta and salad family-style. In the evening, we spent time with Sarah and Mike, chatting and watching The Voice. Looking forward to spending the day in London tomorrow!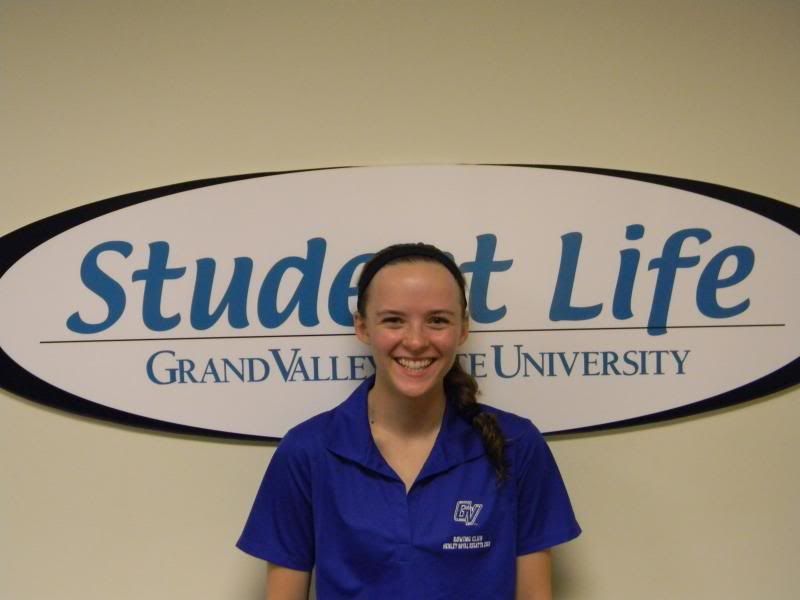 Athlete: Becca Mier, coxswain, Women's Varsity 4+
Year & Major: Sophomore, Medical Imaging
Hometown: Midland, MI
High School: Midland High School
Fun Fact: I am different on the inside than on the outside. I love the traveling and the family I have made while rowing.
This morning, we landed in England. We've been tired all day after the long transatlantic flight. We were stuck for a little while at the airport because we didn't know to tell them to bring the bus up. We met our host families when we arrived in Henley-on-Thames, and they are all really nice. We got a tour of the town of Henley-on-Thames from one of the families, then went to The Anchor for dinner. After dinner, we had the chance to explore Henley, and we found out the town and its people are very cool. I can't wait for tomorrow when go into London to do some more exploring!
---
The Laker women's team has headed to England for the Henley Women's Regatta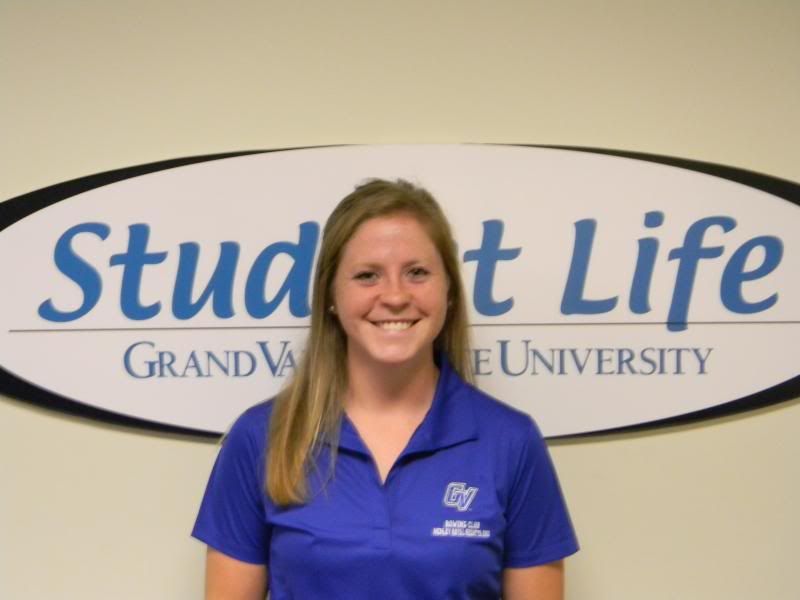 Athlete: Becca Studer, 2 seat, Women's Varsity 4+
Year & Major: Senior, Liberal Studies
Hometown: Ypsilanti, MI
High School: Lincoln Senior High School
The day began bright and early (as usual), with a 6 am alarm and a 7 am practice. As a team, we opted to practice Saturday morning before leaving for the airport in lieu of having to practice on Monday – this way, we have a full day to experience London! The 8+ and 4+ both did a long steady state row this morning (while stressing that our bags would all make the required weight) and then went home and repacked at least twice more. Some of the men helped drive us to the airport, and we'll return the favor by picking them up when they land back in the 'States after their trip.
We said our goodbyes at the Grand Rapids airport, and took a short flight to Atlanta where we are currently playing cards, blogging, reading, and eating while we wait on our 4-hour layover. The Atlanta airport looks more like a mall with a few airplane terminals than it does an airport! Even though we're not in England yet, we've met a couple people with English accents, which only heightens our excitement. We definitely look like a team when we run around the airport in matching polo's and sweats, and we've gotten a lot of questions about where we're going and what we're doing. We always represent GV loud and proud! Check back here for updates about our experiences. They will definitely get more exciting when we leave the confines of airports.
---
---
---
The Grand Valley State University Rowing Club challenges its student-athletes to reach the highest level to which they aspire both academically and athletically, while continuing to build and sustain a nationally competitive intercollegiate rowing program.

Copyright 2016-2017 Grand Valley State University Rowing Club. All Rights Reserved.