Spring Training Camp 2012 – Athletes' Blog
Dayna Campbell '12
Varsity Coxswain
Major: Film Production
Hometown: Beverly Hills, MI
Today marked my fourth and final scrimmage at Lake Lanier against Georgia Tech. It was a bitter sweet feeling, but more on the sweet side since the weather was a perfect 66 degrees, no wind, and was accompanied by a fabulous barbecue by the Sellmer family. I had the pleasure of coxing the Men's 2V 8. The line up first started with, starting from stern, Ben Steele, Keegan Jahnke, Sam Fearnow, Jake Bouwman, Marty Reed, Ed Avena, Chad Condon, and at bow, Costas Ciungan.
We first raced the GV 1V and 3V and the 1, 2, and 3V from Georgia Tech. The first race went off and felt a little rocky, but it was mainly because the boys just wanted to go fast! We calmed down and found our control in the middle of the 1500 meter piece. After that piece, we switched Chad for Tucker Anderson for a bit of seat racing. Although we finished 5th out of the boats, the drive was there. The second race was against the same boats and went considerably better. The ratio was there and so was the power. Again, we finished 5th.
The plan was to do a third piece, however we had to get off the course at 9:30am. With the plan change, we completed a 1000 meter piece and a 500 meter blaster. We finished 4th in both pieces which although the ranking was better, the "venue" change might have contributed to us losing our focus. Overall, the will and the drive was there from not only our crew, but from the entire GV squad. I'm looking forward to a great spring season and it was a great way to end my final spring training trip.
Rebecca Studer '13
Major: Liberal Studies
Hometown: Ypsilanti, MI
Gainesville, GA– After a week of intense training for spring break, Grand Valley Rowing departed from Ellenton, FL Friday afternoon to head to Gainesville, GA for some races before heading back to the mitten. The men were to race Georgia Tech, and the women both Georgia Tech and Penn. After a 6:30am departure Saturday morning from the hotel to the course, the team rigged boats and prepared to get on the water while the sun rose over the Lake Lanier Olympic Training Center. When asked about the upcoming races junior Ryan Kasley said, "We're all excited to test ourselves against other schools, and get some race experience in before we go to San Diego in a few weeks." The Laker Navy raced a total of four times over varying distances, all of which were shorter than the standard 2000 meter spring race distance. The scrimmage included two 1500 meter race pieces, a 1000 meter piece and a 500 meter piece to end the morning. The two 1500 meter pieces were completed on the 1996 Olympic course.
The GVSU men boated three competitive varsity eights to race against Georgia Tech. The varsity eight and the second/third varsity eight events were combined into one heat, allowing for a competitive five boat race. GVSU's varsity eight beat Georgia Tech's varsity eight by four seconds on the first 1500 meter piece and nine seconds on the second 1500 meter piece. GV's varsity eight won both the 1000 and 500 meter pieces as well. Both GVSU's second and third varsity eight finished ahead of Georgia Tech's second varsity eight on all four pieces and GVSU's third varsity eight beat the GV second varsity eight. GV's third varsity men's eight said that they had a bad start on the 3rd piece, but were excited that they were able to come back from it. Overall, all the men agreed that they felt some speed during the races and are eager to get back to work to find more and to continue to improve technically.
The GVSU women raced Penn and Georgia Tech for the first two pieces, then just Georgia Tech in the 3rd and 4th pieces. Again, the varsity eight and second/third varsity eight events were combined. GVSU's varsity eight beat Georgia Tech in all four pieces. While Penn's varsity eight beat GVSU's varsity eight by 4.3 and 4.5 seconds, the 1V gave them a good race. GV's second varsity eight beat Georgia Tech in all of their pieces, and fought with Penn's second varsity the whole way, finishing bow to stern in most of their pieces. GV's third varsity eight, a combination of five novice rowers and three sophomores, raced Georgia Tech's freshmen and beat them by about half a boat length. The varsity women were pleased to get some race experience in before San Diego, and are looking forward to the gains in speed they hope to see in the next few weeks.
For the novice rowers, this is was their very first spring race experience, side-by-side another school. In addition to the three men's varsity eights, GVSU also boated a men's novice eight and novice four. E.J. O'Mara, a member of the men's novice eight, was asked what his first spring race experience was like and he said, "It was exciting to pull up to our first race of the season after all of the hard training we put in over the winter and spring break. I think everyone wanted to show off what we had accomplished." The novice men's eight showed they had come a long way by beat Georgia Tech's freshmen by open water.
All in all, the races in Georgia were very beneficial to both the men and women. Everyone was excited to race with sunny skies one last time before returning home, and it was a great opportunity to put together everything learned over spring break. The Laker Navy was able to showcase their speed, figure out where they can gain even more speed, and end a great trip with some great racing.
---
Carey Mankins '13
Major: Allied Health Sciences
Hometown: Bloomfield Hills, Mi
Today marks the end of our 2012 Spring Training Trip. We are all sad to be leaving warm and sunny Florida but curiously await the Michigan weather. We began the day at 6am, and grabbed a quick breakfast at the hotel before we headed North to Nathan Benderson Park one last time. One good thing about rowing that early in the morning is smooth water. After seat racing and working on technique in rough waters for most of the week, we all sighed with relief when we arrived and saw the water was like glass. The sight of the sun rising over perfectly calm water before heading out to practice is what makes this sport worth it.
All crews launched and we spent most of the time practicing skill and drill. The women's V8 is feeling better and better each time we hit the water. At the beginning of the week, it felt as though we would not be ready to race by Saturday. We were still working on balancing the boat by 8's and getting timing down. At stroke seat, I feel a lot of the rush, but I could tell that it was diminishing day by day. This morning, we worked a lot on our start sequence and settling into our race pace. After practicing a few starts, we started to really get it down. I could really feel the power in the boat. After challenging one of the men's varsity crews to see who could balance the boat after our start sequence (and winning), the women's crew headed to the middle of the lake by 8's on the square to take our traditional spring break picture.
We all aligned our boats together and overlapping our oars, we stood up with our hands high in the air. Eric, our photographer for the week, captured our excitement to be done with spring training, having learned a priceless amount of knowledge about rowing. Being side by side with each one of my team members while taking that picture reminded me of how much each one of us relies on each other in this sport. Coach Bancheri is always telling us "Milage makes champions". After this week, we are all champions together.
Nate Biolchini '13
Major: Natural Resource Management
Hometown: Oxford, MI
Our last day in Florida started off like all of the other days, scarfing down breakfast before shipping out to practice. It being our last day in the beautiful sunshine state, moods were mixed. Some were happy to know they could rest easy this afternoon and some were dreading the long haul to the cold north. On the bright side, the transition to Michigan weather looks like it should be easy, with sun and mid 50's all week.
Todays row was by far one of the best rows of the trip, weather wise at least, with calm winds and flat water it was great for a technical pairs practice. After rowing around coach in his borrowed elevated launch for a while all of the boats began to gather for the annual spring break photo. After all the 8's and 4's linked the pairs began to join the floatilla and I have to say that it went quite well! Now on to GA for the scrimmage with GA tech.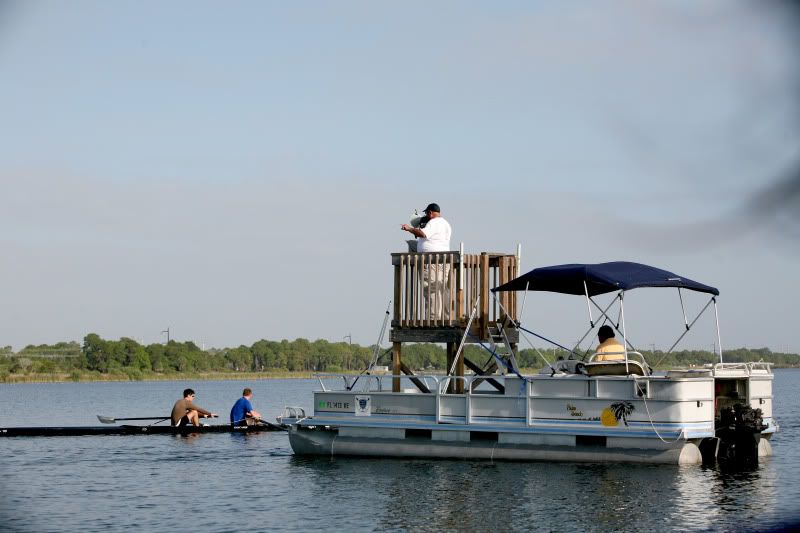 Jerome Shaumman '13
Varsity Coxswain
Major: Film/Video
Hometown: Northville, MI
This day, the last day of spring training, is one of my favorite days of all Spring break trips. On the last day of spring training every year, the fleet congregates on the water for one of Grand Valley Rowing's newest, but most iconic traditions. At approximately 9:20 this morning, each GV vessel grouped together on Benderson park for the annual Spring training team picture. As the boats come together, each oarsmen pulled their blade across the gunnel of the boat adjacent from them, locking each boat together as one floating unit. A true indicator of the teamwork and trust that has developed between each boat and crew over the past week. With each boat firmly held in place by the boat next to it, every crew member was safe to stand with their arms raised high in the air. Photos of GV rowing's past spring training camps adorn our rowing training center, each featuring a navy of proud laker men and women holding their hands high as if to triumphantly declare. "We've made it this far."
But the Florida Training camp is only the first stroke along the challenging river that is the spring rowing season at Grand Valley. At this moment the team is headed to Lake Lanier in Georgia and the site of the 1996 Olympic rowing venue, the place where our good team friend Michael Bartman struck Olympic gold over 15 years ago. There, we will go toe to toe with Georgia Tech. After that, the team will return to Allendale and continue to exceed expectations on the water and in the classroom. This spring campaign includes expeditions to the West coast of the States for the San Diego Crew Classic. Then on America's "other West Coast", the Laker Navy will host the Lubbers cup regatta. From there the team will return to the Southern region of the country to compete in SIRA. After that, the team will drive back to the East coast when the Laker Navy begins the road to Dad Vails. Finally, the Laker Navy will return to Lake Lanier for ACRA, in hopes of continuing its 5 year reign as National Club Champions.
The Grand Valley Crew really does travel extensively, and the medals, trophies, and pictures that decorate the Rowing training center and these blogs posted on our website chronicle our journey. A great wave of nostalgia washes over me when I reflect upon and read these memories. Its great accomplishment to say "We've made it this far." But an overwhelming fire of excitement, anticipation, and determination, burns inside me when I think about what photo we might be able to frame and hang in the RTC next.
---
Jimmy Wilkie
Major: Health Communications
Hometown: Detroit, Mi
As Spring Break comes to an end, all of our bodies are either
sunburned or sore. Or Both. We were able to "sleep in" till 8 A.M today and grab some of our continental breakfast before heading to Ft Hamer. Including myself, four varsity athletes rowed a 4+ with Jerome as our Coxwain. The rest of the varsity squad was in Benderson park and we had Coach Lisa all to ourselves.
The practice went very well even with the choppy water. We concluded practice and loaded up all of our gear and left Ft. Hamer for the last time this Spring Break. After Grabbing some sandwiches, I and much of the team took a well deserved nap before the afternoon practice.
For the evening practice, we boated almost all of our rowers into 8+ racing shells, and even our Women's Coaches Kelsey and Lisa were in a double. For this practice, we emphasized quickness and starts. It was fun to see all of the boats picking up on the drills and getting the starts more effective. Speed-work brings the first taste of the Spring season and all of the rowers are pumped to go fast again, it should be a good racing season.
Spencer West '15
Major: Allied Health Sciences
Hometown: Grand Rapids, MI
This morning we rowed a four and an eight at Ft. Hamer while the varsity men did some of their own hard work at Benderson. There was some small wind, but we were still able to get a lot of good work done with plenty of stationary drills and practice starts. When we got off the water, we spent an hour or so de-rigging the boats and loading them on the trailer. After all the work was done, we were able to head back to the hotel to relax.
After lunch, a bunch of us went in the pool for the majority of the time between practices. We played a long game of Marco Polo and spent most of the time relaxing in the warm pool. Around 4:00 P.M. the entire team went to Benderson, rigged the necessary boats, and launched for practice. We did a few short race pieces, with each one showing improvements from the last. After the hard row, we put everything away, even in the dark ,and drove back to the hotel. Everybody did there own thing for dinner and we're all packing up and preparing for tomorrow's trip to Georgia.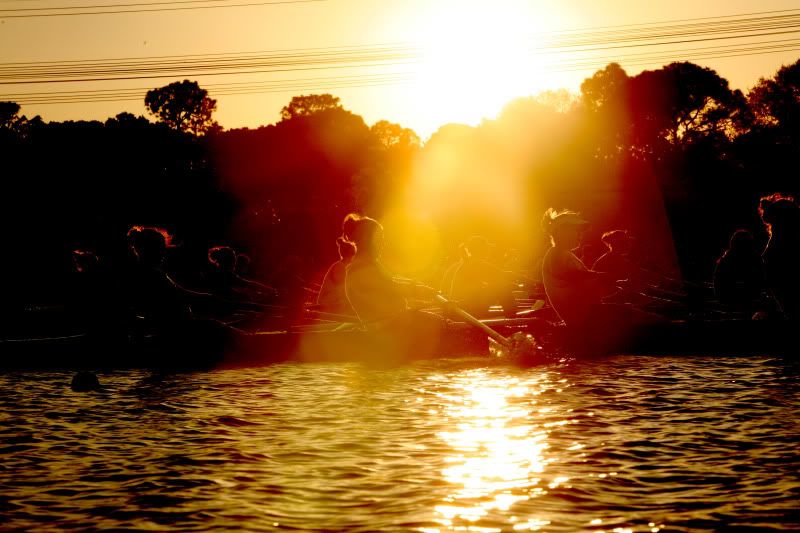 Dominic Kootsillas-Conybeare
Major: Statistics
Hometown: Chelsea, Mi
At Benderson Park this morning, I was in the 3rd Varsity boat. We did pieces with another varsity men's boat and two varsity women's boats. The pieces were roughly 4 minutes long. Our boat rowed extremely well and held off the other men's boat.
After the four pieces we went back to the hotel. A group of friends and I went to the Waffle House that is close to the hotel. We played marco polo in the pool and a few rounds of Mario Kart in our hotel room.
Following the afternoon siesta, we went to Benderson again and practiced the rev-ups drill. We also did some starts and focused a lot on rate shifting. It was a great practice and our coxswain Kyle did a great job of keeping us all focused in the boat.
Tomorrow we have an early 6:30am practice, and then will be heading to Lake Lanier for a practice meet.
Victoria Lloyd
Major: Engineering
Hometown: Ann Arbor, MI
Today was a great day. It started off at 8:30 A.M., which was the latest that we have woken up all break. So unfortunately, that is sleeping in for a rower. Varsity women were up and gone by 6 for their practice at Benderson. The rest of the team split between Benderson and Fort Hammer. It was the last practice at Fort Hammer and it was definitely a good one. Lunch was pool side and the sun was hot.
We played in the pool and laughs could be heard throughout the hotel. Naps were in order after pool time and then it was off to the last practice of the day. As we all headed off to Benderson, we got to watch a video of new drills. This practice at Benderson has been my favorite so far. We worked on our new drills and adding all 8. Then the fun part, finally reaching the SR of 30.
There is no way to explain the excitement that comes with that. Sitting in the boat, moving faster and faster with each stroke and letting it fly, it makes your heart race and puts a smile on your face. As I sat out during a drill all I could keep my eyes on was the sunset. It's moments like those that make you step back and realize just how fortunate you are. We have such a great team and this spring training trip to Florida has only brought us that much closer.
---
Sam Fearnow '12
Major: Criminal Justice
Hometown: Grand Rapids, Mi
Another exciting day in the life a Grand Valley Rower. Today we woke up early for practice at Spanish Point. After a mere four hours of rowing we decided to call it a day.Unfortunately I forgot to put on sunscreen and got a little sunburned.
Lunch was excellent however, another fine meal at Sweet Tomatoes. We had the afternoon off, and some of the rowers decided to go to the beach, while other went back to the hotel and eventually had had a Euchre tournament between team mates. Tyler Sellmer and I made it to the semi-finals, but were eventually forced out. Only a few more days in Florida. Hopefully the weather is this nice back in MI.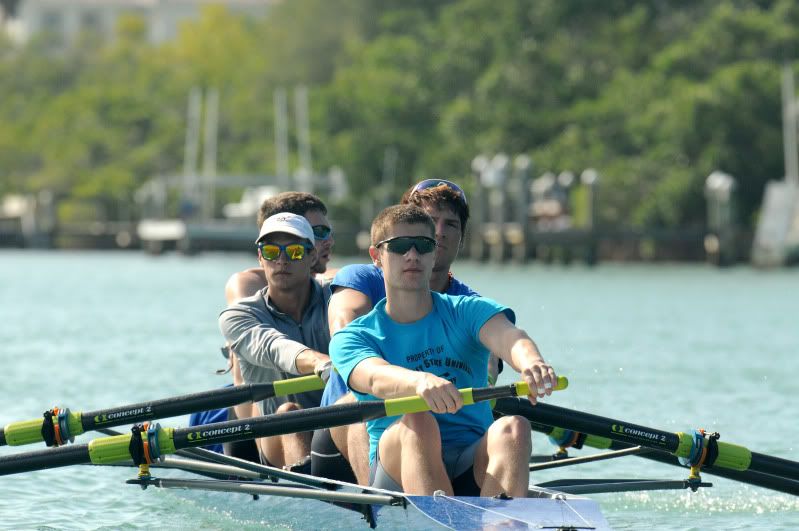 Ben Steele '14
Hometown: Seattle, WA
This trip is all about getting back into the flow of rowing before spring season starts, and the best part is getting to leave the cold Michigan weather and row in the sun for a week. For me this is the first time I have been able to row in about 4 months. In November 2011 I strained a muscle in my back and have only recently been able to start rowing again after a lot of physical therapy. The opportunity for me to get out rowing finally is a mostly a relief.
Today we did one of coach Bancheri's infamous "Darth Vader" rows. Even though it is given a name we all associate with terrible things, these rows are not bad at all. The general idea is "mileage makes champions" so we go and do a very long practice, it was estimated that today we did around 30 miles of steady state.
The befit of this for us is to just get a lot of strokes at a bit lighter pressure so we can emphasize our technique and ingrain good habits. Despite being a windy day, a lot of the intercostal water way is blocked from it, so we still got some good rowing in. I was in one of the two varsity fours today and had a decent row; whenever the wind was blocked we managed to row well. By the end of the four hours of water time we were of course tired but that is part of the goal.
Special thanks to the Sarasota High school team for lending us some of the eights and fours we used today.
Justin Bartaway
Major: Criminal Justice
Hometown: Trenton. Mi
Today, on the 5th day of Spring Break 2012, Coach Geoff came to me and said, "We are doing a Darth Vader this morning." I was indifferent about this, because that was bad news. But, the good news about this is that there is no afternoon practice.
For those who do not know what a Darth Vader is, it is a long row usually between three to four hours. We launched from Spanish Point, Sarasota, Fl, this morning and it was a great practice. I fixed some bad habits, and the scenery included really nice houses that we could probably could never afford to live in. Then we ate at a restaurant called Sweet Tomatoes which has amazing food and I would suggest anyone in the Sarasota area to have a meal or two there.
Rhiannon McHenry '15
Hometown: Grand Haven, MI
Today started off bright and early! It was a comfortable 62º as the full bus headed off to Spanish Point in Sarasota this morning. When we got to the site we quickly got our boats off the trailer and rigged. We also got to borrow some boats to row from Sarasota Rowing Club. After all the boats were rigged and checked over we launched and started out for our Darth Vader row. It was a bit windy but nice and sunny as we rowed are way towards the Gulf. As we were rowing we even got to see Minnie the Moocher a couple of times.
Halfway through the row we took a break at Snake Island and had a snack and posed for some pictures. When we got back we washed off our boats and put them away and loaded the bus and drove to Sweet Tomatoes for a very filling lunch.
After lunch a van of us headed off to Siesta Key beach while everyone else went back to the hotel to relax and catch up on some much needed and deserved sleep. I was in the van that went to the beach and we had a good time walking up and down the beach, chasing seagulls, getting some sun and swimming in the Gulf. The weather has been almost perfect and hopefully it stays nice and the wind will die down as we finish out our practices for the rest of the week here!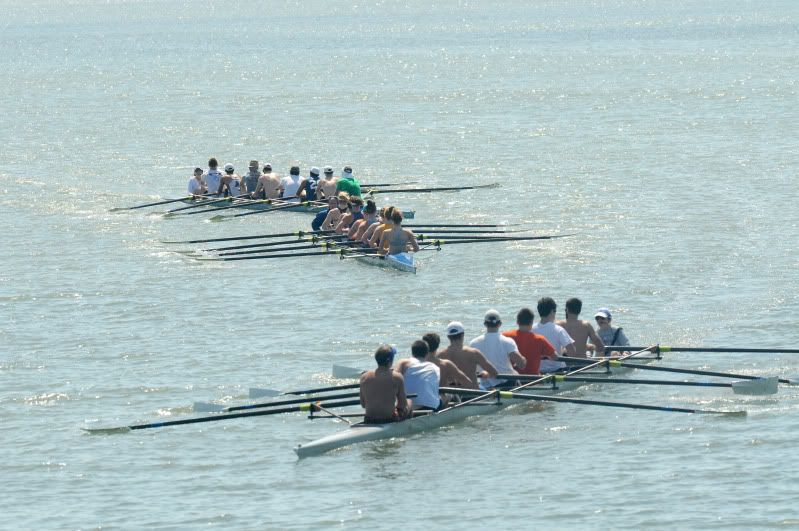 Staci O'Brien '14
Major: Athletic Training
Hometown: Saginaw, Mi
As we took off extra early this morning, we knew we were in for a long row. Our "second Vader" practice deep into the Intracostal Waterway in hot 80 degree weather. We hoped it was for a scavenger hunt, but were still happy that some of us got a short break from rowing by stopping at an island nearby to refuel and avoid getting sunburned too badly in the middle of our nearly 4 hour row.
Although the practice was long, we got to work on our technique since we started going by 8s and had a long time to make changes. After we finally got off of the water, we loaded up again to move back to Fort Hamer and Benderson Park. Then, we headed to Sweet Tomatoes for another great meal, filling up on all of the salad, bread, and pasta we could. We even temporarily shut down the ice cream machine since so many of us were using it!
We decided that not many people were interested in another beach trip, so the bus went back to the hotel and a van went to the beach. The beach was fun, though, for everyone who decided to go, making the most of our last chance to go over break. It was great to be able to sit in the sun and relax during our last beach day. Some people even made a sand sculpture – a boat complete with a coxswain and 8 rowers – while others almost got lost walking down the beach.
When we got back, mostly everyone was settled in for the night. Some of us girls, though, decided we'd try to find a van and get dinner at Chick-fil-A. Since we couldn't find a van, we took the truck and searched for the nearest one. After a 25 minute drive – and a few sketchy roads – we found out that restaurant we were going to was inside a mall and the mall was gated closed. We took another 20 minute drive to find another one, and even though we ate late most of us enjoyed it (especially the milkshakes!).
The adventure was interesting for sure, but all of the random detours made it a fun trip. Now that everyone is ready to call it a night, I'm excited that I get to sleep in tomorrow and leave at 8:30! It's going to be another full day of practice, but hopefully we'll all be able to enjoy another day in Florida.
---
GVSU Rowing 2012 Spring Break Interview with Coach Bancheri
---
Brittany Hyde-Freshman '15
Major: Special Education
Hometown: New Salem, MI
Kaitlyn Van Boven-Freshman '15
Major: Elementary Education
Hometown: Fremont, MI
Hanna Jones-Senior '12
Major: Exercise Science
Hometown:Brighton, MI
This morning we all rowed at Fort Hammer, where we did a long steady state row. Meanwhile the guys were seat racing at Benderson Park. Afterwards we enjoyed a meal generously bought by the Simon family at Sweet Tomatoes. After lunch, we enjoyed a couple hours at Siesta Keys soaking up the sun (It's the number one beach in the country)!
Following our enjoyable time at the beach we had another challenging practice were Lindy, a labradoodle named after longtime Marietta College coach Ralph Lindamood, accompanied Coach B. in the launch. She was so excited to see all of us and we were excited to see her. As soon as we finished practice we returned Lindy to the home of Commander Joe Dobson. The inside of his house had many rowing memorabilia, including part of an eight hanging from the ceiling as a light fixture. After a fun visit we went to Mrs. Chen's buffet, and as Coach B. puts it "It's the bomb"(and has been for the last 19 years)! Sandy, salty, and sweaty we are now turning in for the night!
Derek Bruckner '15
Hometown: Whitehall, MI
Rowing. I can honestly say that when I was accepted into Grand Valley State University, I never thought I would be part of Crew. The process of rowing is almost metaphoric in the sense that one must learn to hold on and pull through even when the pain is almost too much to bear. Within the duration of my stay here in Sarasota Florida, I have been able to be a part of  a team of achievers; each bringing something unique to a common direction.
Today's direction started out as usual, getting up early, eating, and heading out to the waterways. My novice group went to Ft. Hamer and continued our drills. The drills offer us  opportunities to alter our technique and effectively move the boat more efficiently. The drills aren't always fun, but getting out and moving down the water is always refreshing.
The moments that make the trip are the smiles and witty remarks from the coaches. Hearing things from your teammates that you had never expect to hear. Half the fun of the trip comes from seeing people come out of their shells. So far I have had a good time, and I have enjoyed the weather as well as my friends. I am looking forward to a couple of more days of working hard and good laughs.
Amy Brunner '13
Major: Allied Health Sciences
Hometown: Traverse City, MI
Today was quite eventful. We woke up, ate breakfast, and left the hotel by 7:15 a.m. Most of us started out the day with a long steady-state row at Ft. Hamer. It was a beautiful morning, with sunny skies and water like glass. My eight rowed by all eight for most of the practice, with freshman Brittany Hyde'15 stroking. We felt really good about our practice!
Following practice, we were treated to a wonderful lunch at Sweet Tomatoes by Mary Ann Simon, mother of Christopher Simon '14. It was a soup and salad buffet, perfect for a hungry college rowing team. Then, we hit Siesta Key Beach for a couple hours before heading to our second practice.
My eight was at Benderson Park, where we practiced speed work with the V1 women's eight and Coach B. After practice, we got dinner, and then later that night the women's team met to wish Coach Lisa a happy birthday with some cake. We will all sleep hard tonight, and are looking forward to tomorrow.
---
Chris Gaigalas '15
Hometown: Rockford, MI
Major: Engineering
Today the novice men headed to Ft. Hamer to get our morning practice done, while the varsity went to Benderson Park. Our team started out having a rough time, but after thirty minutes of being on the water, Coach Sadek thought we might be able to try rowing all eight. This was the first time that we have rowed all eight since the fall, so we were a little rusty.
After we had our time rowing all eight, Coach thought that we should keep working on our technique and perfect our strokes by rowing by sixes. When it was time for us to turn around and start to head back to the boathouse, we had already rowed down to the highway out by the hotel.
After our long row we headed back to the hotel to get some food which was made by Ms. Steele. Then the team got some well-deserved beach time. As everyone finished eating, we packed up the bus and went to Siesta Beach, Sarasota, Fl. As we arrived, most of the team decided that they just wanted to rest and get some sun. As the other half of the team went to claim our grounds and start a huge game of ultimate Frisbee. The game was extremely close and we just decided to call it quits after about two hours of playing, then we headed back to the main group for some rest. It seemed like three o'clock came really fast as it was time to pack up and head back.
After arriving back at the hotels we changed and packed up to get ready to row. The Novice Men had nice conditions at Ft. Hamer and we got more chances to row all eight and we even got the chance to do race starts all eight. A great end to a wonderful day in paradise.
---
Marie Brown '14
Major: Graphic Design
Today was a great day after a full nights' rest and a good breakfast. We were out on the water early and worked on technique, specifically feathering and timing. It was quite windy out and it was blowing the boats all over the place, but our coxwains did a great job of keeping us on track and made it a productive practice.
This afternoons practice was a great practice in my opinion. I switched to the starboard side to see if it was easier on my shoulder that had been acting up. It was perfect, my shoulder didn't hurt one bit. We did drills at the beginning of practice and four pieces at the end. They were only 5 min pieces so you could really go all out and not be completely dead by the end of it. It was shaky for me at first because I never really row on starboard side, but after a while I got more comfortable and it wasn't to bad. It will take some getting used to but I'm just so happy that I found the way to row without hurting my shoulder.
I can already tell this is going to be an amazing and productive break. Weird but exciting to think its only the second day of practice.
EJ O'Mara '14
Major: International Business
Hometown: Burton, MI
The GVSU Rowing Team had a wet and windy start to the morning with wind gusting into the mid twenties and a light drizzle. The morning consisted of Coach Bancheri talking to us about different stationary drills and using Coach Sadek to demonstrate perfect form. For the novice guys this was very informative and led to a productive morning session even with having to deal with the wind constantly trying to blow us around on the water.
The entire team was fairly happy with how the morning session went, so we headed back to the hotel in good spirits. We spent the rest of the morning and the afternoon  napping, eating and enjoying the wonderful sunshine that Florida has to provide. That afternoon practice consisted of another short technique chalk talk from Coach and the promise of some high intensity rowing.
Most of the novice men had their first experience practicing in fours with a coxie. We did a short warm up, followed by drills working on posture, perfect placement, and timing. By this time the wind had abated slightly and we set out to do four by five minute pieces done by pairs. We are all tired and satisfied from a solid day of rowing. Then it was time to eat, drink, rest and get ready do it all again tomorrow. We would also like to thank Bob Whitford for the use of such wonderful facilities, we all appreciate it.
Costas Ciungan
Major: Criminal Justice
Hometown: Grosse Ile, MI
The morning started off windy and turned sunny but remained windy through out the day. Despite the conditions, the whole team had a great row in the morning and afternoon. Coach Bancheri had an informational Chalk Talk this morning, in which he walked the team through different stationary drills using Coach Sadek to demonstrate exactly what he was emphasizing for the day: timing and what the blade is doing outside of the water. This was informational for everyone but especially the Novice male and female athletes.
The varsity did a combination of stationary and pause drills, emphasizing timing and what the blade was doing out of the water. This included balancing the oar on the sill of the oar lock, and squaring and feathering together. The Varsity rowed a lot of inside hand only and swing pick, focusing on squaring down and into the water together from the balance. After the morning practice, the team had lunch provided by the Steele's and Sellmer's, which everyone was very appreciative of, including myself. I thank Ms. Steele and Mr. Sellmer.
The afternoon practice consisted of calmer winds, and stationary and pause drills emphasizing posture, perfect placement of the blade, and timing. In addition, the varsity did four five minute pieces, putting what we have learned thus far to work, but also getting productive video of each athlete rowing thanks to Eric Coulter. The afternoon practice was thus very productive as technique work and high intensity rowing took place allowing rowers the opportunity to get dialed in.
---
The advanced team arrived yesterday, rigging all the boats and getting all the equipment ready for the team. The rest of the team arrived by Charter Bus today and went straight to the course to practice, kicking off Spring Training Camp 2012. The emphasis for the day was posture and what the body is doing during the rowing stroke.
The rest of the team arrived and camp shirts were passed out. Bob Whitford, Director of Rowing in Manatee County, greeted our team and welcomed us. After that, we headed for our first official practice. Novice got started on the fundamentals: rowing on the square and doing stationary drills. The Varsity wasted no time, starting on the square and moving to the feather. Weather conditions were Sunny and slightly breezy, which was a nice change from chilly Michigan!
The first day of Training Camp went well even though we had to row through rough water due to the wind. Every athlete got their feet wet, figuratively, and got right into focusing on posture and timing. "Posture provides power" as head coach John Bancheri would say, and we had a nice long "Darth Vader" row to start out training camp. We finished practice with some new stretches and a team picture in front of Fort Hammer Boathouse in Ellenton, Florida.
---
---
---
The Grand Valley State University Rowing Club challenges its student-athletes to reach the highest level to which they aspire both academically and athletically, while continuing to build and sustain a nationally competitive intercollegiate rowing program.

Copyright 2015-2016 Grand Valley State University Rowing Club. All Rights Reserved.