Winter Training Camp 2011 Athlete's Daily Blogs
Athlete: Amy Brunner'13
Home Town: Traverse City, MI (St. Francis H.S.)
Major: Allied Health Sciences
3rd year on team. 2011 sat 5 seat in the womens 2nd Varsity Eight.
2011 Results: Dad Vail D2 Finalists and ACRA 2V Champions.
Grand Valley Rowing's 2011-2012 Winter Training Camp began this morning, three days after Christmas, at the Rowing Training Center. The rowers met at the RTC to load three large white vans at 3:30 a.m. We were on the road shortly after 4:00 a.m., following Coach Bancheri, who towed the launch boat he uses for coaching. Destination? Peachtree City, Georgia, to the home of our teammate Tyler Sellmer. Although we drove an exhausting fifteen hours today, the van rides brought quality team bonding time. In the van I was in, we played Catchphrase, Apples to Apples, and the van ride classic: Guess Each Other's Middle Names. We talked with each other, listened to music, and ate food. Those of us who are twenty-one and older were allowed to drive, but teammates of all ages were eligible to participate as Copilots, responsible for keeping the drivers alert. We rode through Ohio (lots of churches), Kentucky (we saw a water tower welcoming us to the town of "Florence, Y'all"), Tennessee (beautiful), and the home stretch, Georgia. When we pulled up to the Sellmer's wonderful home, Tyler was outside to greet us with a smile. His parents, Tom Sellmer and Joanne Robben, provided us with a delicious dinner of grilled pork chops, salad, rice, applesauce, rolls, and dessert. Most of the team is sleeping at the Sellmer's tonight, while another group of us is staying with the Clubine family, their friends who live around the corner. We are so grateful to receive such fantastic hospitality. Tomorrow morning the journey continues! We will wake up early, eat a quick breakfast at the Sellmer's, and hit the road by 6:00 a.m. After about eight hours on the road, we will arrive in Bradenton, Florida. My fingers are crossed for some sunshine! We are looking forward to training out of the Fort Hamer Rowing Center this week, and all of the challenging and fun times to come.
---
Athlete: Lauren Adlof
senior
Home Town: Canton MI
GPA: 3.5
What's blue, white, and red all over? The Grand Valley Rowing team after a day of practicing in the sun! This morning we had our last practice in Ellenton, where we rowed to Mexico and back. Ok, not really, but after an almost 4 hour practice in which we tallied about 20 miles, it felt just as far. Lindsay Marshall and I kept ourselves entertained by looking for sharks, dolphins, jellyfish, and by the end of the row, we were searching for the dock. I'm half-kidding, we really got in a lot of valuable technique work and drills, and focused on suspension and driving with the legs during the stroke. On the way home the women's boat tried to hold off the men for the last half of practice, and I'm happy to say we were mostly successful. We even found the beach…and by that i mean we almost got beached on a sandbar, but don't worry – we made it out and back on the briny blue with no problems other than a few wet socks. After our practice we loaded up the trailer to take to Naples, where we were going to have our "New Year's Eve Regatta". We made it back to the hotel in the nick of time to check out, and then we were on our way to Naples, home of our very own Ryan Kasely and his family, who are very generously housing the team for a few days, and helping us celebrate New Years Eve.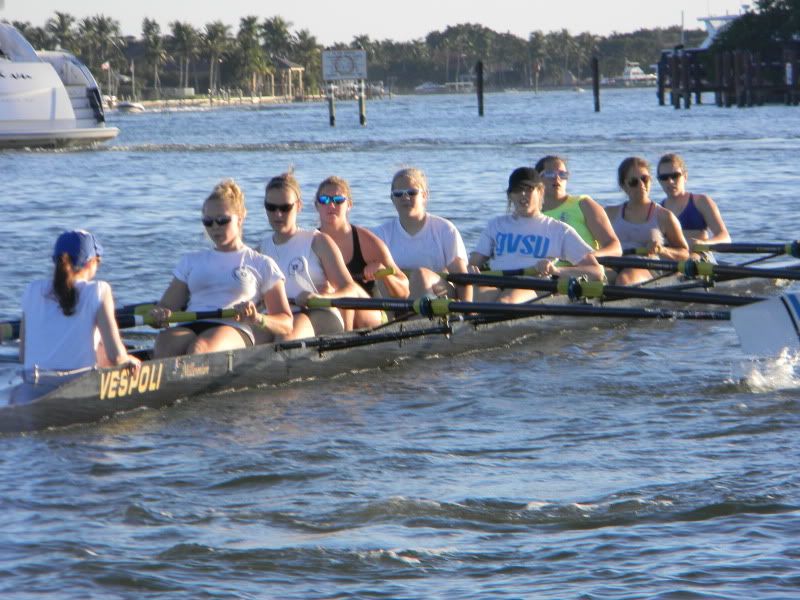 Athlete: Lindsay Marshall
Senior '12,
Hometown: Woodhaven, MI,
Major: Exercise Science
After a productive morning practice in Ellenton, the team packed up and headed to Naples for a inner squad New Years Eve Regatta and a lovely dinner at the Kasely's. Once we rolled into Naples we quickly unloaded the boat trailer and got on the water. Naples Bay, which we rowed on, was filled with a number of boats that we had to bob and weave during our pieces, but no worries, we made it out safely. During our "Regatta" we did 15, 300 meter pieces, and for the second to last piece we were pleasantly surprised with a police boat starting our race with his horn; it gave a good laugh for a long, hard day. Also, we talked with a few people on a boat near by and found out they were from Birmingham, Michigan… small world! Once we finished our pieces we quickly packed the trailer and headed to Ryan's house. To thank the Kasely's, the captians presented them with a Grand Valley oar to show our appreciation. After a long day of traveling and practicing, it was wonderful to have a GREAT home cooked meal. We are finally done with our meal and now rearing up for a fun and exciting New Years Eve night. The team plans to spend New Years Eve night at Ryan's house to hangout and bring in the new year together! This past year has been an exciting year and we are all hoping 2012 bring an even better year to come.
Athlete:Ryan Kasley
Hometown: Naples, FL
Major: Public Administration
We began the day with a long, steady-state row down the Manatee River through miles of mangroves and out towards the Gulf of Mexico. It was another day of perfect sunny weather in Florida. The men's and women's V8's stayed side by side while Coach B followed closely by in the launch. Everyone was able to get a lot of individual attention. We were also videotaped so we could review technique with Coach later in the day. We put in about 18 miles all together.
After practice we de-rigged the boats and loaded the trailer with some of the boats to head down to Naples, Fl. Then we grabbed lunch and checked out of our hotel in Ellenton. It was only a short two-hour trip to Naples. When we got there we unloaded the trailer and rigged the boats and prepared for the "New Year's Eve Regatta" on the Naples Bay.
The regatta was a series of 14 one-minute pieces from the Naples Yacht Club to the Auxiliary Coast Guard Station. It was really fun to get some sprint work in. But it was even more entertaining to try and dodge 150 foot super yachts coming in and out of the bay! Then towards the end of the pieces, a marine policeman came up to us in his boat to ask what was going on. All the rowers were praying that he would make us get off the water, but to everyone's surprise he wanted to start one of the races with his giant air horn. So we started our second to last piece off of the policeman. Never a dull moment with the Grand Valley Rowing Team.
After the regatta, we packed up and headed towards my house for a great New Year's Eve dinner of spiraled ham and baked ziti. After dinner we showered and got ready to celebrate the New Year. Me and the guys started a bonfire in my backyard, turned on the arcade style basketball hoop, and put on Dick Clark's New year's Eve Special.
5,4,3,2,1. Happy New Year's from the Grand Valley Rowing Team!
---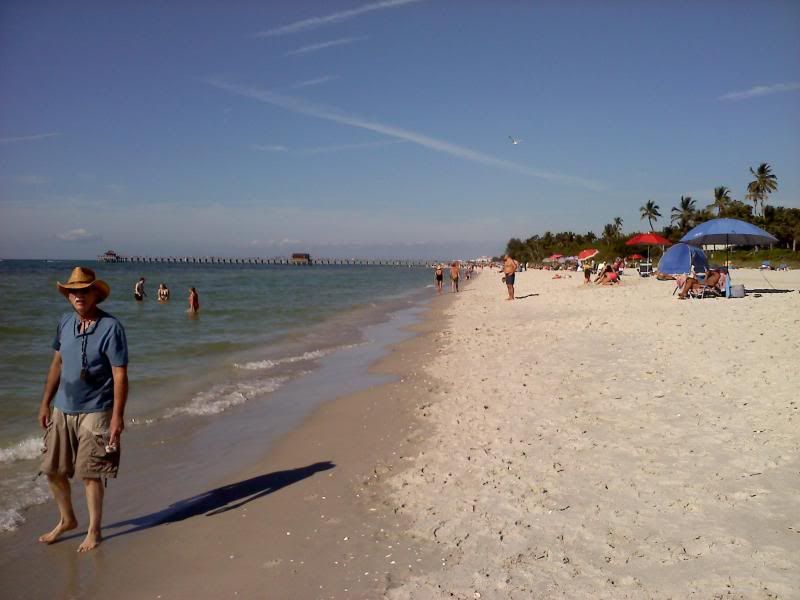 Athlete: Kelsey VanAmberg
Hometown: Mantistique, MI
Major: Cell and Molecular Biology
This morning the GV rowing team was in Naples, FL. We stayed with Mitch and Faye in thier home. They were very hospitable and kind, providing us with beds, blankets, towels, showers, and food. We got to sleep in for the first time in a while. For once we didnt have to be awake and in the vans by 5 am. It felt really good to be able to relax all day and take a break. We got ready and had a breakfast of pancakes that Mitch and Faye made for us. Then the entire team went to the beach together and spent the whole day there.
We made sand chairs by digging holes in the sand and building up a back rest behind it. We put our towels down, layed in them, and crashed. Lots of people, myself included, fell asleep, of course resulting in lots of sunburn for the team. Some people walked down the beach to the pier to get ice cream and food, while others swam in the ocean and played frisbee. Wherever the rowing team goes there will be ultimate frisbee. Later they moved to shore and played in the sand, resulting in minor injuries but lots of fun for everyone, even those just watching. We took lots of fun team pictures and a created a very large and painful human pyramid.
After we left the beach, we got back to the houses and got all dressed up for dinner. The team split up into different groups that went to different restaurants. Later on tonight we plan on watching the video of ourselves rowing yesterday and picking out the things that we did well. So even on our day off we will work rowing in somehow.
Athlete: Courtney Panter
Hometown: Davison, MI
Major: Political Science/ International Relations
This training had been pretty eventful, so it was nice to get the day off. For one, being able to sleep in was a gift in itself. Going to the beach made it even better. We left for the beach around noon, and like always, the van rides were amazing. I feel like being constantly together has helped everyone get closer together as a team.
When we got to the beach, it was practically a full on sprint to the ocean. Even on our day off, most of still got a workout in playing ultimate frisbee. I learned the valuable trick of building a beach chair in the sand, huge bonus. At some point everyone got the chance to venture to the nearby pier, which was beautiful. And the biggest plus of the day, getting a tan! Not looking forward to returning to the blizzarding arctic known as Michigan. Overall though, today was perfect!
Athlete:Ed Avena
Major: Exercise Science
GPA: 3.0
Varsity Sophomore
Hometown: Detroit, MI
Today, coach decided to give the team a well-deserved day off from practice on the water so that we could get a chance to have some fun in the sun and what a great day to do it with the bright sun and clear skies. Everyone was well rested from the New Year's celebration that included a bonfire from the night before with not having to get up early to row. It felt great to finally get the chance to get some good sleep on comfortable beds that were provided by Ryan Kasley's family. Breakfast was waiting for the men who stayed at Ryan's for the night as soon as they woke up. We were all excited to get the team together so that we could go enjoy one of Florida's great beaches. After breakfast, we had some down time and as soon as we got the motivation to get off the couches and beds, we went outside to experience the warm weather. Playing basketball with the kids and hanging out sharing stories of past rowing experiences made the time past quickly.
As soon as we knew it, the women came up the driveway dressed in their beach gear. After everyone got here and the men were done getting ready, we were off on our way. The rowers in vans gawked with admiration as the vans passed giant houses with flawless structure and bushes that were so proportionally cut. The first few steps in the white, warm sand felt great while we made our way to find a good spot to set up. After digging out and fashioning out some sand lounge chairs and testing out the water, a group of us went off to play ultimate frisbee. When we were finished throwing around the hand saucer and watching some good diving catches, we called it quits to be invigorated from cold water. Other team members either went down to the pier, walked along the beach, or just laid out in the sun.
Being at the beach was a wonderful time to have some fun and relax with our fellow teammates and not to mention all of the color from the sun we acquired. After the long day at the coastline, we were all tired and ready to get back to the vans. We will be going out later as a team to get some dinner and walk around downtown. Tomorrow we will be waking early to travel to Sarasota to row and check into our hotel after. It will be nice to have some good rowing weather so that we may continue our winter training with the intention of getting faster.
---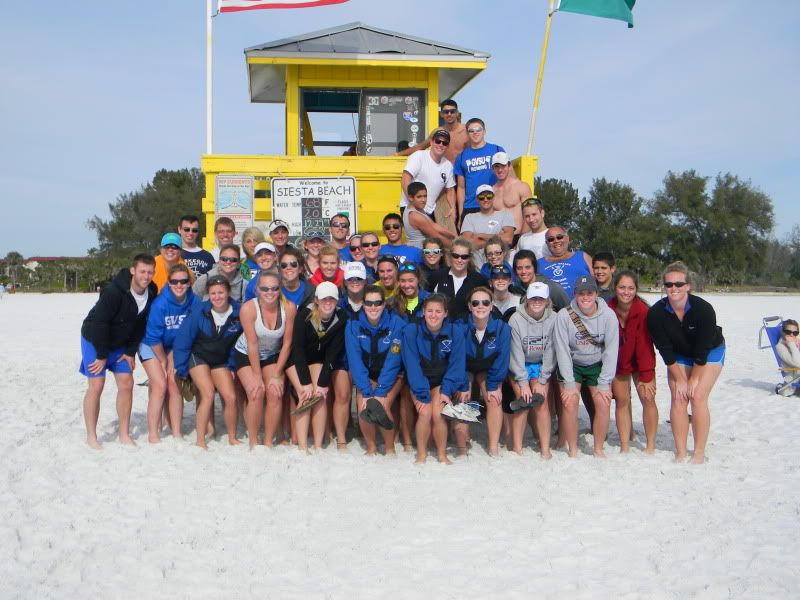 Athlete: Kersten O'Brien
Major: Nursing
Hometown: Saginaw, MI
G.P.A.: 3.5
Our tour through Florida continued on our sixth day as we repacked and left Naples for an early drive to Sarasota. After 5 days of sun, we ran into rain for the first time as we unloaded and rigged boats.
Our first practice of the day consisted of technique and timing drills, choppy water, and thankfully skies that were sunny as the weather cleared up before we went on the water. Practice concluded with a promise from Coach B. that if we finished rigging and cleaning everything up, he'd treat us to lunch.
A meal at Sweet Tomatoes was our delicious reward. Needless to say, we weren't very ready to practice immediately like we thought we were. We were all excited when we ended up at Siesta Key beach instead. Although it was a bit windy, we enjoyed the warmth before the frost advisory went into effect for the night (although I'd definitely prefer "cold" being 55 degrees than the cold in Michigan now!).
Our final practice started later in the afternoon, and it had gotten quite a bit windier. Everyone got good experience dealing with rough whether though, and our row helped us to put our morning work into practice.
Finally, we all got to decide on dinner and actually settle into our new living arrangements for the week. While most of the team is at Bentley's Resort, some of us are staying with the Flanders family – we're very grateful for their wonderful hospitality! In the morning, we'll have practice before deciding what to do with our afternoon. We're all excited to spend the week in Sarasota, bonding, having fun, working hard, and enjoying the warm weather!
Athlete: Anthony Anzell
Junior
Major: Biomedical Sciences
GPA: 3.5
After a nice relaxing day off full of beach time and ultimate Frisbee, the team packed up and left for Sarasota at six in the morning. We arrived in Sarasota at about 7:45 A.M. and prepared for a good day of practice. The weather at first seemed pretty grim with a dark heavy overcast lingering above our heads. While we rigged the boats it cleared up enough for us to go out. Although there was a strong wind we got a good first practice in working on our technique in continuing to perfect our strokes.
After our first practice we took a little excursion to the #2 beach in the United Sates! Siesta Beach! We walked down the shoreline enjoying the white soft sand cushion our every step and the warm salt water running past our feet with every crashing wave. We ended our adventure by having the team take a couple pictures together with the beautiful blue ocean in the background.
We then continued our day by checking into the Bentley's hotel and went to our second practice. With the Florida air being brisk, we layered up and set out to sea. As we were rowing the wind was picking up, which sent small rollers over the gunnel of the boat and into our laps. As we battled through the waves and the wind we beached in the middle of the bay. But with teamwork and our brilliant coxswains we were able to keep us going and get us back to the docks safe. After our second practice the team packed everything up for the night and enjoyed a beautiful Florida night.
Athlete:Elissa Besson
Hometown: Davison, MI
Major: Pre-med
Today began with alarm clocks ringing bright and early at 4:30 A.M. We loaded up the vans and were on our way to Sarasota, FL by 6:00 A.M. When we got to the park we unloaded the boats and started rigging everything. After everything was set, we finally got on the water. On the water we did stationary drills to help with our posture and technique while rowing.
After our first practice we all went out to eat at a restaurant named Sweet Tomatoes. It was delicious. There was so much food and I think we all probably ate way too much, but it is okay because we will work it all off later. After lunch, we had our second practice, a 30 minute walk on the beach. The sand was so soft, it felt like heaven! After our beach excursion we headed to the hotel, unloaded the vans and prepared for our next practice.
Our last practice consisted of a lot of waves and a lot of wet clothing. We had a little trouble with the weather, although I am sure it is still better than Michigan, and it was a little rough, but it was definitely an experience that can help us in future races.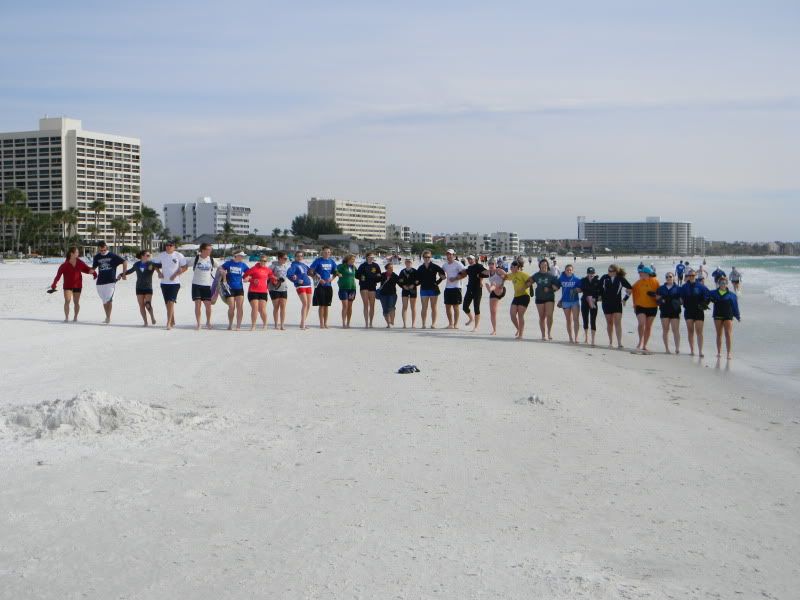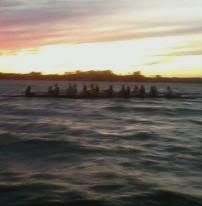 ---
Athlete: Marie Brown
Hometown:Shelby Twp, MI
G.P.A. 3.5
Graduation Year: 2014
Today we woke up around 7, got ready super fast and left for the rowing center at 7:30 A.M.. It was a really cold and windy morning, almost like we were in Michigan during fall. We got out on the water and did a lot of stationary drills, staying really close to the shore to avoid the crazy waves and wind. By the time we got out everyone was frozen, the water was actually warmer than the air. We brought all the boats in and left for the hotel again. I came home and took a much needed nap in the warmth of my room.
When it was time to eat we took a trip down to the guys room and found some mac and cheese to make. We had a huge pot and made a full 5 boxes. It was a great meal before practice.
We headed out for our even practice at 3:30 P.M.. Thankfully the water was a lot calmer than in the morning practice. We did longer continuos rowing and got a good amount of practice working on our posture and timing. The calmness made it a lot easier to really focus on the parts of the stroke instead of mostly focusing on keeping hold of the oar or keeping the boat straight.
We returned to the hotel to a nice dinner of potatoes and meatballs provided by Brittany Hyde's family. It was a delicious end of the day meal. It is exciting to think we still have almost a whole week till we have to go back home. It's been a great experience to get closer to the team and improve my rowing skills.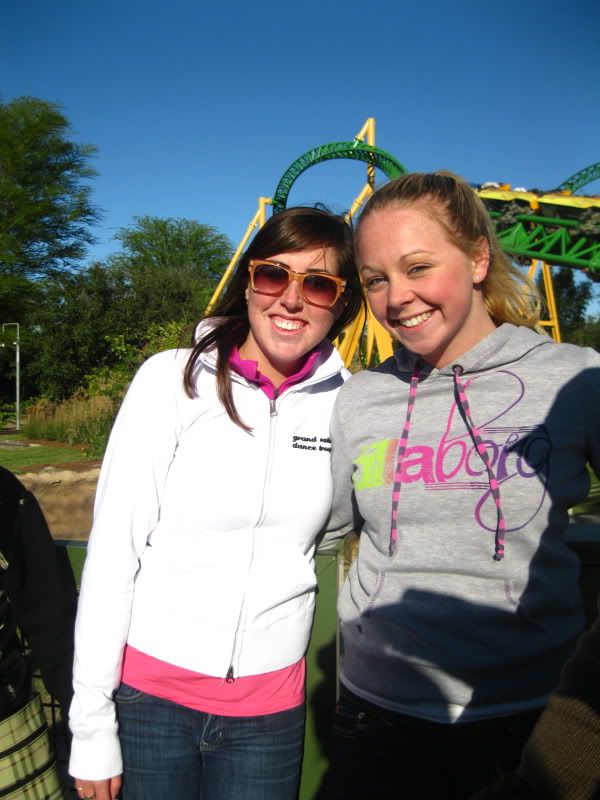 Athlete: Molly Visel
Home town: Saline, MI
Major: Special Education
Graduation Year: 2014
Fun Fact: I've traveled to Alaska
Today was started by a technical row early this morning. The conditions were not as expected, about 40 degrees and really windy. The wind made rowing difficult because we were not able to keep a straight course for very long. Sadly I forgot my long spandex at home expecting Florida to be a bit warmer than this. I shouldn't complain though, because it's twenty degrees warmer than Michigan.
After we got off the water Dayna, Coach B, Pat, Sal and I went to Busch Gardens for the afternoon. There we took Pat and Sal on a few rides and toured animal exhibits, before Dayna and I ventured off and went on our Serengeti Safari.
On the safari Dayna and I saw giraffes, antelope, impala, rhinos, zebras, and numerous species of birds. The giraffes were very friendly and let us pet them, but it was probably because we bribed them with 3 heads of lettuce.
After the safari we continued exploring the park, rode a few more rides, and attempted to win a Minion stuffed animal. Disappointment struck when a replica of "Pauly D" from Jersey Shore beat us in a very competitive game of water gun. Even though we were not able to get the Minion, Coach B surprised us with Tiger stuffed animals at the exit, that he had won for us. I had a great time at the park and it was fantastic to enjoy one of Florida's best attractions.
Athlete: Chris Gaigalas
Hometown: Rockford, MI
Major: Engineering
Graduation: 2015
GPA: 3.2
Today was a abnormal day for anyone traveling to Florida, it was cold and windy. making the water conditions really choppy, but that did not stop us from going out on the water and getting our technical rowing done. After we were done with our morning row Coach B and some of the others went to Busch Gardens and the rest of us went back to the hotel where we went out to eat and relax before we went back out to row.
Now being well rested and the weather conditions getting better, we headed back to the water to get ready to row in small boats and do some more technical rowing. The smaller boats were a lot different for must of us novice, because some of us have never been in a small boat, but no one flipped. When we got out on the water the wind had died down and the temperature had gone up.
After an extended practice in the beautiful conditions we went back to the hotel where Brittany Hyde and her family had made us a great dinner of meatballs and potatoes. After this cool day, the whole is hopping for a warm and sunny day where we can get back to the beach.
---
Athlete: Carey Mankins
Home town: Bloomfield Hills, MI
Major: Health Professions
Graduation Year: 2013
As I sit writing this blog, I feel as though I have spent the whole day rowing nonstop. All of the muscles in my body hurt and I am starving! We all began the day knowing that this morning's practice would be a long one. After we had a nourishing breakfast provided by Diann Flanders, we got on the water. We rowed through the first bridge near our launch site and I took note of the channel marker 35. We did drills for the first half of the practice, making it past channel marker 1…a long way. All though the drills were very repetitive, they were effective because today I felt like I started rowing completely different than I had ever before. The biggest sign I felt was my muscles feeling more engaged at the catch. Probably why I am so sore right now. We took a 10 minute break, spun our boats and headed home. We dropped the drills and did steady state all the way back, making our way back each channel marker, one by one.
After practice, Coach B stopped at the store to pick up ingredients for homemade meatballs, picking up at least 10 pounds of meat. We took over the varsity men's suite and started adding ground beef, sausage, breadcrumbs, seasonings and too much cheese to measure. As Coach B perfected his tomato sauce, we rolled at least 50 meatballs. each big enough to feed a rower. As the small hotel room filled with the smells of Italia, leaving for our second practice at 3:30 was even harder.
Holding true to our schedule back in Michigan, we still had our Wednesday test pieces. But luckily for us, the weather was nice and coach was in a good mood having seen Minnie the Moocher, so he allowed us to do the pieces on the water instead of the erg. In the eights, we did the pieces by 4's, switching every 12 minutes, doing a total of 8 pieces. The pieces were hard, but I was happy to be on the water to try and perfect my new form of rowing. After three years, I would hope I would have it down by now. We started practice with the sun above our heads, and ended it well after the sun set.
We returned to the hotel warm up and chow down on the meatballs that had been cooking all day, a hearty meal for a rower after a successful day of learning. Our trip winds down with one more day of practice but we have all done our best to make it worth it. The learning that had taken place is so valuable and I can not wait to get back on the water in Michigan and start racing.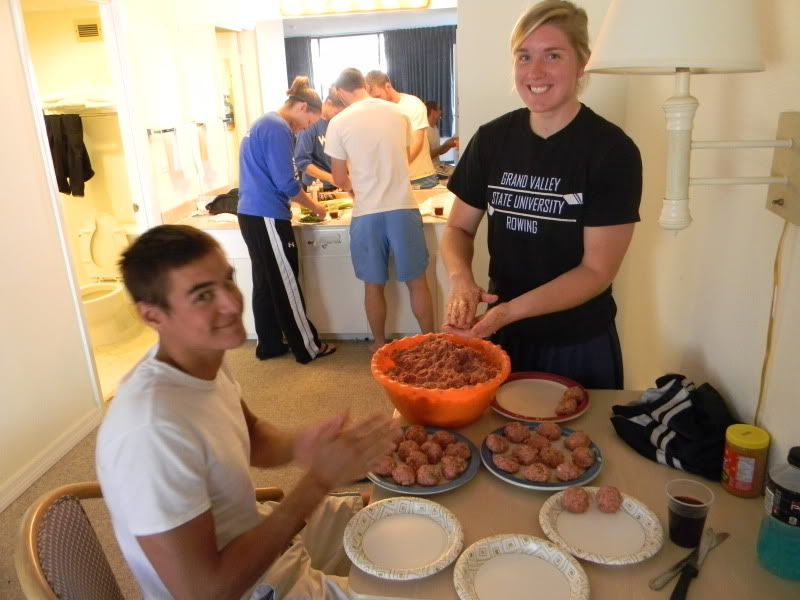 Athlete: Dominic Kootsillas-Conybeare (DKC)
Major: Statistics
Graduation: '13

Hometown: Chelsea, MI
GPA: 3.0
Today we woke up to freezing temperatures. Not something I expected to experience while in Florida. Along with the cold temperatures, were very nice water conditions. In the morning we spiced it up a bit with a longer row than normal, instead of doing stationary drills. It was definitely nice to work on technique while moving. We went farther than I've ever been, rowing past the channel that leads to open water. We also saw one of the live team mascots, Minnie the Moocher, which breached a few times for the boats.
In between practices coach taught a few rowers how to make real Italian meatballs. Cutting carrots and celery with butter knives was interesting, but with all of the volunteers we got them cooking in less than an hour. Given the fact that we made somewhere around one hundred meatballs, I'd say that's pretty good.
For our afternoon practice, coach treated us to having our Wednesday workout on the water instead of on the erg. Even though we went pretty far this morning, we went even farther during our pieces. We did 4x12' in the 8s by 4s. Coach B's kids, Pat and Salvatore, got in the men's boat for a few of the pieces each. Coming back to the smell of an Italian restaurant in my room was well worth the workout. I'd say everyone on the team had a great workout and are excited to go back tomorrow.
Athlete: Jordan Crandell
Hometown- Fremont Michigan
Major- International Relations
Graduation year- 2014
Today we started off the day again at 7:30 A.M. , meeting at the Sarasota Crew boathouse. We almost felt at home because it was 35 degrees! Hello long spandex and multiple layers! I have the privilege of staying with Chuck, Diann Flanders and their daughter Kate and they graciously provided breakfast for the team this morning. Even though it was a little chilly, we were happy to munch on bagels, apples and other "rower-approved" food!
 
The water was beautiful this morning and we were able to have a long steady state row. I worked with Coach Lisa and we spent half the practice working on exercises to help improve our recovery- some progressive pause drills and 'cutting the cake' drill. The second half of practice was spent on the drive- working with the top 6 inches, legs and back only. After practice, we were excited to hear that our erg pieces were now going to be done on the water! There were sighs of relief and cheers all around. Later on in the day when we returned to the boathouse, we launched and started our 12 minute pieces. After 2 pieces, we had to turn around as it was getting dark. This started what was approximately a 1 hour and 15 minute row back to the boathouse. Even though we were all exhausted and our muscles ached, the girls in my boat took turns cheering each other on and supporting them each stroke. It makes me feel so much closer to my teammates when everyone is in pain, but we still muster out the words to push each other until the last stroke. It makes me very proud to be a part of this team and I'm honored to pull with these girls in the Laker Navy.
 
It has been a great week here, even though we had our ups and downs, Grand Valley Rowing has pulled together once again to create a great trip full of memories, laughs and bonding.
Athlete: Kylen Pattermann
GPA: 3.7
Graduating year: 2013
Hometown: Elburn, Illinois
Second year on the team
Today began at 7:30 when we headed to our first practice. When we got to the course, breakfast was waiting for us in the form of bagels with cream cheese, fruit, and various drinks. After eating, we headed out onto the water. At first it was cold, and we set off layered up. By the end of the first hour or so, the sun was up and it quickly grew warmer. My boat rowed down past the entrance to the Gulf of Mexico before spinning and heading back. We did lots of drills, such as swing pick and straight arm rowing on the way out and mainly steady state on the way back. Overall, we were on the water for about three hours. After practice, coach gave us the good news that due to the lovely weather, rather than doing our pieces on the erg that afternoon, we would instead do them on the water. Yes, we cheered.
After a brief afternoon rest, we headed back to the course for our second workout. We did eight pieces that were each twelve minutes long, only rowing four at a time. My boat ended up rowing by sixes for most of the pieces in order to keep up with the men's boat. We were out well past dark, and rowed back under the stars in the moonlight. By this point, it was significantly colder, and at the end of our second three hour workout of the day, the only things we wanted were a hot shower, Coach B's homemade meatballs, and a warm bed.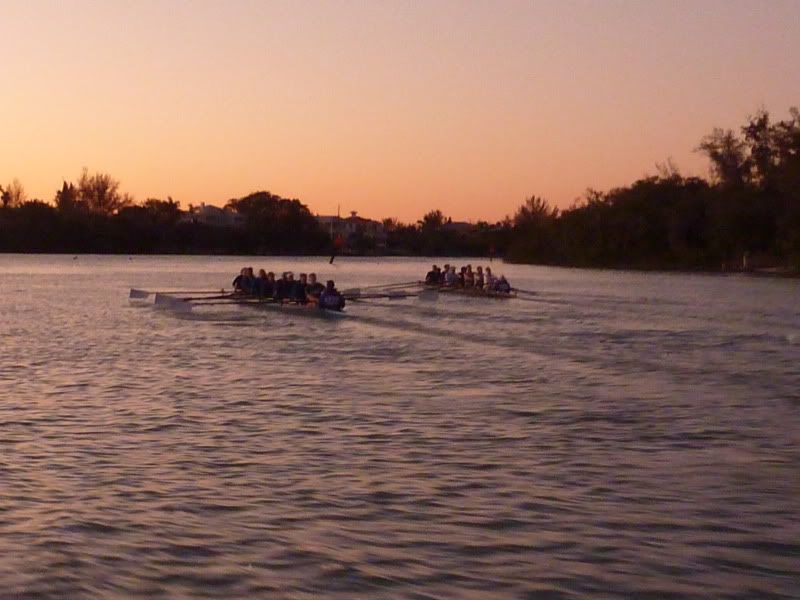 ---
Athlete: Dayna Campbell '12
Class: Senior
Major: Film and Video Production
Hometown: Beverly Hills
High School: Birmingham Groves
It is currently 4:30pm and I am sitting on my couch with a smile on my face. This smile is here for a nubmer of reasons. The first is that my two kittens, Marlow and Roger whom I haven't seen in over a week, are snuggled next to me trying to get inches closer with every breath and purr. It is evident that my presence has been lacking in this two bedroom apartment. Secondly, I was fortunate enough to board an airplane and fly home from Florida. A two-and-a-half hour plane ride sure beats being crammed in a 15-passanger van for give or take 27 hours, but someone had to do it. The ride was smooth and I had the pleasure of traveling with Jordan Hart, a fellow varsity coxswain and very good frien, and also the Bancheri boys, Salvatore and Patrick. All three were delightful companions and made the trip more than enjoyable. The last reason I have a smile on my face is because as I was reflecting on the techinical vacation from which I have safely returned, I am thinking about all that has been accomplished as a team, by boats, and individually.
Rowing is a unique sport because it defines the word: TEAM. Rowing is not a sport that can be done alone- even if you are in a single. Between the equipment, the coaching, the coxswains, the other athletes, it is obvious this is not a one man (or woman) production. The next step in the intricate operation is time management. A boat cannot take thirty-five minutes to get rigged if there are fifteen other boats on the trailer that have to be put together and practice starts in an hour. If done properly, the sport of rowing should look like a well rehearsed and synchronized dance. Coxswains gathering hands on the trailer and on boats and taking them to waiting slings and athletes waiting to construct the stage in which the perform. Meanwhile tee's are being brought to the launching site as well as oars and tool boxes. And somehow, no matter how many people are moving about, we get it done. By the last day, the freshamn and novice knew exactly what needed to be done often times before I asked for it to be done. They had practiced their dance, and they were getting top marks from me for their performance.
This week I mostly worked with the first women's varsity eights and an eight of select men. The women's boat was an older group, consisting mostly of juniors and seniors while the men's boat was younger regarding their experience level. We have been off te water since the week before Thanksgiving break, so it was nice for all of us to get back into a boat. We were all a little rusty, and it wasn't from the salt water. Coach B had everyone start back at square one. This was an important tactict because we can't make national champions with out engraining the fundementals our heads. The first four days we barely took full strokes. I had my crews focusing on the five principals of any sport: timing, balance, control, posture, and touch, until they got it right. And by right, I mean perfect. For some of the upper classmen it felt monotenous and boring at times, but they still found places they were lacking and brought those elements back up to par. I was so thrilled with the amount dedication and focus to the details. I was able to see with my own eyes girls who are seniors like me, excel beyond what they have done the past three years.
As for myself, I am proud. I can say now, that after almost four years of rowing, it is a passion. It is hard not to live, eat, breath rowing, especially on this team-being as competitive as we are. On this trip, I also perected my skills, starting with the bascis. On the first day, I focused on what I was saying to the rowers. I concentrated on being clear in my commands and my explanations of drills. The second day I continued to work on my commands, but I also practiced finding imperfections in each persons stroke and helping them improve. It allowed me to gain confidence in that person because they knew I was doing my job as a coxswain as well as teaching me to use different techiniques and methods to help them. These techniques ranged from simplifiying the stroke with my words, standing up in the boat and demonstrating the exact motion I was looking for, or putting them on an erg and personally contorting their bodies so they could feel what I was looking for. The days following, I worked on my steering and my communication with Jordan in the other boat. Steering is the number one ability a good coxswain needs to succeed. I know the rowers want to go fast and so do I so I am going to to everything in my power to make that happen. On a more personal level, I am proud that I have made it to my fourth year on the Laker Navy. Between school, rowing, and a part-time job, I have been able to make the Dean's List every semester, produce the first ever senior citizen LipDub ( http://www.youtube.com/watch?v=uZ7-n930zJo -I had to put in the plug!!), and graduate in four years. However, I am CERTAIN that without rowing, none of this would have happened.
I am so thankful I was able to be on this trip. Thank you to everyone who made it possibile, not only for me, but for the team as a whole.
---
Athlete: Rhiannon McHenry
Hometown: Grand Haven, MI
GPA: 3.6
Graduation Year: 2015
Today we got up at 6:30 and packed up all of our luggage in the three vans and were on the road by 7:08. It was a semi-chilly morning as we made our way from Bentley's Resort north through Florida and into Georgia. The ride was quite foggy, it was neat seeing the low hanging fog and visibility was limited to very short distances at times.
For the rest of the drive it was sunny and bright blue skies with few clouds. I took about an hour long nap in the van after we made in Gainesville, FL. After our stop we continued north until we stopped for lunch at a Chick-fil-a in Tifton, GA. This was my first time ever eating at a Chick-fil-a restaurant. The food was good, KVB made a great recommendation. The cookies and cream milkshake was delicious and one of the best I have had in a long time.
After everyone was done with their food we took a team picture in front the sign for Chick-fil-a. As we made our way to the Sellmer's residence in Peachtree City, GA our van played the game Rubber Neckers. In this game you each draw five cards with items to find along the road as you ride. Some of the items include things such as a dog in a car, a hospital sign and a car with wood side paneling. There were also cards with tasks to complete. For these you have to do things like get a passenger in another vehicle passing by to wave back at you or respond.
One of the most ridiculous tasks is having to wave your foot out the window at a passing car. I got second place one round with 52.5 points and last place the second round with a measly 5 points. Regardless I had a wonderful time playing the game and it made the ride go by much faster. Before I knew it we were at our destination! As a thank you for the generosity of the Sellmer's, Coach Kelsey, Amy and I went to the local Kroger and picked up some flowers for their home.
Athlete:
Kaitlyn Van Boven, 2015
Major: Elementary Education and Physical Education
Home Town: Fremont, Michigan
Like all good things, this trip had to come to an end. Today we woke up to a foggy Florida morning. We quickly packed everything into the vans, and were on the road by 7 a.m. For the first few hours I was sleeping because of how exhausted this week of rowing has made me. Every bit of exhaustion has been worth it because I feel like everyday I improved on at least one thing.
Things started to liven up after a few hours into our voyage to Georgia. I was riding in the van with Coach Kelsey and we led the way. As the leaders, we had the responsibility of choosing where to stop and eat. I knew my first choice was Chick Fil A, aka the best fast food place ever. Road trips are the only time that I get to eat at this fabulous restaurant because there is only one in Michigan and it is 3 and a half hours away from my house. Also, Coach Kelsey has never eaten their before and that is just wrong.
After stopping for a quick lunch we played some games like Rubber Neckers and Fast Face. Fast Face is when you make a million faces as fast as you can while Shelby's camera takes 12 pictures within 2 seconds. The result is hilarious pictures that you hope don't end up on Facebook. We finally made it to Peachtree, Georgia where the kind Sellmer family opened their home to us and also provided a great dinner. Today was a great day.
Athlete:Beth Czarnecki'12
Major: Exercise Science
Hometown: Grand Rapids, MI
Status: Senior
Well, we are on our way home from sunny and warm-ish Florida today and venturing back to the cold winter weather in Michigan. But the trip home would not be complete without a stop in Georgia at the wonderful Sellmer house for the night. Although the van ride was pretty boring and average, the Sellmer house was pretty lively.
When we first got here, there was basketball going, volleyball, and ultimate frisbee (it's like we're athletes or something). And then, Tyler's family made us the most fantstic pasta dish I have had in quite some time, and we can't forget about the cake, which helped make the meal amazing. When dinner was done, a couple of us stumbled upon a box of old nerf guns and needless to say, an epic battle of men vs. women follwed. There were some casualties, but it was quite the battle. Now, things are quieting down since we are planning on being on the road around 5-6am. Not fun, but all trips must come to a close and I am sure all of us are looking forward to getting out of those vans.
Athlete: Alese Garstick '14
Major: Exercise Science
Hometown: Rochester Hills, MI
Today was out last day in Florida at the Bentley Hotel where we had been staying for the past few days. Today we did not however get up and head for the water, we headed for the road. The sunscreen, sunglasses, and short spandex was all packed away until we return to the Bentley Hotel for this spring break. We left promptly at 7:00 A.M., eager to get back home as fast as possible.
The boat trailer was left in Florida so it made our traveling much faster. Games and lots of sleeping helped pass the time. With a few stops for gas and food we made it to Sellmer's house in about eight hours. After arriving I was excited to stretch me legs and relax for the night.
The evening started with a nice game of throw the Frisbee. Some people learned how to throw a Frisbee for the first time, the men started an intense games of Ultimate Frisbee in a field across from the Sellmer's house. We all enjoyed another delicious meal from the Sellmer house.
Once again some of the team would be staying here at Tyler's house while other would be traveling to another house where they would stay the night. After I  had my fill of food I sat down with most of the team and finished watching a movie. When it was over I got up and walked out in to a war zone of rubber bands. Unknowingly I walked straight into pure mayhem: it was men vs. women.
This is what happens when you put college kids who have a lot of energy in vans all day. With rubber bands flying I ducked and covered to quickly join my women. I think it is hard to say who the winner was but I think the women got the final say. After the craziness calmed down we fought over who would sleep in what bed. This time tomorrow we will be home.
Athlete:Emily Bohn '14
Major: Nursing
Hometown: South Lyon, MI
This whole trip was a truly unforgettable experience. First off, being chosen to come was exciting, but I had no idea what to expect. As a novice, going on a trip with mostly varsity seems nerve-racking. You have impressions of team mates that you heard through the team "grapevine" or from their intimidating looks at practice or the RTC. On the way down to Florida, none of us novice really talked to the varsity. We stuck to our own van and they stuck to theirs. Eventually, I was in the womens' varsity van and was immediately welcomed. They were some of the most sarcastic people I have ever met and I loved it. This was the beginning of the amazing team friendship that became this trip.
Obviously we all had to practice together so we were forced to get along then but the real bonding took place between practices. The first beach day I learned that every GV rower needs to know how to play ultimate no matter what! I watched the first game but by our last beach day, I was out on the sand with the team. I was not the best but everyone still managed to have an awesome time. We went out to dinner to a bunch of delicious restaurants and danced, ate great food, and really helped the local restaurants prosper. It was team bonding at its finest.
Overall, I came on this trip expecting to be a novice cox on a rowing team. I left feeling like a sister part of a family. Not only was this experience on the water and training extremely beneficial, but it allowed the team to grow. I have never been part of a co-ed organization so close and strong as this. The coaches are respected yet they can feel like one of your best friends. I love rowing but the athletes and coaches are what make this sport so exciting and unique. Pull for the Laker Navy!
Athlete: Hanna (Jonesy) Jones '12
Major: Exercise Science
Hometown: Brighton, MI
The cold weather has once again followed us to Florida but it is impossible to stop the GV Rowing team from having fun. We learned a lot on the water and we all have improved our technique while getting in a ton of meters. We were able to spend some quality time at the beach, despite the chillier weather later in the week. My favorite parts were celebrating new year's Eve at Ryan's house and having a bonfire (not quite Miami but still very fun). I also liked spending time with all of my teammates and enjoying the beautiful Florida sun!
This trip has been full of learning experieces both on and off the water, athletes and coaches pushed each other both mentally and physically to become stronger and better people overall. Friendships have grown stronger and new ones have formed uniting both varsity and novice. As we head back to Michigan tired and sore, we look forward to a new semester and returning to the water in the spring faster and stronger.
---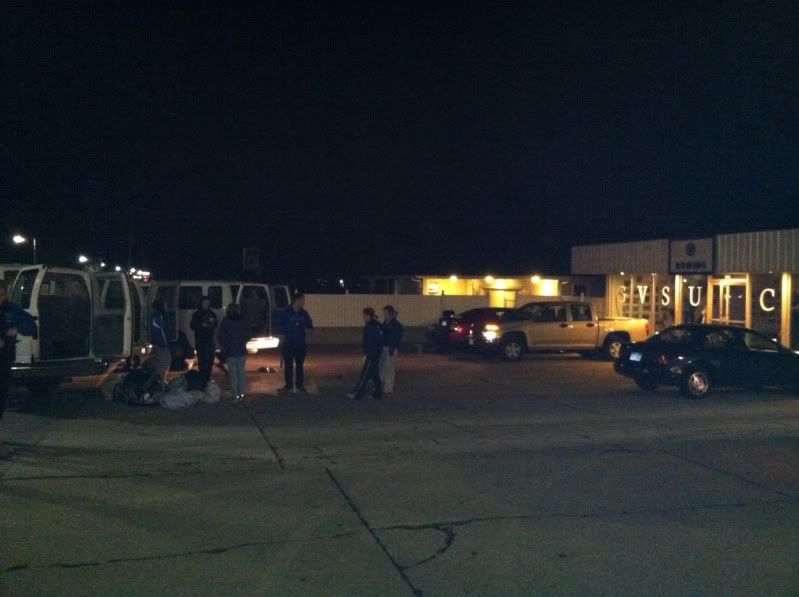 Athlete: Costas Ciungan
Major: Criminal Justice
G.P.A: 4.0
Hometown: Grosse Ile, MI
This Winter Training Trip concludes with a team stronger and technically better. Tim Duncan once stated "Good, Better, Best . Never let it rest. Until your good is better and your better is best." That is the exact culture we are trying to build in Grand Valley Rowing. Every athlete always striving to be the best they are capable of becoming both academically and athletically. Rowing is not a sport that can be done alone and it has been a pleasure as the editor of the Grand Valley Rowing Website along with Rebecca Studer to post and read blogs. Between the equipment, the coaching, the coxswains, the other athletes, and the many blogs, it is evident that this is not a one person production but a team effort both in terms of learning from each other and getting better as a team. This Winter Training Trip has been a great success and we owe it to all of our supporters and donors who give to our great program, our success is truly yours. Through out the week I have seen athletes improve in Posture, Timing, Control, Balance, Bladework, and the development of touch as many had an opportunity to analyze their rowing and get individual coaching attention including myself.
This week I mostly worked in small boats with the men's program along with being in charge of posting blogs. The women's and men's team both had a mix of older varsity members and a developmental group of newer rowers in regards to experience. The result was a lot of learning, as older rowers helped the newer rowers, and a stronger team was the result along with a successful Winter Training Trip. The Coaching was another aspect that made this Winter Training Trip a success with three coaches who came to teach, correct, and help develop great technique and better rowers. Coach Bancheri was instrumental for having everyone start back at square one, focusing on posture and timing and how those aspects allow for the mastery of control and balance. We broke down the rowing stroke and further developed the understanding of how every aspect of rowing flows together. The first four days was stationary drills and athletes were to master posture before we went on to focus on timing, control, balance, beadwork, and touch in that order. Many athletes, especially the younger group in terms of experience, learned how each aspect builds upon the other. I was thrilled with the amount dedication and focus to the details and to see each athlete helping each other out.
As for myself, I was happy to see a great group of my team mates help one another, learn from one another, and develop better technique. I feel that many developed a sense of rhythm and touch as many novice rowers saw improvements in their rowing and learned a lot over this winter training trip. This attitude and culture of our team to never give less than your best and to always stay in the pursuit of perfection was evident in the athletes' attentiveness during chalk talks and video review along with thoughtful questions and a desire for feedback.
I am so thankful I was able to be on this trip and to post the blogs; to share with all of our supporters of the many great endeavors, adventures, and lessons our athletes here at Grand Valley Rowing are learning in both rowing and about life. Thank you to everyone who made it possible from our supporters, donors, coaches, and to our student-athletes. My team and I are thankful and are looking forward to the great new year and rowing season ahead. Keep pulling for the Laker Navy.
Costas Ciungan
Web Manager
---
---
---
The Grand Valley State University Rowing Club challenges its student-athletes to reach the highest level to which they aspire both academically and athletically, while continuing to build and sustain a nationally competitive intercollegiate rowing program.

Copyright 2015-2016 Grand Valley State University Rowing Club. All Rights Reserved.