Winter Training Camp Athlete's Daily Blog 2012
Athlete: Costas Ciungan'13

Home Town: Grosse Ile, Mi

Major: Legal Studies

Grand Valley Rowing's 2012-2013 Winter Training Camp began this evening, two days after Christmas, as the advanced team left for Ellenton, FL on Thursday December 27th. The rowers loaded one large white Van at GVSU. We were on the road shortly after 7:00 P.M., following Coach Bancheri, who towed the launch boat he uses for coaching and the John Palk, a pair on top of his vehicle. Destination? Georgia, the home of our facilities coordinator Tyler Sellmer '13 to meet up with him and the rest of our equipment. Although the drive was long, the van rides brought quality team bonding time. Talking with one another and catching up on our breaks so far and all that we have to look forward to with the beginning of winter training camp 2012-2013.
We picked up a few passengers on the way, including Coach Mike Bailey from Purdue and Justin Bartaway in Tennessee. We preceded then to Georgia where our facilities coordinator, Tyler Sellmer, hails from. There we met the boats and a few more coaching launches. We met at a gas station and preceded in caravan fashion into Florida. A caravan of four vehicles which included the White 15 passenger van, Coach Bancheri's Vehicle pulling the Coaching launch and carrying a pair on top, The trailer with all of our equipment and boats, and Mr. Sellmer's vehicle with three more coach launches. After a safe night and day of travel, the caravan and advanced team arrived in Ellenton, Fl on Friday December 28th at 6:45 P.M. Everyone got settled in and went to get dinner at Woody's River Roo Pub & Grill. This training camp will bring much needed water time and technical gains to not only varsity athletes attending, but also to the Novices who are attending as well. Looking forwarded to getting faster one stroke at a time and improving practice to practice. If you focus on results you will never change, if you focus on change you will see results.
---
Chris Gaigalas '15
Major: Engineering
Hometown: Rockford, MI
Today was a very interesting day; it started with some grand sleep on the bus. Then suddenly there came a drip, drip, dripping. To my surprise the bus was leaking profusely from the rainstorm that was going on all night. As I discovered the issue was coming from the air vent above me, I did all I could to stall the pesky dripping. After we arrived at the Fort Hamer, as we stepped off the bus the air was still moist from the rain.
As we were rigging the boats the rain had returned more furiously then this morning. Once we finished rigging all of the boats that we brought we geared up to row. Then we pushed off the dock the rain changed from a down pour to a trickle. The varsity men had a very easy technical morning practice after the stupendous ride down from the cold state of Michigan.
After getting off the water we boarded the bus then traversed to the hotel, where we had a long meeting about the events on this trip. When 3:00 P.M. came along we traveled to the Manatee waterway to begin our first full length practice of the trip. We started out by gathering the whole team in a circular shape and started our normal stretching routine with a warm-up.
Then we moved out to the water where we worked on more technique. As the sun began to set with beautiful red and orange sunset; there were three birthday swims. Where the novice men had the chance to throw their vicious coach into the river and he put up an extravagant fight. The varsity men walked Tyler Sellmer '13 down to the dock where he ended up running down the dock and tackling the same novice into the river with the help of some of the other varsity guys. After this major ordeal the team headed to the hotel where we showered and went to the Publics grocery store. Ending the day with a grand dinner at the Hungry Howies pizza buffet, and the novice guys and Becca Mier '15 was an attendance.
Shelby Welbaum '14
Major: Exercise Science
Hometown: Galien, MI
Well after the 24 hour bus ride, it was nice to finally get off the bus for more than 30 minutes! Unfortunately, it was pouring out and no sunshine in sight but I am not complaining seeing as I found out we got around 9 inches of snow. It was really warm so the rain actually felt good. It was such a great feeling to get back in the boat. Nothing was gonna bring me down. As Phil from Duck Dynasty would say: I was Happy Happy Happy! After a nice short warm up row we went back to the hotel to get a bite to eat and grab a quick nap before our second practice. Boy, that nap felt good after having to sleep in that bus! Our second practice was great! It was warm and sunny out. Our practice just consisted of doing some drills to get us back into the swing of things.
My favorite part of rowing is the end of the day. Not just because we were heading back to the dock but the beautiful sunset that we got to watch as we rowed back. The sun came out of the clouds and the beams were hitting the water and making it shine. It was something that should have been on a postcard. I know that was cheesy but there are really no words to describe the sunsets we see while rowing. That was really the icing on the cake for a great first day back on the water here in sunny Florida.
Claire Crosmun
Major: Chemistry
Hometown: Southgate, MI
After what seemed like a never ending bus ride, we reached Florida. However, around 8 when we were rigging boats and preparing for our morning row, the Sunshine State was not sunny at all. It had snowed or rained a majority of the trip down south and the poor weather seemed to follow us.
Most of the boats were already off the trailer and in the shell house when we got off the bus so we headed inside and tried to be helpful.
The novice women were tremendously happy to see the Irwin on the rack. We got it rigged and after dealing with some technical difficulties, we launched for our first row of Winter Training.
The first row was a short one. It was just a chance for our coxie to get familiar with our new surroundings. It was also a chance for us all to get reacquainted with being in a boat after spending so much time erging this past month.
After a quick trip back to the hotel for lunch and a nap, it was right back to the water for our second row of the day. Despite the wind and waves, we focused on leaning towards our riggers and preparing our body angles at the pivot. All of our rowing was done on the square which was kind of disappointing but it allowed us to work on technique. Kelsey had us try some new drills and the afternoon row was actually a lot of fun.
Tyler and Hugh got thrown in the water since it was their birthday (the novice guys followed Hugh whether they wanted to or not) and then it was back to the hotel for hot showers and some much needed rest. 
Colin Ragan '16
After the 24 hour bus trip I joined the rest of the crew in rigging the boats. We did not do very much work on the water this morning, but we made up for it with more technique-work and some faster pieces in the afternoon. Also, we gave Coach Hugh and Tyler birthday gifts by tossing them in the water.
Hugh fought right up until the inevitable end, Tyler was a little more willing, and my phone became an inadvertent victim after some of the Varsity guys pushed into the water those of us who tossed Hugh. It was a good and productive first day to the week, finishing it off by eating "all-you-can-eat" pizza at Hungry Howie's with fellow rowing buddies.
---

Staci O'Brien '14
Major: Clinical Exercise Science
Hometown: Saginaw, MI
Although we got sunshine on our second day in Florida, we also had a chilly (by Florida's standards) one. The morning came fast, since I felt like I still hadn't caught up on sleep. We ate breakfast then left at 7:30 for our first practice of the day. I got to go out in a quad with only three girls in it, and we had a coxswain – something that I've never done before.
It was nice to get a longer row in and focus on technique. After practice, we went back to the hotel to have lunch and a break before our 3:00 practice. I, like many others, fell asleep in my room for probably longer than I should have. At least I was more awake for the second practice!
The 3:00 row was an interesting one for me, since I got to row with three men in a quad. It looked pretty weird because all the other people in the boat except for the coxswain were probably at least 50 pounds heavier and nearly a foot taller than me.
The row also marked the furthest I had been out on the water. We capped off that practice with a challenge between the men's 8+ and our quad (or the three men in it) and Coach B's famous "Whatever it takes to win" at the end. It ended pretty quickly, since it was the first time we had gone by all four and was a little shaky.
The practice was what Coach B called "Goodwill rowing" and finished with the two boats getting some awesome shirts from Goodwill. After practice, a bus headed to a pizza buffet and some other restaurants. I was happy to eat as much pizza as I could after the day's work. With a good end to the night with teammates, I think we're all looking forward to the rest of the week here in Florida!
Ed Avena '14
Major: Exercise Science
Hometown: Exercise Science
Today marks the third day here in Ellenton, Florida. With the extra half hour of sleep that coach graciously gave us this morning and the wonderful meals that Nancy has prepared, we were ready for what was to come. Aside from the extensive technical coaching, we were able to get great steady-state workouts in that even included a few 10 stroke bursts. The colder weather was a bit of a surprise to the team but it did not alter our plans. The novices, led by coaches Hugh and Kelsey, are beginning to learn the very delicate aspects in their blade work. It can be seen that they are not only improving their fitness levels, but their technical ability as well.
The varsity men and women, although having more experience, still are reaching back to the basics. It has been awhile since we have all been on the water, so it is necessary to become familiar with these fundamentals again. Coach always says, "shake off the cobwebs". Those "cobwebs" can definitely be seen from the small mistakes that we have been making but as we continue our practices, those mistakes have begun to disappear and we have been moving the boats even faster.
The mornings for the varsity are pretty simple but are vital to our boats and the entire program. Mornings consists of purely technical focus. The men have been going out in pairs while the women go out in eights with Coach Bancheri.
After continuously rowing in circles, whether it was swing pick or even outside arm only, we have furthered our level as rower. Afternoons are more steady-state rows, still with the technical focus in mind. Today, the varsity men rowed past I-75, doing both pieces and something else special. The men were offered an opportunity to win a prize by mastering a technical feat for 5 strokes in a row.
After meeting this standard, Coach then threw a bag which contained the most eye-appealing shirts that we have ever seen. He called it "Goodwill Rowing". Little did we know they were just assortments of hawaiian button-ups but if you see the pictures that were taken, I would say that we all look pretty darn good in them. We even wore them to dinner. After all the fun, we all were just looking forward to head to bed. I look forward to tomorrow so that we all may continue our progression towards sound technical rowers.

Thank You Nancy for your help with lunch.

Christina Pavano '16
Major: Exercise Science
Hometown: Rockford, Michigan
Today was cold day, probably the coldest it will be all week. We woke up around 6:50, got ready and then went to eat some breakfast! Morning practice was a long row. We rowed all the way past the bridge and where we ended, we figured out was right by our hotel!
After morning practice we all ate lunch in the meeting room! After lunch, Doug (the bus driver) took a couple of us to church which was about 15 minutes down the road. After church a couple of us sat by the pool and relaxed and stretched.
After some down time, we all loaded the bus and headed to practice. We focused on lower rates and pressure. After practice we came back to the hotel and got ready then we all went out to eat at Hungry Howies, which was great team bonding! Overall it was a great day. Cant wait for the rest of the week!!
Austin Abrams
Major: Nursing
Hometown: St. Clair Shores, MI
After finally settling in at the Ramada Limited Hotel that we are staying at after a long day of rowing, I was woken up early in the morning at 6:00 A.M. Struggling to actually get out of bed, I finally made my way to the hotels breakfast that they serve us every morning.
After breakfast and having nice conversations with the teammates; we were on the bus at 7:30 and on the way to the boathouse. After all was done with rowing our coxswain MOLLY made us do 20 minutes of stretches.
As flexible as we all are, especially yours truly, in the end it felt good to stretch the main muscles of rowing. Next we walked to the meeting room where all the lunch food was held at and had a great meal thanks to Nancy after a hard mornings work. Making my way back to the room I crawled in bed and took a nap.
Waking up ten minutes before the bus leaves, I gathered my rowing gear and ran to the bus. Rowing at 3:00 P.M., the sun was now out and shirts were off as we were all trying to get the Michigan sour cream color off. After the fun laughs but also hard work we came back, showered up, and went out to Applebee's for dinner. Following up with that, we all separated and now resting up for another hardworking day. Before passing out now watching some step brothers.
---
Athlete Costas Ciungan
Major: Legal Studies
hometown: Grosse Ile, MI
This morning was colder than expected in sunny Florida, but it warmed up quickly as soon as the sun came out and what a beautiful day it would turn out to be. The conditions were as pristine as they could be with flat smooth water to row on in the Morning. The men were in pairs in the morning working on technical aspects of their stroke. The varsity women were in eights and did a combination of technical drills with long steady state rowing. The varsity men did circle drills recapping what we have been working on like getting on it right at the catch with inside and outside hand rowing. The morning provided valuable time to evaluate each others strokes and coach our blades to perfection as did the evening.
In the evening, the varsity women did the opposite of the men and were in pairs. The mens varsity team were in an eight and one pair and worked on a combination of technical drills with long steady state rowing. The women did circle drills and the men did the Russian Drill, which is the the first part of the drive. The emphasis was on getting seven pounds off the seat and overlapping the muscle groups. Today provided long rows to work on suspension along with technical chalk talks to get everyone of the same mind set and focused on using our body weight effectively.
The team had two guest coaches who joined the team for practice in the evening. Vinny Puma joined us and worked with the coxswains mostly but also rowers, he is a highly decorated coxie in the sport of rowing with over two dozen Canadian Henley medals, over 80 U.S. gold medals, and the coxie of the U.S. National team for many years. Vinny Puma started rowing when he was six years old. In addition, Sam Stitt joined us and worked with rowers and coxswains. Sam Stitt has been affiliated with Potomac Boat Club, Vesper Boat Club, USRowing Training Center. He graduated with a Psychology Degree from Rutgers University in 2004 and had been a member of the U.S. National from 2005 – 2011. Sculling is where Sam Stitt started rowing and it is where he has seen a lot of success.
The team then traveled back to the hotel and got ready to eat and celebrate New Years in Downtown Sarasota to watch the Pineapple drop. The team departed around 6:30 P.M. for Lakewood Ranch Mall to grab something to eat. Most of the team ate at Pinchers Crabshack. Following dinner, the team departed for downtown Sarasota around 9:00 P.M. and stayed there into the New Year. It was a nice occasion for the team to celebrate the New Year and in addition provided another valuable time for team bonding. There were a lot of people in Downtown Sarasota with many venues to grab something to eat or drink and there was even a carnival. On behalf of the entire team, we wish you a Happy New Year. Keep Pulling for the Laker Navy!
Kaitlyn Van Boven '15
Major: Elementary Education
Hometown: Fremont, MI
This morning's practice was one of my favorite practices ever. We were in an 8+ and had a one on one practice with Coach B. Practiced started with the normal warm up. We then started the drive progression drill. This is where the most improvement happened. According to coach I had a "Rowing Revelation", but it wasn't just me. Every single girl in that boat improved in that 2 hour row. The best part was when coach told us to go all 8 on the square at the end of our long row. I was overwhelmed with goose bumps because we were rowing tickless! Coach B then yelled out his famous end to practice, "Whatever it takes to win!!!!" We brought our stroke rate up to a 37 and were getting out of our puddles. For the non rowers reading this, that's really good! I'm so happy that I came on this trip! We are all improving so much that I can't wait to see what Spring has in store for us! I'm feeling some gold medals and a lot of shirts!
Athlete: Eric Dietz
Major: Canadian Studies
Hometown: Lockport, Illinois
Happy New Years Eve! We woke up on the fourth day and got out on the water bright and early. We had two sessions today, the first sessions the weather was really nice. Our main focus was on the release, to help us practice, we did a series of swing pick drills. We also did Bob drills to hands away to help us with the technical aspects of the release. Hugh brought out the video camera today to record our form. Before the second practice we took the time to review the video and find out what we needed to work on in practice that evening. In the evening we did a few pause drills, we paused at one inch, body over, and three-quarter slide, all helping us with our form on the release. We rowed four 12 minute pieces to get in some milage in, this also gave us time to focus on our individual corrections from the video.
---
Carey Mankins
Major: Allied Health Science
Hometown: Bloomfield Hills, MI
Today marks the first day of winter training that we got to sleep in! After spending New Years Eve in downtown Sarasota fighting the massive crowds of people and watching the 'pinapple drop' at midnight, we needed to catch up on sleep. After sleeping in, we spent the afternoon soaking up the sun at Anna Maria Beach.
During the afternoon practice, I know I improved a great amount. We started off with some steady state rowing and moved into drills, focusing on form and not pressure. I was able to get a lot of attention when Coach B noticed my square up timing and did NOT like what he saw. After enduring the "Yes/No" drill for a while, I was able to see and feel what I was doing wrong. I took what coach had said and focused on that for the rest of practice while he coached my other teammates.
This winter break has been different from the others. Although it is unfortunate that the whole team isn't here taking advantage of the valuable water time, those that are here have made huge leaps of improvement. The varsity women's 8 is feeling better and stronger each day and the girls in the 4 say they are feeling like they are learning a lot as well. Although I spent more time looking at my blade today and focusing on my own stroke instead of how we were rowing together as a boat, I felt that we were really working together like a Dad Vail winning boat does.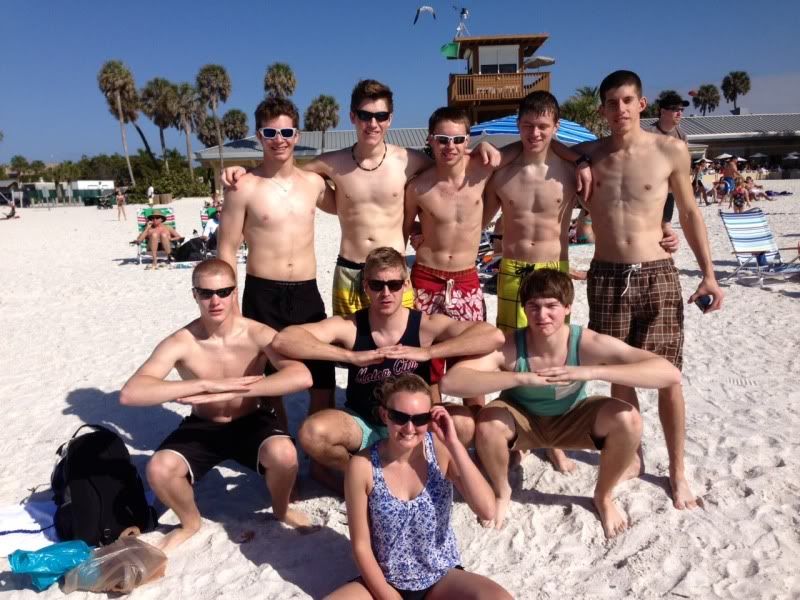 Athlete: Spencer West '15
Major: Allied Health Science
Hometown: Grand Rapids, MI
Today, the team kicked off the new year in downtown Sarasota for the pineapple drop, carnival rides, live music, and plenty more fun. After going back to the hotel, we got a much needed long night of sleep, with the morning off from practice to rest from the night before.
We took advantage of the off morning and left for a sunny day the beach at ten AM. After picking up some food and snacks on the way, we arrived at the beach and unloaded from the bus for a few hours of sun and fun. While some people chose to sunbathe, a group of us got a game of ultimate frisbee together and enjoyed running around on the warm sand for a while. Then, after swimming, ice cream, and more relaxing, the team got back on the bus and took off for the hotel to prepare for the afternoon practice.
Once at practice, we stretched, warmed up, and then the varsity men split into two fours and a double and launched from the dock with Coach B and the varsity women's 8+. We worked on plenty of drills for the first half of practice, watching ourselves and each other to improve our rowing technique. After turning around, we put some power into our strokes and challenged each other all the way back to the dock. We then docked, washed our boats, stretched, and headed back to the hotel, tired and hungry from a good, effective practice.
When we got back to the hotel, showered and cleaned up, and then some people took the bus to restaurants while others stayed at the hotel and had some of the food we bought from the grocery store earlier in the week. We'll be sure to get another good night's sleep for an earlier practice tomorrow morning and another fun day at the beach.
Athlete: Colleen McDowell '16
Major: Psychology
Hometown: Muskegon, MI
Tuesday has been a very interesting day. We rang in the new year by watching a pineapple drop in downtown Sarasota. The coaches cancelled our morning practice and gave us some time to go to the beach! We played ultimate frisbee, volleyball, catch, and most importantly, soaked up some sun. A few crazy people decided to go into the water, which was about as cold as Michigan is right now.
Later, we had our afternoon practice. The novice women worked a lot on technique, and Coach Kelsey gave a lot of one-on-one help to the girls. I think their favorite part of the day was when she taught them how to stand up in the boat to stretch out. That was also when I told the girls in the boat that they could throw me into the water at the end of the week, which made them all very excited. Whether I should be concerned about this or not, I don't know. Overall, it was a very productive, yet relaxed day.
Athlete: Austin Ronspees '16
Major: Chemistry
Hometown: Fowlerville, MI
Today the team got the chance to sleep in and go to Bradeton beach for some relaxation in the sun, surf, and sand. The whole beach experience was a great time for relaxation and team bonding. I started off the beach trip by playing some ultimate and then volleyball. later at practice we focused mainly on the release. moving the hands from bow to stern in a racetrack motion. in addition we added emphasis on the arm-body swing. These factors added together helped us to feel the boat move under us so we could propel it more efficiently. we ended the day with a good meal and much needed sleep!
---
Keegan Jahnke
Major: Exercise Science
Hometown: Saline, MI
Today the team got up earlier than we have to go for a morning row then leave to get some extra time at the beach. Well as everything in rowing goes according to plan, that did not happen. I should have known when Coach B takes the bus driver in the launch with him that it's going to be a long row. It was a very long row. We pushed off the dock at 7:00 AM and heard "Start rowing by 6's and I'll catch up to you." Halfway to the I-75 bridge Coach B caught up to us and started analyzing and giving us feedback on our technique.
Once we passed the bridge and were about halfway to Bradenton it was confirmed in my mind we were in for the long haul. Once we were in Bradenton, Coach B took a couple of pictures and eventually let us stop. Sometimes I wonder if he makes us row to places just so he could take a picture of us. After the photo shoot we spun around and we rowed the 11 miles back to the dock and crawled out of the boat. From there the day got a lot better. We ate lunch at the hotel and headed for the Siesta Key Beach.
At the beach Coach B had a few events for the team to participate in, Tug-of-War and the infamous Greased Watermelon Challenge (basically Rugby with a greased watermelon in the ocean). It was varsity versus novice, males versus females. The varsity/novice male tug-of-war didn't last long seeing as the rope snapped 10 seconds into the match, but in the female match there was a lot of confusion as to who won because some of the male athletes got involved. Needless to say all the cloudiness was cleared up in the greased watermelon challenge. The Varsity Women took care of business and demolished the Novices by a score of 2-0. The first game the men played was undecided because the watermelon was obliterated when 20 bodies collided in the Gulf of Mexico.
The next game however, the Varsity Men took up the intensity and charged the watermelon in for the W. After the game the novice men were shoving one of the varsity guys around and that didn't sit well with the rest of us. I remember Robbie yelling "Hey, what are they doing with Justin?", we glance and then charge like a heard of bison in there direction. We did not stop until every novice male was underwater. After a long day at the beach we came back to the hotel and got ready for a nice swing/flush row in pairs for our second practice. This long, eventful day will lead to a solid 10 hour shut eye before tomorrow mornings practice.
Athlete: Andrea Nadjarian
Major: Undecided
Hometown: Rochester, MI
Today was another great day for the GVSU Rowing Crew. We woke up earlier than normal today, so that we can treat ourselves to another fun filled day at the beach. A bright and early day that began at 6:30 A.M. ended very soon. After a refreshing long morning practice, we came back to the hotel to freshen up for the beach. This time we were going to one of the Nations best beaches, in Sarasota. When the GVSU crew arrived at the the beach we began our "team beach workout", which consisted of wrestling for a crisco covered watermelon in the ocean, and toggle war. It was no surprise that the varsity mens team and the novice mens team snapped the rope. Varsity one every single activity. After our workout we lazed around the beach, played volleyball, and treated our selves to the beach cafe. Since it was such a hot day, I spent most my time in the ocean. After our beach treat, we returned back to the Ramada hotel to get ready for our afternoon practice at four. I enjoyed the afternoon practice today since us novice girls got a chance to row all eight in our boat. The coach seemed pleased with our performance, and we ended the day on a good note.

Kelsey VanAmberg
Major: Psychology
Hometown: Manistique, MI
Our day started out earlier than usual, with the bus rolling out at 6:30 am. The varsity women were in pairs this morning, staying close to the dock and working on perfecting our technique in the small boats. Being in a pair really forces you to notice and correct every little imperfection in your stroke. My pair partner, Becca Studer, and I did a lot of pause drills and helped each other with our technique and blade work. Rowing in a pair is a unique challenge, requiring perfect balance, technique, timing, and touch. But after all the practice we've gotten this week, we're really getting the hang of it. We even rowed with our feet out of the foot stretchers for a good portion of the practice, which is no easy feat, especially in a small boat like a pair. We did a lot of pause drills too, pausing in the middle of the stroke and finding the perfect set of the boat. Towards the end of practice we did a few Power 10's, taking 10 fast and strong strokes. It feels so good to go fast, and our strokes felt so good. By the end of the almost 3 hour practice, I felt that I had made some major improvements, and our boat felt great. I couldn't even tell the difference between when we were rowing feet out and feet in. It was a very productive practice.
After practice, the whole team headed to Siesta Key beach, the #1 beach in the country. It was so warm and beautiful there, so much better than the snow and freezing temperatures back in Michigan. The team did some Beach Olympics games, which consisted of tug of war between the varsity and novice teams, and a greased watermelon challenge. Rowers are naturally very competitive people, so games like these can get a little crazy. The men's teams snapped the tug of war rope, but the varsity women had a CLEAR victory over the novice. The greased watermelon was the best part. We had to try to hold onto a huge slippery watermelon while running through the waves and everyone grabbing at it too. The varsity women once again dominated over the novice. After spending some time in the sun and relaxing, we left to go back to the hotel, just to head off to practice once again. It was a short and easy row though, working on technique and not worrying about putting pressure behind the blade. The best part of every practice though, is the last 10 strokes, when Coach yells out "Whatever it takes to win!" and we pick it up by all 8 and sprint as fast and as hard as we can into the dock.
I am so glad I came on this training trip. We are all getting faster, getting stronger, improving our rowing technique, and bonding as a team. We are getting to know the novice team better, and bonding as a varsity boat too. I am so excited for the spring. I have so many goals, so many ambitions, and all I want is to work the hardest I've ever worked to earn each and every one of them. No one can be sure what the spring season holds for us. But I know one thing: We're gonna be fast.
Athlete: David Blythe
Major: Accounting
Hometown: Canton, MI
Today started off very similar to the previous few days of waking up early for practice, but there was one twist, we woke up an hour earlier for practice in order to make time for a beach excursion in the middle of the day. Getting back to our practice, we began by doing our normal warm up on land and then on the water. The main focus of todays practice was the catch and bringing the hands up on the final few inches of the slide to put the blade into the water. During this section of blade work we were all focused on making a check mark or v-shaped splash when entering the blade into the water. The Purdue coach flipped his launch during the morning workout so our coach, Hugh took over our boat and the purdue mens eight. After our AM workout we then got back on the bus and headed to the hotel to get ready for our beach trip.
Originally i thought we were going Holmes Beach to spend the day at Manatee Beach like the day before but it turned out that we were going to Siesta Key Beach which is the #1 US beach and it was pretty exciting. At the beach we had a surprise workout planned which turned out to be a mini beach olympics type of workout where we did a tug of war and then watermelon football in the water. The tug of war had two matches, novice men vs. varsity men and novice women vs. varsity women. During the tug of war between the novice and varsity men there was about 10 seconds of give and take before we broke the rope due to the sheer force on both ends. We(the novice men) got the win seeing as the knot in the middle of the rope was on our side. While this was a fun event, the watermelon football game was the real show. We were clearly outmatched in strength and numbers, and varsity ended up winning both matches and sending us home as the losers. The rest of the trip featured lots of swimming, sun bathing, and beach volleyball. At 3 o'clock we packed up and got on the bus and headed back to Ellenton to have our afternoon row,
The afternoon row was short and featured the same blade work mentality as our morning row. We ended the practice by rowing all eights which featured our first truly balanced all-eight row. This was a major milestone for us and we were all extremely excited about it. After the row the novice mens team along with a few others went to the Anna Maria Oyster Bar to celebrate our accomplishment. It was a long day indeed, but it was very fun and beneficial to our ever improving skills.

---
Ken Pierson '14
Major: Psychology
Hometown: Davison, MI
The day started with everyone rolling out of bed, attempting to shake off sleep and stifling groans of exhaustion. The day before consisted of a rigorous three hour workout that many of the men were feeling the effects of. Luckily, the morning was to be devoted to technical work in pairs. The sky was grey with clouds and the ominous, thick fog and humidity made it feel as if rain was on its way. Everyone was pleasantly surprised when the sun pushed the darkness aside to make way for an eighty degree, sunny afternoon. After technical practice, we headed back to the hotel to do the usual – fall into a two hour coma before the afternoon session. Atypically, today we went to Benderson Park to do pieces. The clouds and humidity returned but had little effect on the crew' spirits. The novelty and luxury of rowing on such open water was refreshing. After a handful of 500m (aka 1200m) sprint pieces, we were thoroughly tired and ready to wind down for the evening. Another day full of good times and productivity.
Cole Burkholder '16/Colin Schoen '16
Major: Undecided
Hometown: Pinckney, Michigan
Today during our first practice we focused on body preparation and swinging out of the bow. We also focused on navigating through dense fog. We did drills for the first half of the practice, and we got in between the two bridges before we turned around to head back. We rowed steady state by all 8 the entire way back with a small break. We managed to stay well balanced for a good portion of that row which was the best part of the practice. The first practice took 2 ½ hours where we arrived late at the dock. The second session in the afternoon was much shorter, and focused more on the spring out of bow. We were grouped together with a men's double leap frog racing. We tried to get the least amount of strokes past the mens double by increasing the drive out of stern and not rushing the slide. We used the stroke rates of four to one and two to one. The fastest we passed the men's double was eleven strokes. We concluded the practice by whatever it takes to win. Whatever it takes to win is rowing all eights, with an open stroke rate for twenty strokes. Once we got off the water we stretched and headed back to the hotel.
Molly Visel
Major: Special Education Major
Hometown: Saline, MI
Today we had our morning row at Fort Hammer, it was very foggy so the long distance went by quickly. After practice we came back to the hotel and had sloppy-joe's for lunch that Nancy had prepared for us. After lunch and a much needed nap the men's and women's varsity eights went to Benderson Park; the future home of world class rowing. It was very windy, and we thought we might get caught in the rain. We quickly did a few 1,000 meter pieces and headed in. Many of us decided to eat dinner at Woody's because it was our last night here and seemed like a nice way to end our trip. We were surprised upon our arrival back at the hotel to find that three of the team's rooms were pranked. Silly string hanging from the headboards and mirrors, glitter in the beds and shampoos, salted toothbrushes, and saran raped pillows. Not to mention the lovely surprise of every child's favorite 4th of July firework 'Pop It's' under the toilet seats. We are trying our hardest to find out who the mastermind is behind this clever idea. Right now all signs point to Kelsey Arnold, Alyssa O'Donnell, or the Purdue rowing members. Team members are piecing together information and the investigation continues.

Thanks You Nancy for preparing Lunch throughout this trip.
Amy Brunner
Major: Allied Health Sciences
Hometown: Traverse City, MI
Today was the last full day of my last rowing training trip to Florida. We woke up, ate breakfast, and left for the course at 7:30 a.m. as usual. For the morning practice, the women's varsity eight worked on blade placement and catch and release timing. We focused on "dropping the blade in the envelope" to get the most propulsion out of every stroke. It was incredibly foggy this morning. After rowing almost to the I-75 bridge, Coach B said to our coxswain, "I hope you can see because I'm steering off of you," so we decided to turn around and row in the direction we came from. The practice was really productive; we all were very focused. Coach asked us to point out the rower on each side who had the best bladework. Our boat voted for Shelby on the starboard side, and Carey on the port side. The winners were treated to homemade seafood pasta.
Between practices we napped, scratched our bug bites, and hung out at the hotel. Nancy made delicious sloppy joes for lunch. For the second practice of the day, we headed to Benderson Park, an elite course in the process of being built. The varsity men's and women's eights did some 1000-meter pieces. We were so excited to go fast by eights! We
felt like we were flying. We were also happy that we didn't get rained on considering the threatening skies.
For dinner, most of the team went to Woody's, a favorite restaurant of ours nearby the hotel. We had great food and a lot of laughs. However, when we got back, we found out that a few rooms had been pranked with glitter and silly string. Everyone was running around trying to figure out the culprits. Possible suspects are the varsity men, the varsity
women, the coaches, the maids, and the Purdue rowers who are also staying at our hotel. It is still a mystery.
Tomorrow we have a final morning session at the training site, and then hit the road for snowy Michigan. It has been a great trip with lots of improvements and fun times!
Carley Jensen
Novice Women
Major: Criminal Justice
Today was more of a chill day compared to the rest of the week. We got up around 7, hopped on the bus, and had a nice long row with a lot of feathering work and low stroke rate drills. We rowed by all 8 for the second time during training, and we did pretty good with the set of the boat. It was also super foggy this morning and while rowing, we all looked on and saw sand about a foot below our boat! We got out of that area quick because the fog was so thick, we couldn't even see the course! In the words of Kelsey, it was a really quite practice this morning. I think she was taken off guard by how non-energetic all of us girls were; it was for sure a first time occurrence for this trip!
After practice, we got back to the hotel where a delicious lunch was waiting for us. Thanks Nancy, the sloppy joe's were great! After lunch, there was no beach day planned, which was pretty upsetting, and since it was more of a cloudy day, a lot of us took naps. Me personally, I took about a 3 hour nap. Embarrassing to admit, but this week has been pretty busy and tiring and it was about time to just chill out and catch up on sleep. After our afternoon break, we headed back to the boathouse, stretched, and went back on the water to row. Us novice ladies did some more drills, some pyramid work, and got up to a 28 stroke rate which was pretty exciting. We were all ready to go fast!
Also during our second practice, it started to rain and some parts of the water were getting kind of wavy. We were all soaked from the rain or the water from the channel… it was hard to tell by the end! When we got back from practice and showered, the novice and varsity women, along with the novice men went to a restaurant called Woody's and it was a great meal! Our table, the novice women, even got a free appetizer.
After the fun meal, we got back and had a women's team meeting and later found out that some rooms were pranked! And of course, the room that I am in along with 3 other girls got it bad! Glitter, silly string, and Vaseline were some of the main clues to this unsolved mystery. We still have no idea who got us, but we think it could be the coaches! As I write this and sit on the floor in my teammates hotel room, I think I speak for all of the novice women by saying I am not ready to leave yet! It was a great trip with my team and we have all grown so close. Our rowing improved a lot, we shared tons of laughs, and made a lot of memories with each other!!!
---
Becca Studer '13
Liberal Studies: Pre-Occupational Therapy
Hometown: Ypsilanti, Mi
After a couple of practices this morning (one which involved water balloons and a lot of laughter), we have the trailer loaded and the bus packed. As I look back on the week of rowing, I can't help but think that it was an invaluable experience for everyone involved. We got SO much water time and great coaching from the whole coaching staff, as well as some fun beach time and great food that was prepared by Coach B's friend, Nancy.
The women's 1V rowed a little more than half of our practices in the 8+, but also got some valuable time in pairs. We were really able to transfer to the pairs what we had been learning all week in the large boat, and one of the most beneficial thing about pairs is that they "coach themselves." If you are doing something wrong, the boat will tell you! You definitely can't hide bad technique in small boats, so the combination of large boats and small boats this week was great. With 2 practices a day under the warm Florida sunshine, I think we learned more in a week here than we could in a month at home…especially with all of that snow!
Each day of the trip had a different focus: the catch, the drive, the release and feathering were all separated into their individual components. We worked on these parts of the stroke in both the 8+ and the pairs, and we worked on perfecting each part of the stroke by itself and then adding everything together. By the last couple days of the trip, we were going all 8 on the feather and pushing our puddles past stroke's feet at high rates…Coach B was really excited about our speed! I don't think we had a bad practice all break – each was productive in its own way…and of course pretty tiring. On our last full day in Florida, the men's and women's 1V took a trip to Benderson Park where we did some speed testing. We did 500(ish) meter pieces and got to gauge our speed with and against the wind. It was a wonderful feeling to be able to go for all-out speed after working at low rates on technique all week. I know everyone is itching to go fast this spring!
As the trip comes to a close, I'm a bit nostalgic about the fact that this will be my last trip to Florida! The past 4 years have been more than I could have ever imagined, and this opportunity to strive to be the best rower that I can be and help the team become as fast as we can is something that I think we can all be really proud of. The rowing was great, we got to spend some quality time with our teammates (who was the prankster?!) and I got to see America's #1 beach one last time. Maybe in the Spring, we'll be able to call ourselves America's #1 crew? Well, we're a club program (and proud of it!). We'll hold our own, and I've got my eye on Dad Vail and ACRA. I'm so excited to spend my last semester rowing with these people, and I can't wait to see what the Spring season holds.

Athlete: Costas Ciungan '14
Major: Legal Studies
Hometown: Grosse Ile, MI
The Winter Training Trip concludes with a team stronger and technically better. Tim Duncan once stated "Good, Better, Best . Never let it rest. Until your good is better and your better is best." That is the exact culture we are building in Grand Valley Rowing. Every athlete always striving to be the best they are capable of becoming both academically and athletically. Rowing is not a sport that can be done alone and it has been a pleasure as the editor of the Grand Valley Rowing Website to post and read blogs. Between the equipment, the coaching, the coxswains, the other athletes, and the many blogs, it is evident that this is not a one person production but a team effort both in terms of learning from each other and getting better as a team. This Winter Training Trip has been a great success and we owe it to all of our supporters and donors who give to our great program, our success is truly yours. Through out the week I have seen athletes improve in Posture, Timing, Control, Balance, Bladework, and the development of touch as many had an opportunity to analyze their rowing and get individual coaching attention including myself.
This week the varsity was in Pairs, Fours, and Eights. In Pairs the Varsity did circle drills working on elements of their stoke and coaching not only their own blade but their team mates as well. The Varsity also did long steady state rows with technical work. The women's and men's team both had a mix of older varsity members and a developmental group of newer rowers in regards to experience. The result was a lot of learning, as older rowers helped the newer rowers, and as a result, a stronger team. The Coaching was another aspect that made this Winter Training Trip a success with four coaches who came to teach, correct, and help develop great technique and better rowers. Coach Bancheri was instrumental for having everyone start back at square one, focusing on posture and timing and how those aspects allow for the mastery of control and balance. We broke down the rowing stroke and further developed the understanding of how every aspect of rowing flows together. We had on-land chalk talks where rowers demonstrated to each other different aspects of the stroke such as hydrodynamic lift and the "rabbit punch." Many athletes, especially the younger group in terms of experience, learned how each aspect builds upon the other. I was thrilled with the amount dedication and focus each athlete demonstrated, and to see each athlete helping others out.
As for myself, I was happy to see a great group of my teammates help one another, learn from one another, and develop better technique. I feel that many developed a sense of rhythm and touch as many novice rowers saw improvements in their rowing and learned a lot over this winter training trip. This attitude and culture of our team to never give less than your best and to always stay in the pursuit of perfection was evident in the athletes' attentiveness during chalk talks and video review along with thoughtful questions and a desire for feedback.
I am so thankful I came on this trip and was able to post the blogs; to share with all of our supporters of the many great endeavors, adventures, and lessons our athletes here at Grand Valley Rowing are learning in both rowing and about life. Thank you to everyone who made it possible from our supporters, donors, coaches, and to especially our student-athletes. My team and I are thankful and are looking forward to the great New Year and rowing season ahead. Keep pulling for the Laker Navy.
Costas Ciungan
Web Manager

Tyler Sellmer '13 – Facilities Coordinator
Carey Mankins
Major: Allied Health Science
Hometown: Bloomfield Hills, MI
Today was a little different. Instead of having a morning and afternoon practice, we had two practices before noon in order to try to get on the road back to Michigan at a reasonable time.
We stretched and did calisthenics before going out for our first row. We started our row by 6's in the 8, while the men were by pairs in 4's. We focused on everything that we had improved on throughout the week. We didn't get quite to I-75, but we were in sight of it when we spun. We started rowing by 8's, pausing after each stroke. As we got more and more comfortable, we moved the pause after 3, then 5 strokes, and eventually to continuous rowing. This is when I really felt all the work that we had put in all week. We all focused on thinking of the "putting the blade in the envelope" which really helped our square down timing. But rowing by 8's challenges us to think of all of the little details that are involved with each and every stroke. After a few minutes and a little friendly competition with the boys, it really seemed like we we working together to go fast. In between practices, we started derigging and loading the trailer.
For our second practice, we were going to have a little friendly competition among the whole team. During this practice, the varsity women played leap frog with the novice women and the same with the varsity and novice men. During leap frog, one crew goes at a slower rate while this other is going at a faster rate. The goal is for the crew at a faster rate to row through the other boat in as few stroke as possible. But today, waterballoons were involved. Those going at the slower rate had the opportunity of throwing waterballoons at the other crew. This was nothing but fun. After this week where we were all focused on our own individual boats, it was fun to have that interaction with the other hard working teammates.
We loaded trailer with more boats than it was originally made to hold (Tyler, you are one talented boatman) and headed off to Michigan. I really could not have asked for a better winter training trip. We are on our way to some gold medals this spring!

Austin Burris
Major: Accounting
Hometown: Rockford, MI
We woke up on our final morning in the sunshine state to another great breakfast at the hotel. We made our way to the Ft Hamer boathouse to start our final day of practice. The varsity men and women were both with Coach B this morning. During the first practice we focused on hydrodynamic lift and blade work. Hydrodynamic lift is a term used to describe that the steeper the catch angle, the farther the boat will be propelled. We put that to practice with the Varsity Men in 4+'s and the Varsity Women in 8+'s. I was really able to focus on staying long and squaring the blade down into the "envelope" (water). The first practice was focused mainly on technical work whereas the second AM practice was focused on putting everything together.
We took about a half an hour break to eat and hydrate in between the first and second practice. The second practice was about putting it all together, with some leap frog against the novices. This was not the normal leap frog drill though. Coach B put a spin to it. He made it more into a game where we were all in four 8+s and two 1x's. Every person had 3 water balloons at their feet. We rowed by 6s for this game. The boat that is getting passed is allowed to throw water balloons at the leapers (boat that is doing the passing). We were all able to put everything together while also having a lot of fun.
The team headed back to the hotel, packed and headed north. I was on the advance team, so I rode in the caravan of the truck, the Sellmer's van and the school van. We stayed the night at the Sellmer's in Georgia to catch up on some sleep before finishing our drive back to Michigan. Mrs. Sellmer had an amazing meal awaiting for us upon our arrival. It consisted of spaghetti, garlic bread, salad, cake and cookies. The team as a whole progressed tremendously from this training camp, and I can't wait until we can get back on the water again later on this spring!
Erin Hocker '15
Hometown: Biomedical Science/Psychology
Major: Oxford, MI
A technical row is always a good way to start of the day, and that's just how we started today. After a review of what perfect blade work entails, we headed out on the water with the men in 4's, the women in an 8+, and two guys in a double. We rowed downstream until the channel opened up and we could see I-75 before we turned around, and during this time we focused mainly on blade work by pairs. With two guys sitting out at a time, the rowers were able to focus on perfecting their technique without having to worry about setting the boat. This also allowed me, a coxswain, to see what good blade work looks like and what I can do to help the athletes improve throughout practice. We also focused on the concept of hydrodynamic lift, which basically means that the farther you reach the blade back at the
catch, the farther you'll be able to send the boat (also known as free speed).
After spinning, we worked on these ideas by all 4. With more to keep in mind going by all 4, it was important that everyone stayed focused. This tests my ability to help make corrections, as well as the rowers' ability to make corrections and improve their stroke. My boat was really far ahead of the others for most of the second half of practice, and during this time we saw a dolphin off of our port side. This was a nice change in pace and lightened the mood a little.
Once back at Ft. Hamer, we quickly docked, grabbed a quick bite to eat, and began derigging our boats and loading the trailer. Coach soon surprised us with a friendly competition for our second practice. The varsity men would be racing the novice men in 8's and throwing water balloons throughout the race. Unfortunately for me, coxswains were worth bonus points, but being the competitive person that I am, I did all I could to ensure victory for the varsity men, which included steering close to the novice so the rowers would have an easy shot with the water balloons. At the end of the day, the varsity men came in second behind free agent, Nate Biolchini in a single. Even though this was meant to be a fun practice, the rowers and coxswains learned a few things. Some of the things that I gained from the practice were thinking on my toes, steering, and some form of a race plan. Although Florida was tons of fun and the weather was great, it feels really good to be heading home and preparing for the upcoming semester. I can't wait to be back on the water again in the spring!

---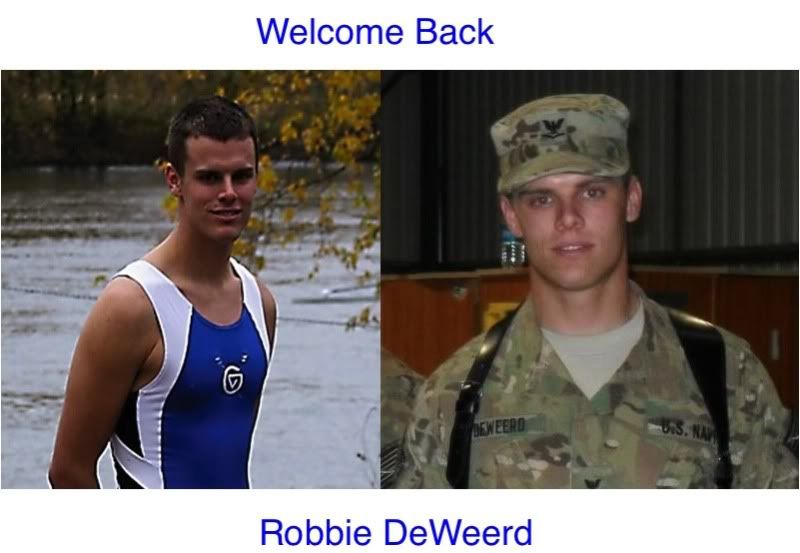 -Robbie Deweerd '13
Major: Criminal Justice
Hometown: Holland, MI
Almost exactly one year ago to date I departed for my deployment to Afghanistan where I worked in a Detention Facility. Now a year later I look back at the progress that I have made over the course of the week, along with the changes I have  gone through in the last year, and could not be more excited for the upcoming spring season
The last week has included numerous long rows, chalk talks, and a lot of one-on-one technical training from our coaches. We even managed to get a few short pieces in at Benderson Park, which for me was the best part of the trip. The gains made in the last week will prove to be priceless come this spring.  
Leaving the team midway through the year last year was one of the more disappointing things (along with family and friends) I had to do. I have spent that last year preparing for my return to the team, to include lifting, and I even managed to find one of the few ergs in  Afghanistan to train on. Now as I return from winter training it feels as if I had never left.  This last week has helped me bring my technical skills of rowing to that of over a year ago.

         
---
---
---
The Grand Valley State University Rowing Club challenges its student-athletes to reach the highest level to which they aspire both academically and athletically, while continuing to build and sustain a nationally competitive intercollegiate rowing program.

Copyright 2016-2017 Grand Valley State University Rowing Club. All Rights Reserved.